Learn-To-Skate With Derby Lite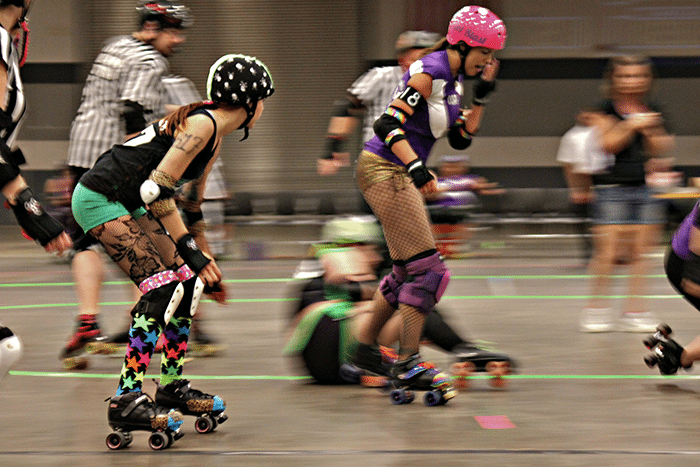 Three weeks into my Learn-to-Skate class with Derby Lite, I'm already a better skater than when I was a kid. Not that what I did decades ago could really be considered skating. It was more like walking on wheels.
While I have never harbored any fondness for going to the roller rink when I was younger, roller derby appealed to me as an adult. A co-worker first introduced me to it a few years ago when I lived in Denver. She was on the local roller derby team and was often seen running to practice, a local bout (derby term for a game) or traveling to another city to compete.
Watching from the sidelines, roller derby seemed like the most accessible way to recapture the sense of camaraderie, competition and identity I lost after leaving high school, where I was a solid three-sport athlete. At 40-years-old, my childhood dreams of being a professional athlete were pretty much dead, but roller derby made the idea of joining a real athletic team seem attainable.
To see what it was all about, I attended an open skate regularly hosted by the Denver Roller Derby league. Despite being a slightly better skater than I had anticipated, I let my insecurity get the best of me and never returned.
A couple of years after moving to Chicago, I discovered Derby Lite, founded by Barbara "Queen B" Dolan, a former member of the Windy City Rollers. The program provides safe, fun skating workouts, rooted in roller derby. Skills and drills of the sport are incorporated, making it an ideal staring point for those interested in trying out for a team.
The goal doesn't have to be about skating competitively though. Women of all ages and abilities are encouraged to attend simply for the fun and exercise of it. There's also a large social component, as evidenced by invitations to participate in a friendly skating meet up, a charity event and a parade during my first week of Derby Lite.
What piqued my interest most though was that the program is structured. I could start with women who were just as new to skating as I was, while learning and improving together over the course of 12 weeks.
During my time so far in the Start Out class, I learned to skate without picking up my feet, like I did when I was a kid. Apparently, skates easily glide sideways across the floor, without the wheels skipping or stuttering, like I once feared. I can also stop by way of using both a toe and t-stop, as well as round a turn by crossing one foot in front of the other without landing squarely on my butt. I actually haven't fallen yet, but In case that does happen, I now know how to do it properly and gracefully get back up.
With all the progress I've made and confidence I've gained, who knows where I'll be after nine more weeks. Ready to try out for one of Chicago's roller derby teams, perhaps?
Maybe, or maybe I should first learn how to skate backwards, turn around, or any of the other many skills I will need to participate in a roller derby bout with experienced players. Derby Lite has classes for that, after all.
In the Chicagoland area, Derby Lite runs out of the Lombard Roller Rink at 201 W. 22nd Street in Lombard, IL. Derby Lite also hosts programs in New York, Missouri and Maine. The program's classes include: Start Out (Learn-to-Skate), Roll Out (HIIT based) and Derby Lite (Skills & Drills of completive roller derby). Owning protective gear and skates is a must and can easily be done through Derby Lite.