Tips for Riding Your Bike in the Winter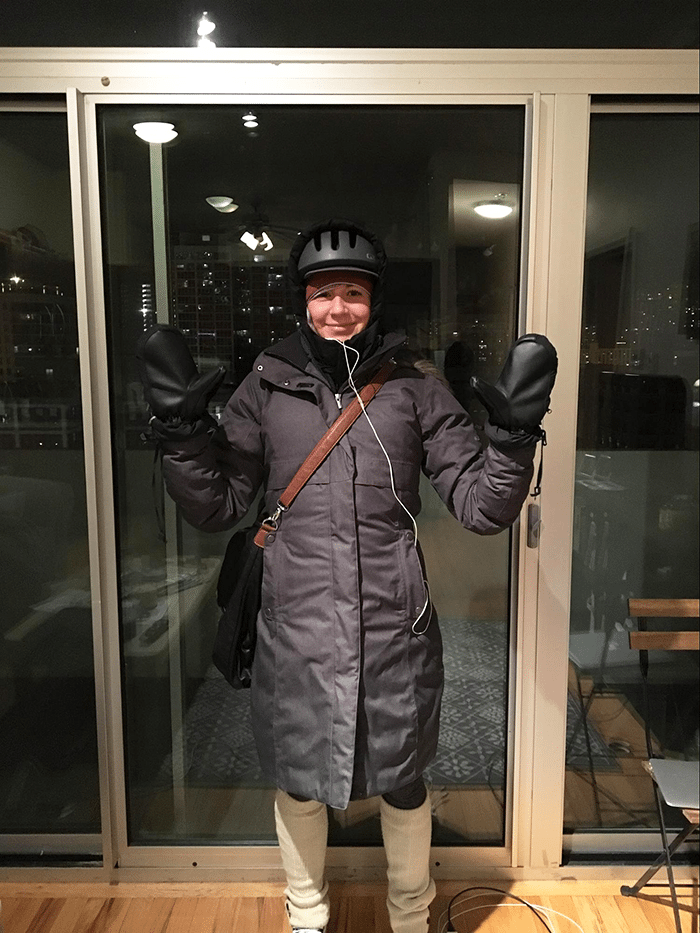 I brought my bike from college with me in my U-Haul when I moved here two years ago. One of the first things I did upon settling into my new apartment was buy a space in the garage to store it safely. And there it sat for almost an entire year without seeing the light of day because, frankly, I was terrified to get out there alongside crazy city drivers and in the face of such bad weather.
But luckily, a friend encouraged me to take a ride with him one sunny day last May. That first ride was a total game changer. From then on I knew I could cut my travel time in half, control my own travel timetables without having to rely on late busses or stalled trains (and save mad money), get exercise on days that I'm too busy to fit in a gym workout and have a sense of independence in exploring distant places in the city on my own.
I bought a new helmet, new lock and got a tune-up. Life in the bike lane was good all summer long as I started to ride more and more, but I always had the thought in the back of my mind that winter was coming. I was positive I'd have to return my wheels to hibernation. But I took it one day at a time, and somehow decided every day that it wasn't quite treacherous enough to take the bus. I justified that the positives of using my bike far outweighed the effects of adverse weather. Now, I can proudly say that I made it through some of the snowiest of days and am almost through winter with my helmet still hanging on my door, far from storage purgatory.  
And I've developed a pretty solid routine to prep for every ride, namely, a checklist of necessities I make sure I don't leave the house without. Here is my personal checklist of essentials: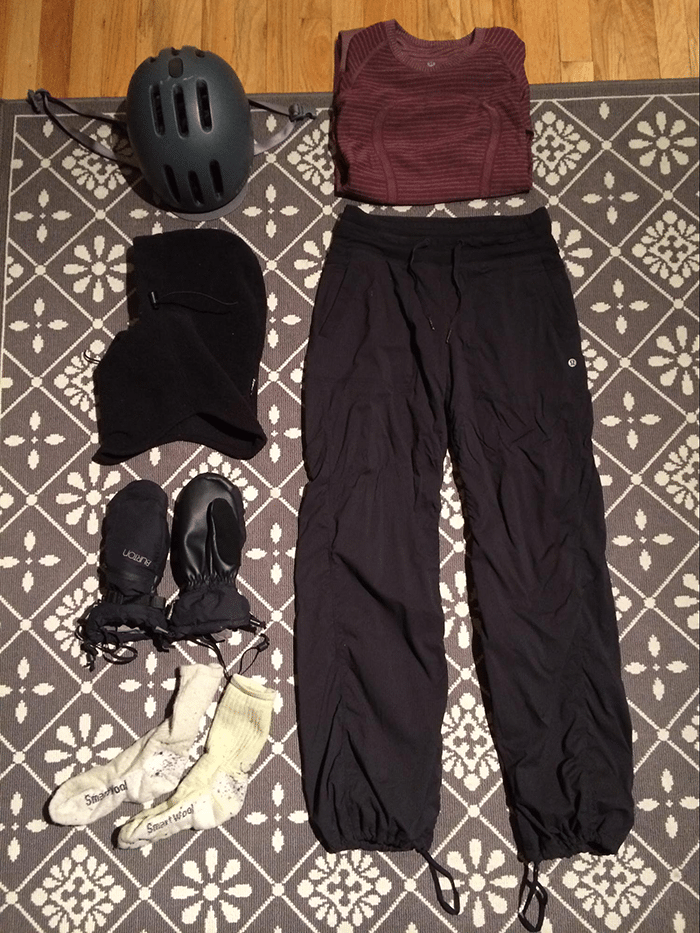 Fleece ski mask: 

very versatile depending on what level of coverage you need, and thin enough to still fit a helmet over your head

Burton mittens: These have an 

incredibly warm liner, and having mittens instead of gloves keeps my hands warmer.

Ski goggles: T

he wind will zero in on your eyes if you leave them neglected.

Lululemon lined Studio Pants (no longer available online): I 

throw these on top of whatever leggings I'm wearing if I'm going to teach or take a class; they act as a windbreaker and are warm enough to be the only thing I wear on the way home after my leggings are sweaty.

Change of clothes: 

similar to the above, if I'm going somewhere where I know I'll sweat, it is imperative to have dry clothes to change into. I've made the mistake of thinking it was a short enough ride not to change and my legs almost froze in pedaling position; a change of clothes includes socks!

Lights for my bike: 

one in front, one in the rear and a

bike lock. I

t's silly how many times I've forgotten to bring my lock with me somewhere or forgotten the key for it.
I'm pretty content with my essentials considering my level of professionalism in riding, but I still consider myself a newbie to the lifestyle. I don't go on distance rides, I don't own a road bike or cycling shorts and I only just learned how to put air into my tires about a month ago. So owner of Live Grit, Gillian Fealy, graciously offered me some of her expertise about biking.
For her, some of the most important gear to have is a pair of winter gloves, like lobster gloves, and something to cover your ears like a balaclava (I second that!). So if you've got a budget of $100 and had to prioritize the items not to skimp on, these might be a good starting point. Fenders are an additional commonly purchased item for winter cycling. With the salt and sludge on the roads, a fender will help keep you drier, Gillian says.
You have to protect yourself on your bike, of course, but you also might want to think about protecting your bike; it's getting hit harder than you with weather conditions. Regular maintenance often slips through the cracks, but it will significantly increase the life of your bike. Cleaning it regularly and getting it tuned up at least once a year is a start. And by applying chain lube regularly and ensuring you have the appropriate air in your tires, you will save money in the long run.
A helpful hint I learned from Gillian is that the inner rims of your tires say the pressure they should be inflated to, and you should be putting air into them every few rides. If you ride far daily, that could be as frequently as every other day.
What's more, if the temperature your bike is in changes drastically it will have a greater effect on your tires. So, if you store your bike inside all day and then bring it outside and hop on it right away it will most likely lose air more quickly. Keeping tires properly inflated protects them from getting punctured and helps you cover more ground. As far as city bikes go, you need durable tires – Gillian recommends Gatorskin with a Kevlar bead to help prevent punctures. You can still find a bike that's light and easy to pedal, but has wider tires and better traction. And if you're more into fitness and city riding, try this cyclocross bike.
February 24, Gillian will be leading a women's fix-a-flat clinic, and March 23 Live Grit will host a Women's Cycling 101 event. Check out Live Grit's Facebook page for many more events like this.
Have helpful tips for riding your bike around the city? Any great biking routes to take or places you've discovered while biking? Share with us in the comments!