Seven Partner Workouts to Do This Valentine's Day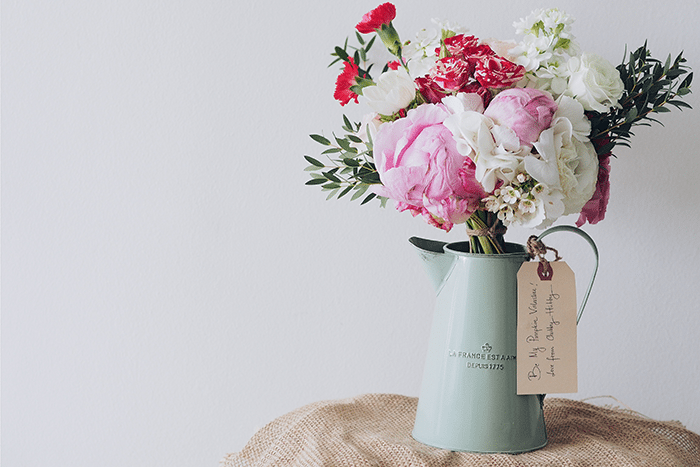 Quick word association game: what do you think of when I say (or, well, when you read) "Valentine's Day"?
I'll go first: chocolate, flowers, wine, candy, dinner, eye rolls (I'm a bit of a cynic).
Notice anything about those words? Well, they're not exactly conducive to the healthy, fit lifestyle we're all about over here. Raise your hand the last time you celebrated Valentine's Day with a green juice and a salad.
While we wholly support indulging in all the dark chocolate and red wine (after all, everything in moderation), why not try something besides an extravagant dinner out this Valentine's Day? Your significant other and their wallet will be relieved, and you'll get to bond together over a new activity. No boo? No worries – grab a friend-girl and celebrate Galentine's Day with one of these partner workouts.
Partner Yoga
When I first heard of partner yoga, I pictured my go-to babysitting move when I'm tired and want to lay down- "Hey kids! Let's play Superman!"- followed by me laying on my back and allowing a toddler to balance on my shins (it's very safe, I promise). But apparently, partner yoga is a little more involved than that.
Whether you and your partner are newfound yogis or regular practitioners, you can sign up for a Yoga for Two workshop at Moksha Yoga in River West. Instructor Lance Hoagland will lead you through a class in which you and your partner will learn to balance each other's strength and flexibility while giving each other adjustments. You'll improve your communication and trust (and if one of the poses is the Superman, please let me know).
If you're in the Gold Coast on Valentine's Day morning, drop in to CorePower Yoga's 9am C2 Partner Yoga class. This upbeat class will energize you and your partner while you master the basics of partner yoga through demanding strength poses.
In the mood for a low-key afternoon delight? Head to Barefeet Power Yoga in the West Loop for a 90-minute restorative yoga class, which includes instruction in hand and foot massage feature Aroma Touch Essential Oil. Sounds… relaxing.
AIR Aerial Fitness
Have you ever wished your boyfriend was a member of the circus? Do you secretly desire to see your man helplessly tangled in aqua fabric, suspended ten feet in the air and unsure of how to get down without straight up falling? If either is true, AIR River North has the Valentine's Day plans for you!
The "LOVE is in the AIR" partner workshop emphasizes "alignment, balance, and strength while creating a bond between partners." You'll practice arm balances, inversions, jumps, and lifts while learning to trust both the fabric and your partner. And if my past experiences at AIR have taught me anything, it's that this will be the perfect activity if you and your partner don't take yourselves too seriously.
Pure Barre
Ever since this became required reading, I've semi-fantasized about being in a barre class with a guy – just to see how they react to the infamous "and tuck" instructions (to be honest, I still don't really know what that means). If you like your love with a side of friendly sadism, bring your boy to Pure Barre River North on Valentine's Day. Your love will lift, tone, burn and you'll enjoy a well-deserved drink afterwards. Bonus points if you write about it for aSweatLife afterwards.
Brooklyn Boulders
After our amazing #Sweatworking at Brooklyn Boulders last fall, we've found ourselves returning to this West Loop sanctuary again and again for their community, their Ping Pong table and okay, their awesome lighting perfect for Instagrams. The climbing's pretty great, too.
Brooklyn Boulders offers a few ways to take your love to new heights. On February 10th, attend "BKB Mine," where you can explore partners bouldering, making "Climbing-tines," and get Beauty Bar manis while a DJ spins. Visit on Valentine's Day, and if you wear red, you'll get a $14 day pass that includes your gear rental (less than half of what it normally costs).
Or, grab a pal or partner and take a Learn the Ropes class. You'll learn the knots, commands, and techniques to belay another climber, then you'll get free reign to practice in the facility. Come back in a couple of weeks to take your certification test, and you'll both be able to belay other climbers and enjoy the many routes Brooklyn Boulders has to offer. Sounds like a perfect second date to me.
Studio Three
Admit it – you tried in your college dorm room to watch the Beyonce "Single Ladies" dance on YouTube over and over again until you nailed it. This Friday night at 6 pm, make your past self's dreams come true at Studio Three, where they're having a dance workshop to learn each and every dip and hip shake. Bring a friend or go solo – you're guaranteed to meet some new people. One of my friends went to a dance workshop Studio Three had previously and unashamedly called it "the most fun I've had on a Friday night in almost ever."
Bodyweight Workout
If you only have a few minutes to work out before those fancy dinner reservations, try this classic Jeana Cohen partner bodyweight workout. Or, test your fitness together with this 30-minute AMRAP style benchmark workout, and make a date in the future to try it again and see how far you've progressed.
#Sweatworking at Chicago Athletic Association
You love us, and the feeling is mutual – so come see us for our first of a monthly #Sweatworking class at Chicago Athletic Association! We'll get our butts kicked by NTC Master Trainer Emily Hutchins and distract ourselves with tunes from DJ Tess.
Psst… tickets are cheaper in pairs. The more, the merrier. Learn more and sign up here.