Announcing a Monthly #Sweatworking Series Featuring Emily Hutchins at Chicago Athletic Association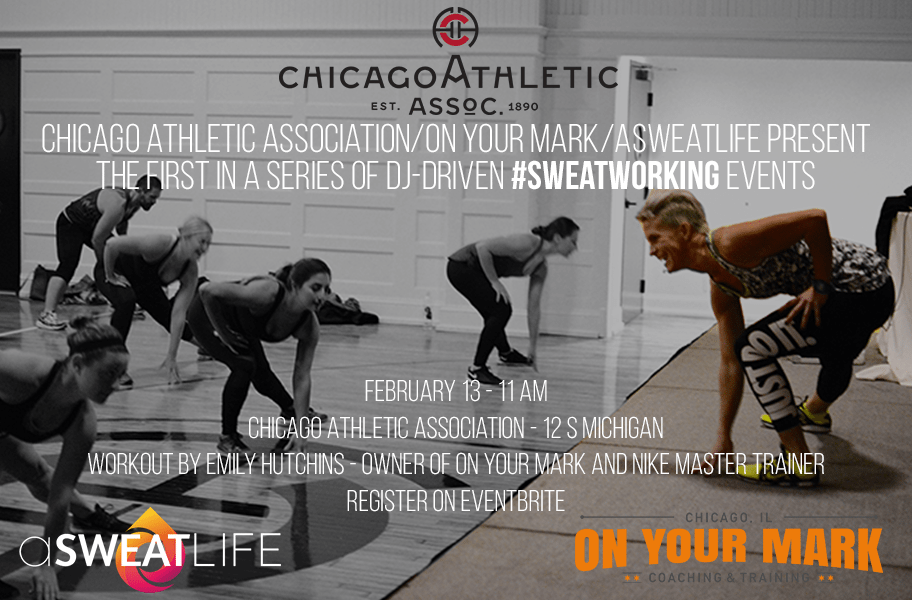 If you made it to our #Sweatworking event at Chicago Athletic Association, you experienced the beginning of something special. We packed the newly refinished wood floors of the gymnasium – Stagg Court – with eager people, ready to sweat.
After Emily Hutchins – general badass, owner of On Your Mark Coaching and Training and Nike Master Trainer – showed the room how serious a bodyweight workout truly could be, everyone congregated for some snacks and great company.
After two years of #Sweatworking events, we've crossed the city, trying workouts big and small. And as we continue our trek across the city for monthly events, we'll also have a monthly home at Chicago Athletic Association Hotel with workouts led by Emily Hutchins. And we know you love Emily as much as we do.
These monthly #Sweatworking series events will be similar to the #Sweatworking you've come to know and love in a lot of ways. They'll be packed by endorphin-driven people taking on a workout together, eager to give a hi-five to anyone who will accept. They'll also be different in one key way: they're going to be an excuse to move to music by some of the top DJs in Chicago for a fraction of the cost of bottle service.
Join us for the first event in this series February 13 at 11 am. We'll bring the music and the motivation, you bring yourself and a friend to Chicago Athletic Association.
You can expect an amazing workout from Emily who is, by definition, a celebrity trainer. She's traveled the world with Nike, drawing huge crowds for workouts in crazy venues, including but not limited to historical spots, public parks and river barges.
Rest assured, the Chicago Athletic Association will bring the party. If you've spend any time at the stunning, public venue, you've seen that they know how to have a good time.
This month, we're excited to have the musical styling of DJ Tess who has a unique musical style fuzing old and new and is one of the founders of Slo'Mo – a party that unites people of all identities, bodies and expressions through the celebration of slow jams and community and is the recipient of several Best Dance Party awards from: Chicago Reader, Time Out Chicago, Chicagoist and Chicago Magazine.
Let us know!
Did this post help you get closer to achieving one of your goals?