An Open Letter to the First-Time Runner I Saw Today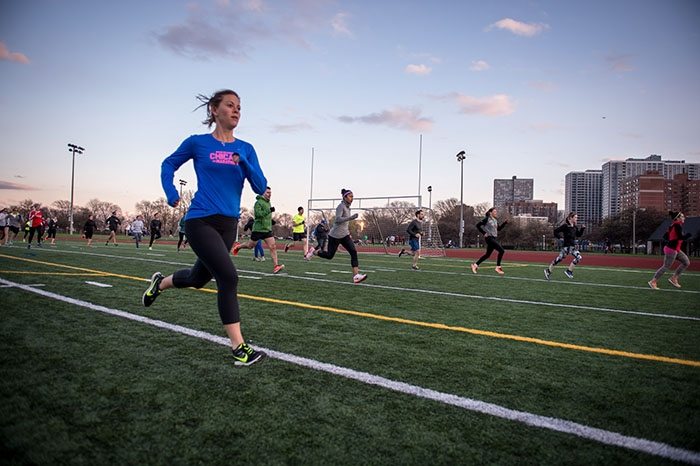 (Photo from Nike Running Club)
Dear First-Time Runner,
Sorry for being a creeper, but I couldn't help but notice you on the lakefront path this morning. You were shuffling along in black yoga pants and a short-sleeved t-shirt that you've had since college, clutching your iPhone in one hand and a crinkled water bottle in the other. And – please don't take offense at this – you looked a little bit miserable. I mean, everyone on the lakefront path at 6:15am looks a little bit miserable, but you seemed to have a little bit of doubt in your eyes, like Maybe I'm not cut out for this. Maybe I should just turn around and head home.
So I just wanted to tell you, I'm proud of you.
Starting anything for the first time takes a shit-ton of courage. And heading out for your first run on the lakefront path is more intimidating than you'd think – it's full of beautiful people in designer gear, effortlessly bounding for miles without ever getting out of breath or even having a slightly red face.
And to many people, running in public can be straight up embarrassing. You easily could have said to yourself, "Maybe I'll run on the treadmill until I'm fast enough to be outside," or "When my legs are a little more muscular, I'll wear shorts and run outside." Running may technically be a solo sport, but you do it in front of dozens of strangers every time you step outside – and it requires a confidence in yourself.
You may not feel great about your running abilities. Maybe it takes you more time than you'd like to run a mile, and maybe a mile is all you can manage. But you know what? You're still a runner. You still deserve to be out there just as much as the other "real" runners.
And a little secret? There's actually no such thing as a "real" runner. If you run, you're a runner. That's it. Plain and simple. Even if you didn't run seven miles before work, even if you didn't average a sub-8 pace, even if your side cramped up horribly and you had to slow to a walk for a quarter-mile – you're still a runner, and you still ran farther than all the people who didn't make it out the door this morning.
So, first-time runner, congratulations on an awesome run this morning. Seeing you inspired me to continue my run and try a little harder, because I remembered how it felt when I first started running and how far I've come since then. You take it step by step and day by day, and over time, you start to see improvements.  You become better for it. I'm so proud of you, and I can't wait to see you again on the lakefront path when you're a second-time runner.
Love,
Kristen