"Better For It" Challenge Helps You Hit Your Goals Together
I grew up in Mia Hamm's heyday. I started playing in my first soccer league as the U.S. Women's team won the gold medal at the 1996 Summer Olympics in Atlanta, and by the time Brandi Chastain whipped her shirt off after scoring the winning penalty kick against China in the 1999 World Cup, I (and thousands of other young girls across the United States) were fully sold on everything these women stood for. I remember looking up to these women, admiring the beautiful way they played the game of soccer – but even moreso, admiring the way they played together as a team, elevating each other to another level of play through teamwork, communication and love for each other on and off the field.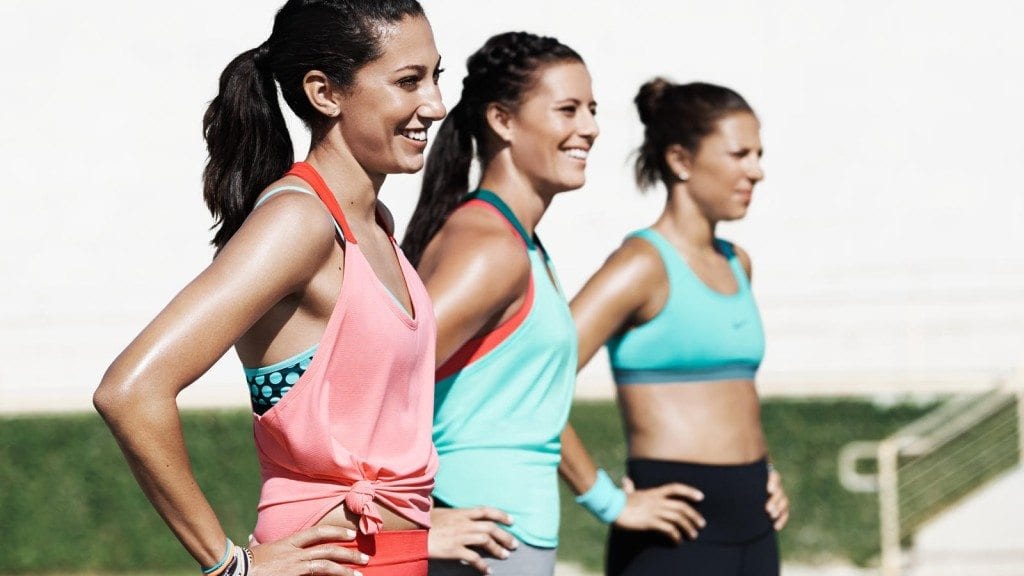 As the 2015 Women's World Cup approaches, Nike wants to help women (and young girls) everywhere tap into that same goal-oriented mindset (pun intended). With the help of three U.S. soccer stars (Christen Press, Ali Krieger and Carli Lloyd), local Chicago Nike Master Trainer (and aSweatLife favorite) Emily Hutchins designed NTC workouts to help athletes get "better for it"; that is, push themselves to work outside of their comfort zone so that they get better on the field, on the track, or wherever their goals take them.
The workouts are designed as part of the 90-day Better For It challenge. Each month, one of the U.S. soccer stars will headline their own workout for athletes to take part in as part of a weekly workout program. The soccer-inspired workouts will take place on Mondays, so that athletes can use the workout as a benchmark to keep track of improvements during their training. The rest of the week combines running, training, yoga, and recovery, using the N+TC and Nike Running apps to keep track of their success.
May's workout comes from Christen Press and focuses on some of the essentials for a soccer player: strength, mobility, and stability, plus the endurance necessary to play a soccer game for 90-plus minutes. According to Hutchins, "Christen's workout has a lot of variety for a well-balanced workout. The drills strengthen the body and help improve functional quickness and agility, so it's a great way to kick off the N+TC 90-Day Better For It Challenge."
My sweet little sister, Rachel, is a successful collegiate soccer player at Centre College.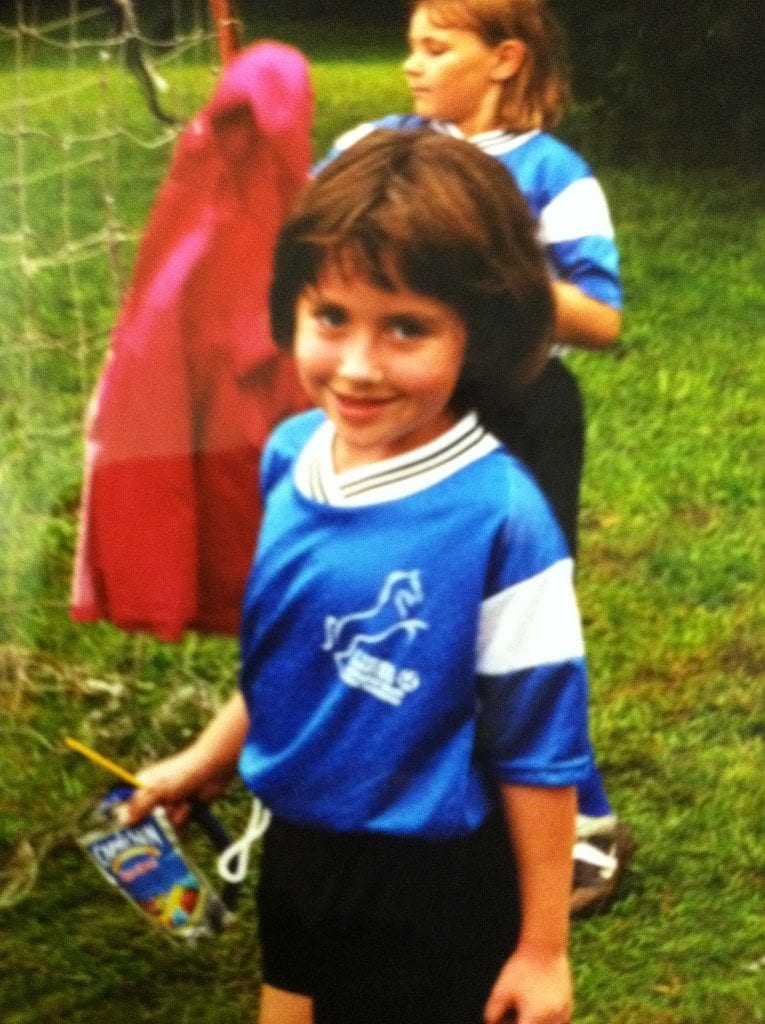 She has grown up somewhat since this picture was taken- no bowl cut currently, but she does loves Capri Sun. I asked her to look over the program and give her expert opinion on the workouts from a soccer player's perspective:
"Soccer is such a dynamic sport that you have to be ready for anything, and fitness is a huge component to succeeding with that. You have to have the endurance to last 90 minutes, but also have the speed and explosiveness to change direction on a quick sprint to chase down a giveaway. Having good leg strength is also really important for injury prevention, especially with the all too common knee injuries you see in women's soccer."
Rachel's soccer team also plays with the mantra "where passion meets performance" – something that Nike's workouts and community spirit have exemplified as well. Fitness is a way to fuse passion and performance together, so that you can perform at your peak levels. And with the community backing you in your endeavors, you're a million times more likely to succeed. Says Rachel:
"Having teammates to support you when you're going through tough fitness training is beyond important. Their constant encouragement lets you think beyond yourself in the tough moments to become part of something bigger. Instead of doing it for yourself only, you now are doing it for the girls on either side of you, which gives you a sense of responsibility to push yourself past what you thought were your limitations. Plus, in those last minutes of a close game, you know you can count on yourself and your teammates because you've already put in the hard work to allow you to succeed and make magic happen."
The challenge kicks off today, Monday, April 6, and you can find the details over at Nike.com. Make sure to download the N+TC and Nike Running apps in the app store to track your improvements. By signing up for the challenge, you'll receive bi-weekly emails that will serve as your complete guide to the 90-day Better For It Challenge. Emails will include your program schedule with direct links to N+TC workouts and nutrition insights to help fuel your success for the #BetterForIt challenge.
Playing soccer for the U.S. Women's team was a dream for many of us growing up, and while we may have moved on to different dreams, we can still follow in their cleat-prints with an intense, "goal-getting" fitness program that will help you achieve your goals. They say it takes 30 days to form a habit, 60 days to see progress, and 90 days to see results – and with the Better For It Challenge, you'll see gold-medal results in three months.