The 10 People You See on the Lakefront Path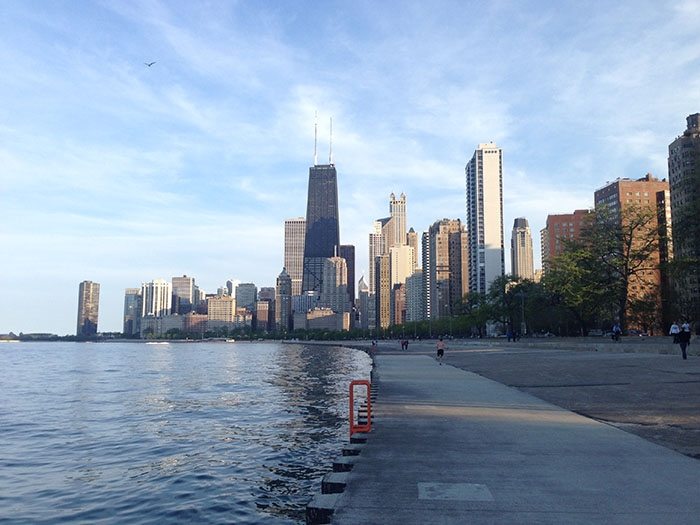 Spring has (sorta, kinda) sprung, and with it, the deserted lakefront path I've become so accustomed to this winter is showing signs of life again. We're still a long way from the summer days of playing Frogger while trying to pass walkers three abreast on the LFT or feeling your heart leap out of your chest every time a biker zooms past you without so much as an "On your left!" Runners, walkers, and bikers are slowly starting to emerge from their hibernation and migrate back towards the lakefront path. Here's who you need to watch out for:
The Guy with an Iron Man Tattoo
This guy has the Iron Man logo tattooed on the back of his hairless, muscled, somehow perpetually tan calf. He's running in spandex bike shorts (to practice for transition), checking his Garmin to keep an eye on his splits, and he's bald, but definitely by choice. You've most likely also seen him coming out of your local CrossFit gym during the off-season, chugging a bro-tein shake and chatting to a friend about the pros and cons of racing in the summer versus the fall.
The Completely Overdressed Woman
It's 45 degrees outside and she's wearing tights, fleece leggings, a long-sleeved shirt, a pullover, a jacket, a headband, gloves, and a face mask. She also has a full belt of water bottles around her waist, and she's carrying her iPhone 6 in her hands. It's impossible to understand how she can even move with all that stuff on. And on the flip side…
The Completely Underdressed Male
Often found running in packs, the Completely Underdressed Male can usually be found in cross-country split shorts (hubba hubba!), a tight tech tank, and gloves. Because it would be stupid to run in 10 degree weather without gloves, right?
The Tourist on the Divvy Bike
While the bright blue Divvy bikes are easily distinguishable, you can tell the Chicagoans from the tourists using one simple eye-test: does the person on the bike look like they've ever ridden a bike before? If yes, it's a Chicagoan; if not, it's a tourist.
Insider tip: tourists on Divvy bikes are also commonly seen carrying a "selfie stick" in one hand, trying to get the perfect, carefree, "check me out enjoying Chicago!" shot for the Insta; however, this often causes the front wheel of their bike to wobble dangerously close to the edge of the path that meets the water. Be prepared to alert a lifeguard.
The Hula Hooper
Why is this person hula hooping on the edge of the LFT at 7:30am? Just because, man. Just because.
The Hot Dad Stroller Runner
There's no shortage of attractive guys on the lakefront, and once the weather warms up, my neck is constantly on a swivel looking left and right at the various prospects running towards me… and then away from me. But nothing is quite as impressive as a hot dad running while pushing a stroller. In fact, you might be so taken by his good looks, his effortless stride, his full head of hair waving gently in this breeze, that you don't even notice the stroller at first. However, once you realize that he's not only running past you, but doing so while pushing a napping toddler in a jogging stroller- swoon. Ovary explosions everywhere.
Bonus tip: these dads often come packing snacks, so chat one up if you run out of Gu during a long run.
The Person A Solid 40 Years Older Than You Who Somehow Blows Past You at a Sub-8 Pace
The Amateur Photographer
This person might actually be a great runner, but it's impossible to tell because they stop every 50 yards to take a picture of the Chicago skyline. Keep an eye out for them especially between Oak Street and North Avenue, and watch for sudden stops or swerves off the path.
The Running Crew
This category ranges from the casual run club, loping along in a loose pack and out for a pre-brunch jog, to the regimented runners lined up two-by-two and constantly shouting "BIKER BACK! RUNNER BACK! BIKER BACK! RUNNER BACK!" Pass them quickly, or else you risk being absorbed into their group, and then you're pretty much stuck with them forever.
The Guy in the Hot Dog Costume
I saw him once, at 6:43am on a summer weekday morning. It was between Fullerton and North Avenue. He approached, like something out of a dream- a 20-something male wearing a full-fledged hot dog costume, out for a casual morning jog. Was he coming from the Hangge Uppe? Was he training to run a marathon in costume? Was he out of clean clothes? I never worked up the nerve to ask, and I never saw him again. But I really believe he's my own personal Slutty Pumpkin. We will meet again one day, Hot Dog Runner. We will.