Fit to be wed (or just to hang out) with Shannon Gail, owner of Bridal Sculpt
I had a chance to sit down with Shannon Gail, owner of Bridal Sculpt, the bootcamp style class for both brides-to-be and all the single ladies. With her years of experience as a wedding planner, she's seen her share of starving brides trying to squeeze into the white dress and she's got tips to inspire busy ladies, the betrothed and everyone in between.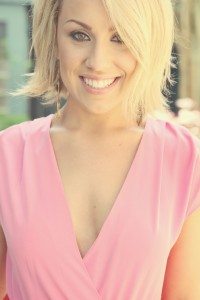 JA: You've been planning weddings for years, what made you want to start a bootcamp?
SG: I would say that weddings are definitely a passion of mine, but my other passion is working out and it's almost to the the point where it gets in my way. I'm super busy – we plan 50 weddings a year. My schedule is beyond psychotic. It was just to the point where I couldn't find a workout that did everything, and I wanted one workout that would do it all and do what's good for women. It really just came from not being able to find the right class that I wanted to take.
JA: What muscle group do all brides want to tone?
SG: I would say most people come in saying that they want to tone their upper back, their shoulders and their arms, but we focus a lot on legs in class which is very confusing for some people in the beginning. We always explain that in order to show the muscle tone that you're gaining by working out your arms, you need to still be working the largest muscle group in the body to be burning the most calories and that's your legs.
JA: What are three exercises that all brides – or anyone  – should do to look good in a strapless dress?
SG: Definitely push-ups. I think a lot of women are deterred from doing these because its frustrating when you can't even do one, but doing a proper push-up is the smartest thing you can do. It doesn't matter if you're on your knees, just do it. Burpees are a fantastic workout – it's cardio, it's legs, it's your upper body. But squat away and get your cardio up. You don't have to be in a gym, you can do them in your house.
JA: What's one mistake that you see brides make?
SG: Brides try to lose weight. They get so fixated on the number that they're constantly on the scale, they're not eating enough, they're stressed out and they're constantly at the gym running and sitting in the sauna. It's not smart because you're not going to like the way you look even if you lose five pounds and everything is still jiggling. You need to be toned, healthy and not looking like someone else on your wedding day.
JA: What advice would you give to women, brides or otherwise who find it hard to fit a workout in?
SG: We only do Bridal Sculpt two times a week, so I'm not going to sit here and say, "Come to Bridal Sculpt," because sometimes you get off work at 6 and this is the last thing you want to do. Take the knowledge of body weight workouts and replicate them at home. Everything you do at Bridal Sculpt is something that you can do at home.
Want to try Bridal Sculpt? Learn more about the workout here!
Get a feel for the workout at home with this:
1 squat jump, 1 push up and 1 burpee
2 squat jumps, 2 push ups and 2 burpees
3 squat jumps, 3 push ups and 3 burpees
4 squat jumps, 4 push ups and 4 burpees
5 squat jumps, 5 push ups and 5 burpees
6 squat jumps, 6 push ups and 6 burpees
7 squat jumps, 7 push ups and 7 burpees
8 squat jumps, 8 push ups and 8 burpees
9 squat jumps, 9 push ups and 9 burpees
10 squat jumps, 10 push ups and 10 burpees
11 squat jumps, 11 push ups and 11 burpees
12 squat jumps, 12 push ups and 12 burpees
Let us know!
Did this post help you get closer to achieving one of your goals?