11 Back-to-Office Snacks for Your Deskside Pantry
September marks the end of summer and the beginning of the fall season, and that means back to school. Unfortunately for working adults, this time of the year also means it is back to the office.

Whether you've already returned to the office post-COVID craziness or you're only just now returning back to the office for the very first time, chances are you're going to need some snacks. Let's be real, snacks just make everything better.

Here are some of the best back-to-school, I mean back-to-office snacks for your deskside pantry.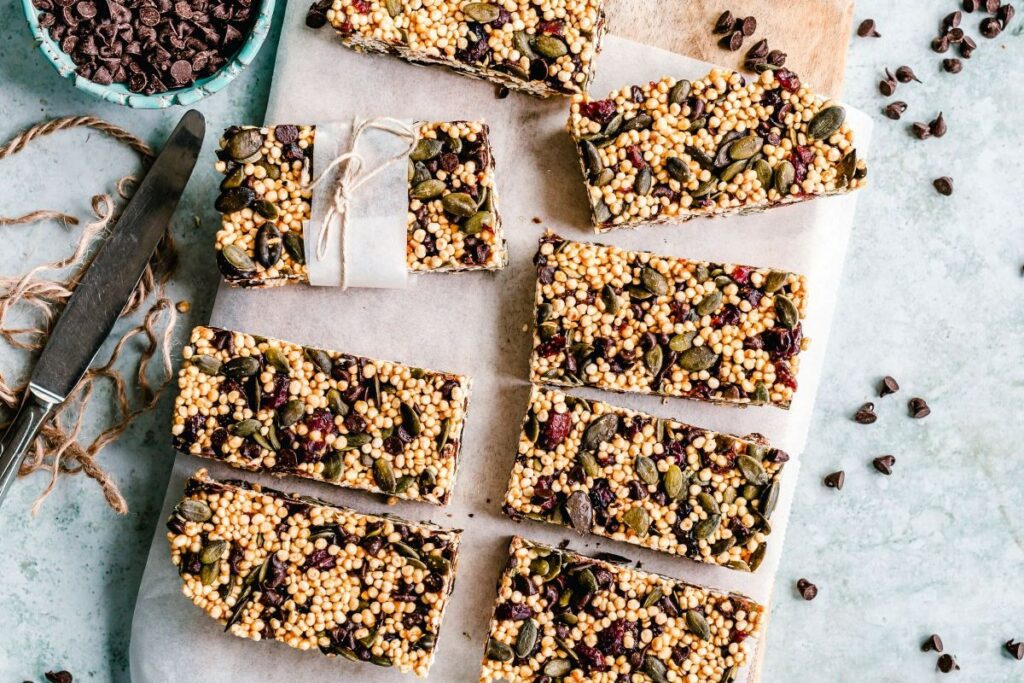 1. Crunchy lentils
If you enjoy snacking on something that's crunchy and salty yet filling and light, try a handful (or two) of Farver Farms Lentil Crunchers.
Loaded with fiber and protein, lentils will help keep any 3 pm sugar cravings at bay. Not to mention, they're the perfect plant-based snack for your return to the office.
2. Protein-rich bagels
Short on time? Don't skip breakfast. Grab a bagel instead. Not one from the corner cafe; choose a more mindful option like BetterBrand Bagels.
This female-founded food technology company is transforming the most carb-heavy foods into the least starting with bagels. Now, all we need is a schmear of cream cheese.
3. Flavored croutons
Croutons? For a return to the office? You better believe it! If you plan on packing a handcrafted salad for lunch or popping out to snag one on your lunch break, don't forget the crunchy Kooshy Croutons, a new brand of sourdough croutons!
With flavors like French Toast, Mambo Italiano, and Poco Picante this is a back-to-office snack you can (and will) enjoy all on its own.
4. Vitamin D-infused water
Returning back to the office means less time spent outside in the great outdoors and sunshine. (See ya, summer!) Don't let a return to the office deter you from getting your daily dose of vitamin D.
Instead, drink it up with a bottle of Shine Water, which includes 100% of your daily vitamin D recommendation. Forget to take your vitamin D supplement for the day? Do not worry, Shine's got you.
5. Sesame seed milk
With all of those office coffee runs to help get you through the workday, you'll want a splash of plant-based milk.
Add a carton of sesame seed milk to your office fridge or better yet, a coffee creamer. All we can say is — gamechanger.
6. Yapoun tea crystals
If coffee isn't your thing or you're trying to cut down on the caffeine, try a mug of tea. Recommendations? Try VIBE by CatSpring Yaupon. These 100% pure yaupon crystals instantly dissolve in cold, hot, or sparkling water, as well as any drink you're in the mood for.
Translation: They pair perfectly with just about anything. Plus, they're naturally rich in antioxidants. Just one flavorful glass rivals a cup of blueberries. Well, color me impressed!
7. Pineapple digestive enzyme
Okay, okay this isn't really a back-to-office snack, but hear me out. A change in your schedule can lead to changes in your digestion and ultimately your gut health.
These changes in routine can, in turn, lead to a bout of uncomfortable bloat. So keep a pack of Golde Pineapple Debloat at your desk. Your gut, and your future self, will thank you.
8. Manuka honey
Whether you enjoy a spoonful of honey in your tea or spread on a slice of toast with peanut butter, Manuka honey is a delicious addition to any office beverage or snack. Plus, it's full of a plethora of health benefits.

Instead of refilling your office candy jar with traditional store-bought candies, fill it with a stash of these Organic Manuka Honey Pops courtesy of Wedderspoon. Umm, I'll take one, please!
9. Honey-infused nut and seed bars and waffles
Okay, so you may not like straight-up honey, but what about honey-inspired snacks? Enter Honey Stinger Nut and Seed Bars and Waffles.
These back-to-office snacks are packed with energy to help pull you through that afternoon slump until you can make it to the end of the work day. We see the light at the end of the tunnel!
10. Scrambled breakfast bowl
Kraft-Heinz's newest brand, Just Crack An Egg, is the perfect snack to take with you when you return back to the office. These scrambled breakfast bowls are packed with all of your favorite fixings.
All you have to do is crack an egg, put it in the microwave, and enjoy! Breakfast and office snacking have seriously never been so simple.
11. Flavored sparkling water
Stocking up on office supplies? No, not desk supplies, but communal beverages and snacks to share with coworkers in the office kitchen. Yes, that's what we're talking about.
Grab a case (or two) of Spindrift. Just sparkling water and real squeezed fruit. Yep, that's it — and it's packed all in one can too. Fancy!

The bottom line: Back to school and back to work don't have to be a total drag. If you're planning a return to the office, plan on stocking up on these back-to-office snacks to make the transition easy, effortless, and totally delicious.