The 10 Most Nutritious Peanut Butters for Your PB and J
Alright, I am just going to say it: I love peanut butter. Not that I discriminate against any nut butters, but peanut butter is my absolute all-time favorite. I love on my cereal and atop a bowl of my overnight oats. I love a classic peanut butter sandwich with banana slices. Heck, I even enjoy peanut butter straight off of the spoon.
There's only one problem. Peanut butter is deliciously addictive. I mean seriously. Who hasn't grabbed a jar of peanut butter to snag a casual bite or two, only to look down and realize you've eaten the entire jar? Hey, no judgment! I've been there before.
Whether you are looking for PB with the most nutrition benefits or you're just curious about peanut butter nutrition, here are the best and healthiest peanut butters to stock your pantry.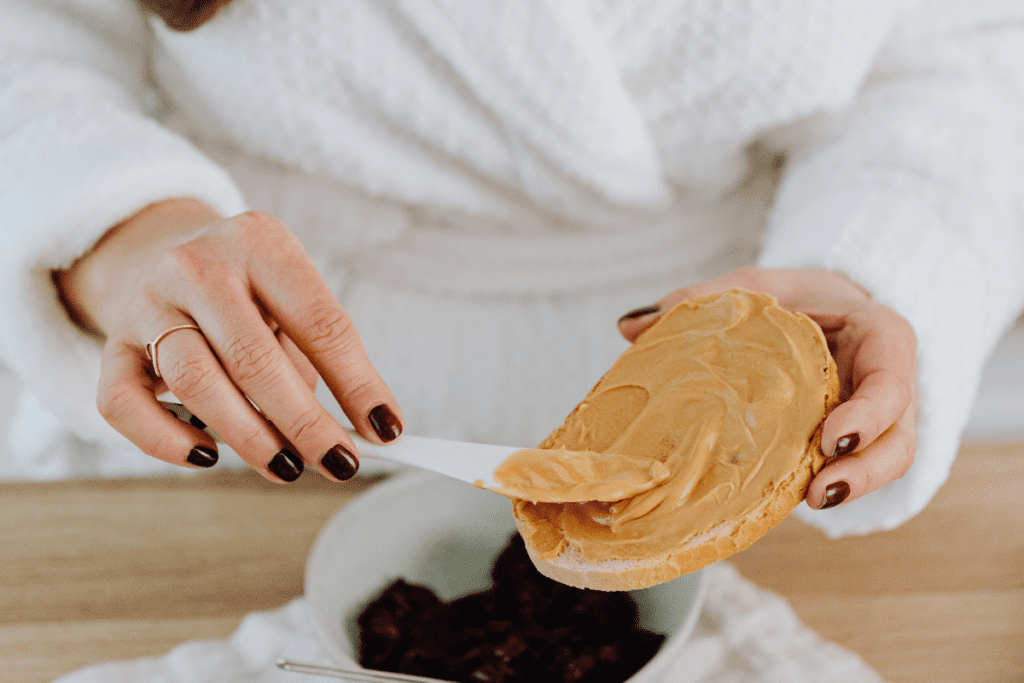 The nutrition benefits of peanut buter
If peanut butter protein content is important to you, you're in luck. Natural peanut butter (peanut butter that only consists of peanuts) contains the highest level of protein compared to other kinds of nut butters. It is also low in carbohydrates. One serving size (or two tablespoons) contains around 8 grams of protein and roughly 180-190 calories.
"Peanut butter is filling due to its protein and fat content, but [do not fear the fat because peanut butter] contains healthy (monounsaturated and polyunsaturated) fats," shares Sara Chatfield, an RDN and nutritionist at Health Canal. "It is also a good source of several vitamins and minerals, including copper, magnesium, manganese, potassium, vitamins B3, B6, and E."
Kelsey Sackmann, MS, RD also touts peanut butter protein content.
"Peanut butter is a convenient and affordable source of fiber, healthy mono- and polyunsaturated fats, plant-based protein, and minerals like magnesium, phosphorus, and zinc. It packs a lot of nutrition into only 2 tablespoons, and, because peanut butter can make you feel fuller faster, you do not need to eat a lot. Peanut butter with no added sugar is a relatively low-carbohydrate food that will not have a significant impact on blood sugar."
However, Chatfield cautions your daily peanut butter intake. "Since peanut butter does provide a lot of calories, serving sizes should be noted."
Which peanut butter has the most nutrition benefits?
When choosing the most nutrient-packed peanut butters, Chatfield has a word of grocery shopping wisdom. "The healthiest kind of peanut butters are those that contain only one or two ingredients; just peanuts, or peanuts and a little salt. Check labels and avoid those with added oils or sugars."
And it may be counterintuitive, but avoid low-fat or reduced-fat versions.
"Low fat or reduced-fat varieties may seem healthier, but they should actually be avoided as they generally have added sugars and other fillers, notes Chatfield. "[Also,] avoid peanut 'spreads,' which contain added oils or other ingredients. Look for brands that offer 'natural' peanut butter."
If you are interested in peanut butter with the most nutrition benefits, try these recommendations from our registered dietitians.
1. 365 Everyday Value Organic Creamy Peanut Butter
A favorite of Chatfield, Whole Food's offers an organic creamy peanut butter free of any added ingredients, including salt and sugar.
2. Crazy Richard's Peanut Butter
I am a huge fan of Crazy Richard's Peanut Butter, mostly because it only contains one ingredient – peanuts. But also because I can find it in most grocery stores when I am traveling. Not many retailers carry peanut butter options with only peanuts, but Crazy Richard's (thankfully) is one of them.
Sackmann agrees, noting that "Crazy Richard's peanut butter has no added oil, salt or sugar for those looking for the purest product."
3. Noomi Peanut Butter
Noomi Peanut Butter provides a subtly sweet taste without the added refined sugar.
"It's made with the best ingredients: grapeseed oil, organic peanuts, peanut oil, sea salt, and dates instead of sugar," says Sackmann. "[It is] perfectly sweet without the added sugar or hydrogenated oils."
4. NuttZo Peanut Pro Smooth
If you are interested in a more robust spread, Sackmann recommends NuttZo Peanut Pro Smooth.
"[It is] a perfect blend of seven nuts and seeds, including selenium-rich Brazil nuts and fiber-rich flaxseeds." Sackmann states "increasing the diversity in your diet will help to provide your body with more minerals, nutrients, and vitamins, it needs to function at its best."
5. Once Again Peanut Butter
Once Again offers a variety of nut butters including Organic Creamy Peanut Butter. Made by roasting and grinding blanched, dry roasted peanuts until they are wonderfully creamy, this PB has just one ingredient, peanuts! It is also salt-free and unsweetened.
6. RX Peanut Butter
Although peanuts are naturally high in protein already, if you are looking for even more peanut butter protein content, check out RX Nut Butter's peanut butter.

RX Nut Butters are made with natural peanut butter and other high-quality ingredients like dates and egg whites, which pack an additional punch of protein per serving.

Available in full-sized jars or individual packets, RX peanut butter also comes in some pretty delectably delicious flavors like chocolate peanut butter, honey cinnamon peanut butter, and pumpkin spice peanut butter.
7. Santa Cruz Organic Peanut Butter, Dark Roasted
Recommended by both Chatfield and Sackmann, Santa Cruz Organic Peanut Butter (Dark Roasted) provides peanut butter with a heartier, richer flavor. Made from dark roasted Spanish peanuts, this PB contains 3 grams of fiber and 8 grams of protein per serving.
"It's creamy, delicious, and satiating," says Sackmann.
8. Smucker's Natural Peanut Butter
Smucker's Natural Peanut Butter is 100% natural and made with two simple ingredients: fresh-roasted peanuts and a dash of salt. Pair with one of Smucker's famous jams and jellies or get your pioneer woman on and make your homemade jam or jelly own instead.
9. Trader Joe's Valencia Peanut Butter
Trader Joe's Valencia Peanut Butter (creamy and unsalted) is my personal peanut butter favorite. Made from Valencia peanuts, Valencia peanuts contain three or more kernels per shall and offer a sweet flavor that is commonly used in all-natural peanut butters. If you have never tried Valencia peanut butter, I highly recommend upgrading your basic jar of plain old PB to a jar made from Valencia peanuts. TJ's also offers their Valencia peanut butter in creamy and salted, crunchy and unsalted, and crunchy and unsalted.
10. Wild Friends Classic Creamy Peanut Butter
Wild Friends Classic Creamy Peanut Butter is made with simple ingredients and has a solid fiber and protein count, shares Sackmann. "Not to mention it's low in sodium, making it a heart-healthy peanut butter."