How to Create a Desk-Side Pantry Perfect for the Office
When it comes to work lunches, we all have the best of intentions. We research recipes, menu plan and grocery shop. But without fail, we all end up having those days where we forget our lunch at home, leave it on the train or just really don't feel like eating leftovers for the fourth day in a row.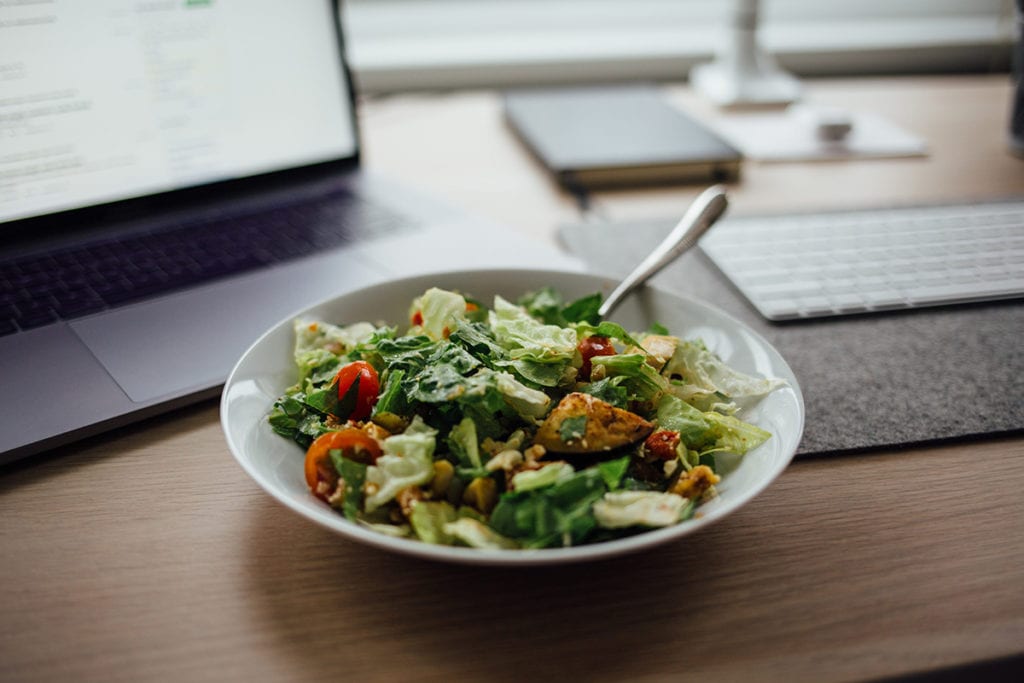 Enter what we're officially coining "the desk-side office pantry." Keeping a small stash of items in your desk or office fridge and freezer can keep you fueled on days when you really just don't give a f*ck. Here's how you can create a desk-side pantry perfect for the office.
1. Grains
When building a desk side pantry, start with basic items like whole grains. Think of items like bread, crackers, flour tortilla wraps, heat-and-eat grain packets like quinoa or rice and oatmeal. Items like bread and wraps should be stored in the office freezer so they stay fresh for longer. Just remember to write your name on items placed in the community kitchen so no one snags your last slice of bread. (You know who you are).
2. Protein
Protein is a filling fuel option, so it's best to stock up on a variety of protein options so you are always left satiated and satisfied. Some good protein options include:
Cans of beans (No salt added if possible)
Hard boiled eggs (Keep refrigerated)
String cheese (Keep refrigerated)
Hummus (Depending on the brand, keep refrigerated; if shelf stable, once you open it, keep refrigerated)
Jars or individual packets of nut or seed butters
Packets of chicken, salmon or tuna
Raw nuts and seeds
Protein powder
Allison Koch, MS, RD, CSSD, LDN, Board Certified Sports Dietitian says, "Protein powder is an easy way to add protein to any dish. From a scoop mixed in with your oatmeal to soup to smoothies to yogurt bowls." Koch prefers unflavored whey powder as it provides a high quality, complete protein that doesn't include any added sugar.
3. Ready to eat meals
Some work days can be super busy, which means you may not have the time to put together a Michelin star meal. On these days, refer to your desk-side pantry and keep ready to eat meals stocked at your desk or in the office freezer. Cans of soups, frozen meals and instant noodles can all get the job done and will take your desk side pantry up a notch.
4. Sauces
Even if you plan on budgeting for weekly lunches out, condiments and sauces are always a nice addition to any office meal. Whether you elevate a homemade sandwich or a store bought salad, stock up on a few of your favorites to add an instant boost of flavor to any meal. Some ideas include:
Honey
Hot sauce
Ketchup
Mayo
Mustard
Salad dressings
Salt and pepper
5. Fruits and vegetables
Koch says, "A meal isn't complete without a serving of fruit and/or vegetables. If space allows in the office refrigerator, keep a bag or two of frozen fruit and/or vegetables in the freezer and a couple of fresh items in the fridge (just don't forget about them before they go bad and risk getting tagged the food waster)."
Some of Koch's regular go-to items include a big bag of baby spinach, carrot sticks, red pepper slices and snap peas. Koch also mentions, "Dried fruit is also a great way to add flavor and fiber to your morning bowl of oatmeal or yogurt – just look for options with no added sugar."
Office meal ideas
Once you have your desk-side pantry established, it's time to make lunch or a snack. Here are a few food combinations to give you some culinary inspiration for your next office meal:
Homemade ramen: Find a low sodium brand of instant noodles and elevate your dish by adding a hard boiled egg with a splash or two of hot sauce or soy sauce for a kick of flavor. Add at least 1 cup of frozen veggies during the last 1-2 minutes of cooking to add a nutrient punch and balance.

Simple tuna salad: Grab a bag of canned salmon or tuna and mix with a scoop or two of mayonnaise for a simple tuna or salmon salad. Enjoy on its own or with a side of crackers. Bonus if you have carrots and celery to add for an added crunch of fresh flavor.

Mediterranean bowL: Heat up a single serving of heat-and-eat grains like quinoa or brown rice then add a ½ cup of drained chickpeas. Koch reminds us to rinse the chickpeas before using because rinsing removes a ton of sodium. Then add a few tablespoons of tangy dressing for an easy homemade grain bowl full of fiber and flavor. Koch also recommends pouring the mixture over a bed of greens like baby spinach to make this a complete meal.

Oatmeal and fresh fruit: Make a bowl of oatmeal and top with a drizzle of honey or nut butter. If you have fresh fruit, toss in some apple or banana slices for a boost of fiber and natural sweetness. Koch says, "I like to stir in a scoop of protein powder and top with almond butter, seeds, and dried fruit and sliced banana to create a bowl of with staying power." 
The next time you forget your lunch at home, don't panic. Instead, take a visit to your desk-side pantry and prepare a meal or snack you and your tastebuds will enjoy.