The Best Luggage for Every Adventure
With so many of us getting the travel bug again, it's might be time to invest in new luggage. While it's nice to have bags that look good (especially a matching set), having super functional pieces that are smartly designed can elevate your trip and help you stay organized on the go. Whether you're going for a quick overnight jaunt or a few weeks away, here's the best luggage for every adventure. 
Best Luggage for overnights and yoga retreats: Popflex, Belladonna Gym Bag
The designers at Popflex are pretty much geniuses. Not only does this bag have an outer slot large enough to fit a yoga mat, but there is a secret compartment at the bottom to hold shoes. You could probably even fit in more than one pair.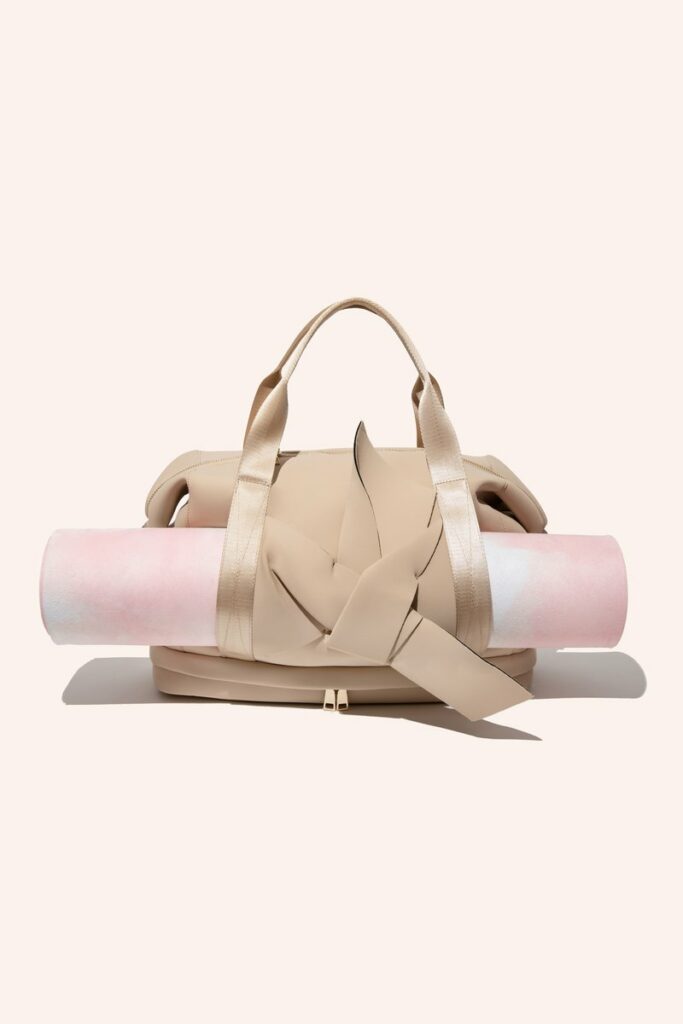 With a fresh flower print lining, the inside is just as impressive, featuring two small mesh pockets, a key ring, a zipper pocket, and even a laptop pocket. While it's small enough to use as your everyday gym bag, it can also function as an overnight bag or perhaps a weekender, if you're generally a light packer.
Made of neoprene, it's soft, stretchy, and water-resistant. So you can even take this bag with you to the pool or in the locker room without worrying about your electronics becoming wet. Choose from Sandy, Midnight, and Bora Blue colors. There's also a detachable strap for maximum convenience.
Best for weekends/carry-on: Fawn, The Weekender
Fawn's The Weekender is chic but mighty. Made of sturdy pebbled vegan leather, it's available in eight colors including Black (my personal favorite), Blush, and Brown. Ideal for plane rides, weekends away, or as a hospital bag for expecting moms (the brand is known for their very grown-up diaper bags), over-packers will appreciate how roomy this one is. The unique shape of the bag makes it very easy to find that pair of jeans without removing the rest of your clothing from the bag.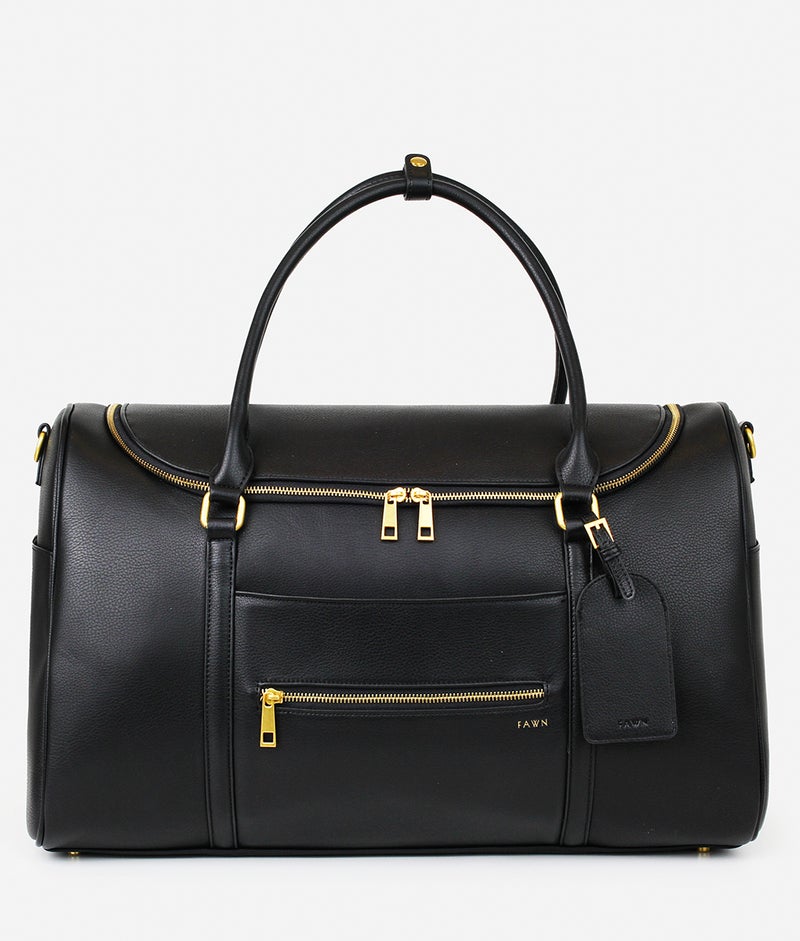 There are also four exterior pockets, two side pockets, and two front pockets, including a zipper pocket. The straps make it comfortable to carry on your own, but a detachable shoulder strap is also included.
For long trips and weddings: Ricardo Beverly Hills Montecito Large Check-In
There's something about hard-side luggage that just feels fancy. The Ricardo Beverly Hills Montecito line has carry-on and medium-sized bags, but we're partial to the Large Check-In. Stylishly designed, yet reasonably priced, it's made of durable polycarbonate material and has a faux leather trim. It also has a TSA-approved combination lock, so you can feel extra safe when you travel.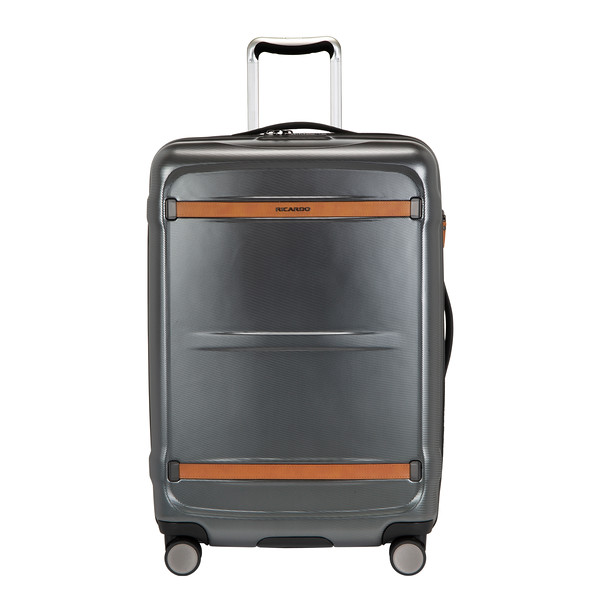 With dual any-direction wheels, this bag glides right through the airport and has a telescoping handle with an ergonomic grip. So, you can easily run for the security line (it happens to the best of us).
Better yet, the Montecito prevents your clothing from becoming completely messy and wrinkled. Ideal for weddings and formal events, the bag's suiter system features a hanger loop and a removable garment bar. There are also adjustable compression straps, so you can fit everything in.
For last minute trips and traveling on the cheap: The Coolife Luggage 3-Piece Set
Going on a last-minute trip and need an affordable set of matching luggage to arrive literally tomorrow? The Coolife Luggage 3-Piece Set is sold on Amazon and won't cost more than your ticket. The sleek design is also an easy dupe for pricier brands.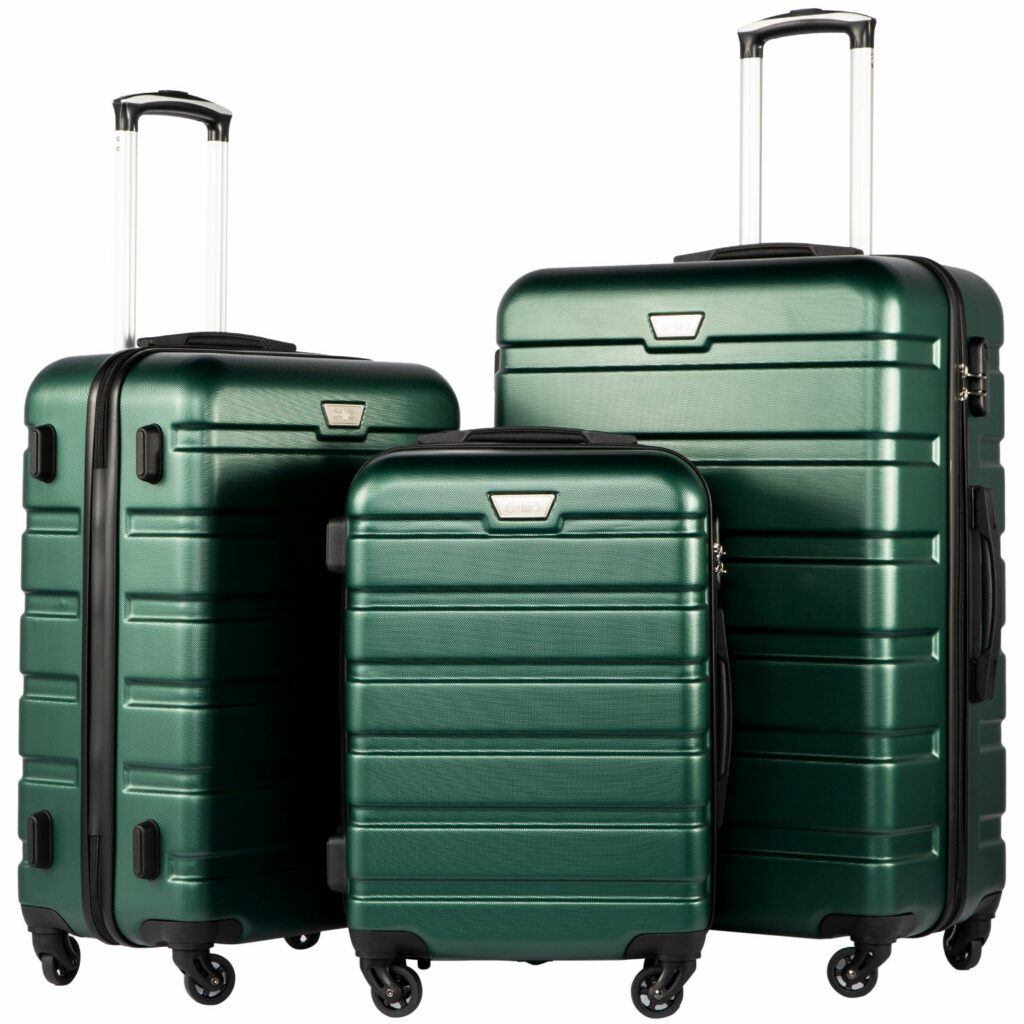 The set comes three pieces total, each measuring 20, 24, and 28 inches. Each bag nests inside the other, making this an ideal option for apartment dwellers or anyone with limited storage space. A variety of colors are available including Champagne, Dark Green, Black, Red, and Blush.
Best for business trips: Ted Baker Albany 2 Wheeled Business Trolley
Going on a quick trip for work and need a very small piece of rolling luggage you can take with you to meetings? The Ted Baker Albany 2 Wheeled Business Trolley is it. Very stylishly designed, this briefcase on wheels is lightweight and durable. Made with rose gold-colored aluminum, this soft black case is the right size for fitting a laptop and a quick change of clothing.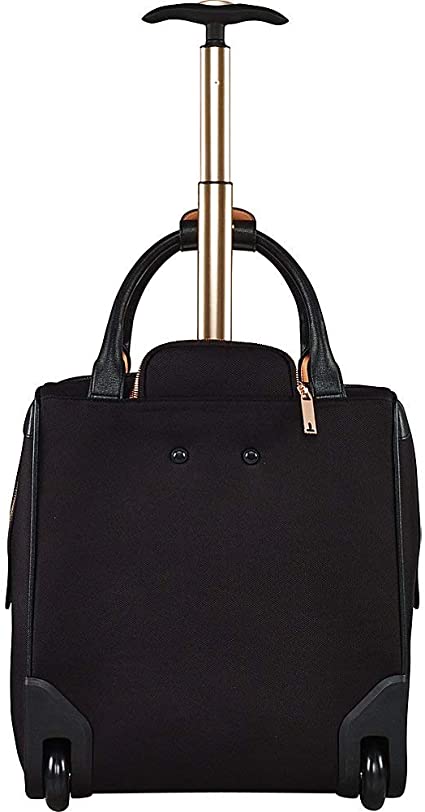 The Trolley is part of a set featuring a variety of soft-sided luggage in different sizes. If you prefer soft luggage to hard, you may want to look into purchasing some of the larger suitcases. 
Best for every adventure: Arlo Skye The Zipper Check-In Medium
Looking for a standard suitcase to take just about anywhere? Arlo Skye's The Zipper Medium Check-In Medium will get the job done. It's made from extremely lightweight impact-resistant, German polycarbonate. Ideal for over-packers, it features elasticized tamper-proof zippers.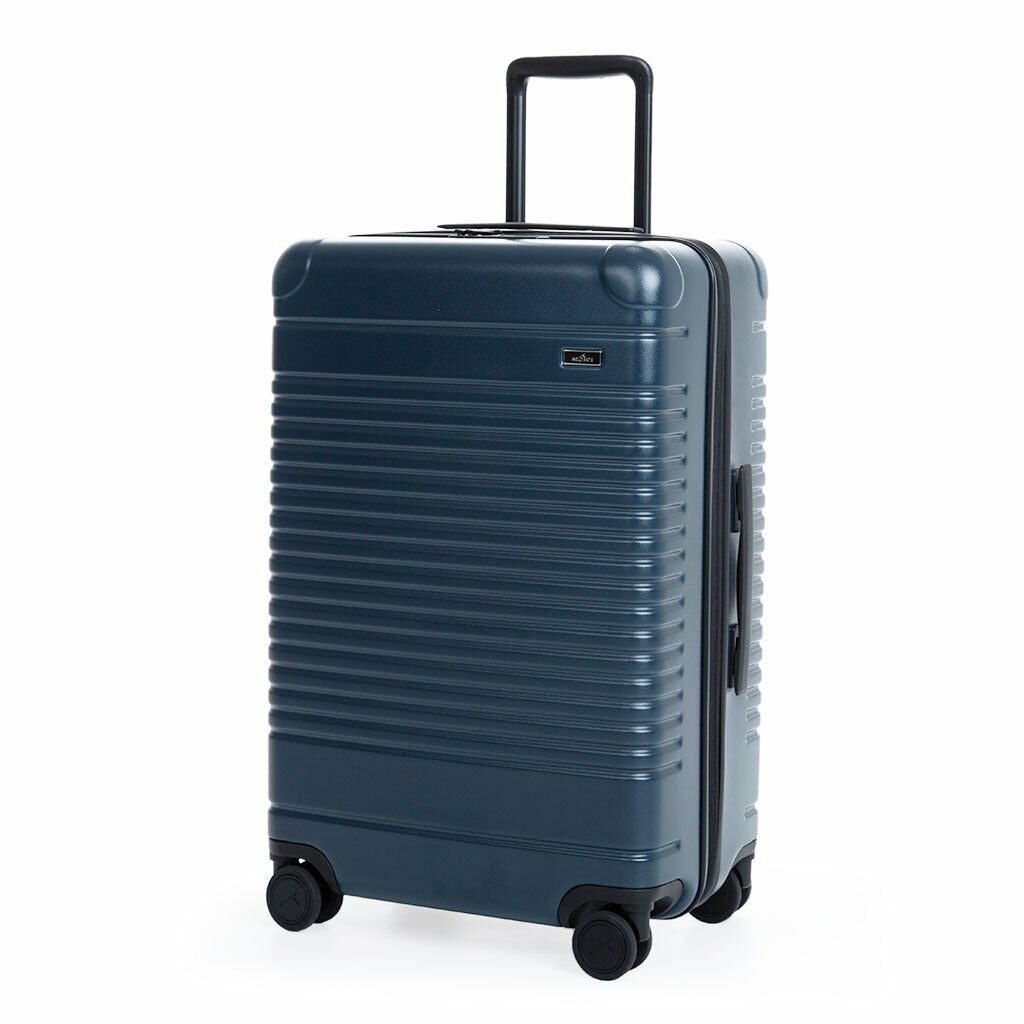 The inside doesn't have many bells and whistles, but the lining is antimicrobial. Choose from five colors including Yellow, Sage, Burgundy, and Black. 
Best luggage accessory: Mali And Lili Avalon Packing Cubes
No matter where you're going, you need to take Mali And Lili Avalon Packing Cubes with you. They make every trip so much easier. Choose from Blush, Black, and Tan Leopard colors.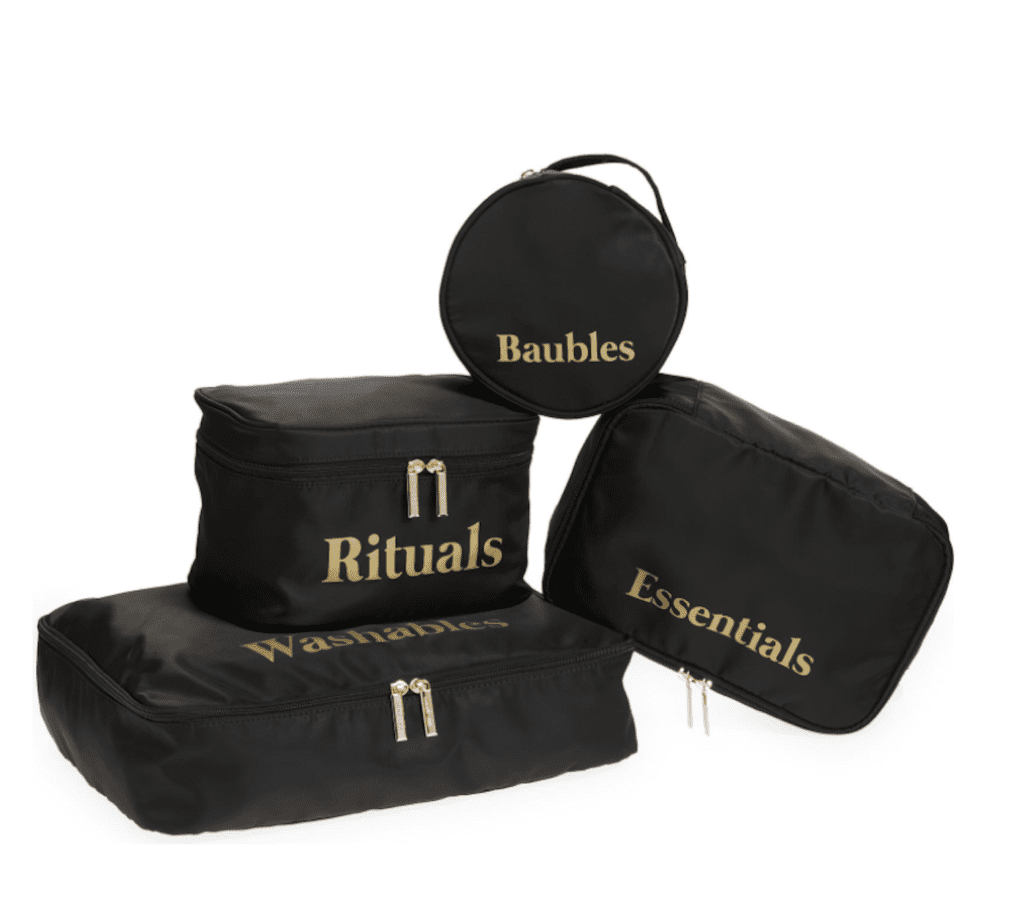 The largest cube, labeled Washables is perfect for separating dirty socks from clean shirts. The Baubles cube is ideal for jewelry or even to prevent your bras from becoming crushed. Bringing bottles? The Rituals cube fits bottles of all kinds and smaller ones can even stand up. Lastly, the Essential cube is great for makeup and other miscellaneous items. You'll never know how you traveled without this set.