8 Zoom Makeup Tips to Get You Camera-Ready
Virtual meetings are the norm now, and they're likely to stick around as many office jobs continue to remain remote in the wake of the novel coronavirus. While you may have been a makeup minimalist pre-pandemic, Zoom is not exactly flattering, which may mean it's time to rethink your typical beauty routine if you have an important video call on your calendar.
"The camera tends to remove quite a bit of detail and wash us out," explains Terri Bryant, celebrity makeup artist and founder of Guide Beauty. "While you can get away with wearing more makeup, the real trick is to keep it clean and focus on makeup that not only lifts and brightens the skin, but also defines our features bringing back dimension to the face."
The good news is, you don't have to spend a ton of time to look put together on camera. Here are a few easy Zoom makeup tips to try the next time your boss schedules a video meeting.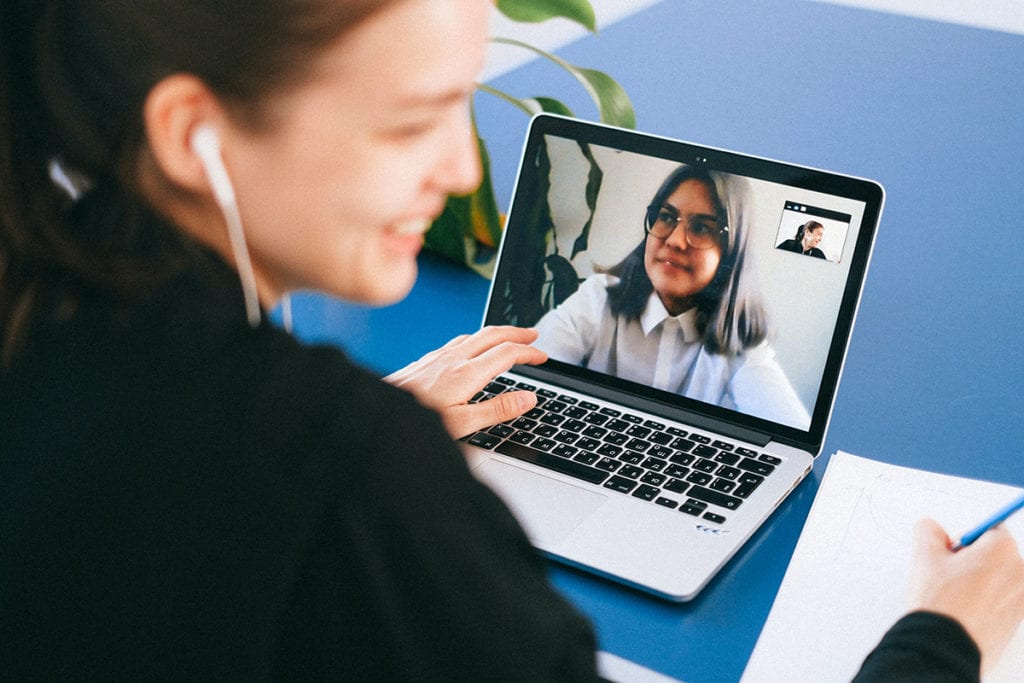 1. Ensure you have the right lighting.
"Good makeup and good lighting go hand in hand," says Bryant. "Unfortunately, we can't plan every call around natural light." Invest in a simple, inexpensive phone or desktop ring light, which is portable and easy to use, Bryant suggests. (This one comes highly rated on Amazon.) "That extra bit of focused light on the face along with the separation it creates between you and your background will absolutely change your Zoom game," she says.
2. Create a flawless base.
"Start with a tinted moisturizer or light application of foundation," says Bryant. "The goal here is to balance your overall skin tone without weighing down the skin." This will keep your complexion looking fresh and radiant for the camera. Too much foundation will look heavy and also leaves more room for error when it comes to blending. Pur 4-in-1 Tinted Moisturizer ($35, purcosmetics.com) comes in 16 shades and provides a smooth, even finish. 
3. Hide your tired eyes.
Stayed up a little too late the night before a big meeting? Make sure to have concealer on hand.
"A good concealer is arguably the most important step for video calls," says Bryant. Use it to brighten dark circles and spot-treat pimples or dark spots as needed around your face. Uoma Stay Woke Concealer ($25, uomabeauty.com) has a creamy yet lightweight formula with a radiant effect. 
Peachy and orange color correctors also help counter dark and blue under-eye circles, says Bryant. Try Pixi By Petra Correction Concentrate in Brightening Peach ($12, target.com).
There are other ways to keep dark circles at bay that don't involve makeup.
"Lots of water and a little exercise to get circulation and blood flow going is ideal, but as someone who often opts for coffee and skips the exercise, a quick eye mask and Foreo's IRIS Eye Massager does wonders," says Bryant.
4. Sculpt your cheeks.
The camera can make your face look flat and two-dimensional, but you can combat that with the right sculpting technique. Use a soft contour to sculpt and create shape around your jawline and under your cheekbones, suggests Bryant. Natasha Denona Contour Sculpting Powder ($38, sephora.com) contains hydrating hyaluronic acid so it blends into skin seamlessly. 
Blush is also key to avoid two dimensionality.
"To create a healthy flush, use pinks, berries and fuchsia tones as well as peach and tangerine shades, which are great options to bring color and 'life' back to the face," says Bryant. Clinique Pop Blush ($25, sephora.com) comes in a variety of shades that are buildable for the perfect flush.
5. Keep shine at bay.
Skin looking a little shiny on camera, especially during the height of summer? There are a few steps you can take to minimize the grease. First, use a mattifying primer on areas prone to excess shine, before you apply any other makeup, says Bryant. Try Honest Beauty Everything Primer ($25.99, target.com). 
Then, make sure to have blotting papers, like NYX Professional Makeup Blotting Paper ($4, ulta.com) on hand to dab away excess oil when needed. If you're prone to being oily, avoid shimmery highlighters and stick to matte bronzers instead.
6. Define your eyes.
"The eyes are where we focus most on and where definition is key to making them pop on camera," says Bryant. "You can make your eye pop by using a beautiful tightly lined eyeliner and lots of mascara." You can't go wrong with Urban Decay Cosmetics 24/7 Glide-On Eye Pencil in Perversion ($22, ulta.com) and Thrive Causemetics Liquid Lash Extensions Mascara in Brynn ($24, thrivecausemetics.com). Both last all day without smudging or flaking. 
As for eyeshadow, Bryant likes applying neutral tones in a soft sweep across the lid.
"You can also select an eyelid primer with a hint of color," she says. Mented Cosmetics Everyday Eyeshadow Palette ($28, mentedcosmetics.com) is a great choice for neutral hues. 
And don't forget about your brows!
"The brows frame the eyes and are an additional feature well worth defining," says Bryant. "A little brow gel swept through is the easiest way to get quick color, definition, and to set brows in place." Saie Brow Butter ($28, saiehello.com) is a translucent, clean brow pomade that works on blonde to dark brown hair. 
7. Stick to your favorite lip colors.
When it comes to your pout, Bryant advises wearing what you love.
"You'll be seeing yourself in that little box on the screen and should feel comfortable and confident when you do," she says. "I recommend sticking to your favorite tones and the colors you wear off-camera." Lip color falling a bit flat? Mix it with a slightly brighter tone in the same shade range, says Bryant. Glossier Generation G Lipstick ($18, glossier.com) delivers just the right amount of color. 
8. Do a test run.
"For those extra important calls, I recommend doing a test run," says Bryant. "Record yourself for a few seconds with the same camera, and in the same setting, as you'll be when on your calls then watch it back." This is a great way to catch makeup mishaps like lipstick on your teeth.