11 Songs You Must Add to Your December Workout Playlist
With hundreds of songs dropping across music streaming platforms every week, it can be challenging for fitness enthusiasts to stay on top of all the new releases for their personal workout playlists. As a fitness instructor who is always scouring the depths of Spotify and Soundcloud, I want to save you from digging for the latest bangers and remixes so you have more time to focus on breaking a sweat. Check out eleven songs below that you absolutely need on your December 2021 workout playlist, along with suggestions for how to utilize them.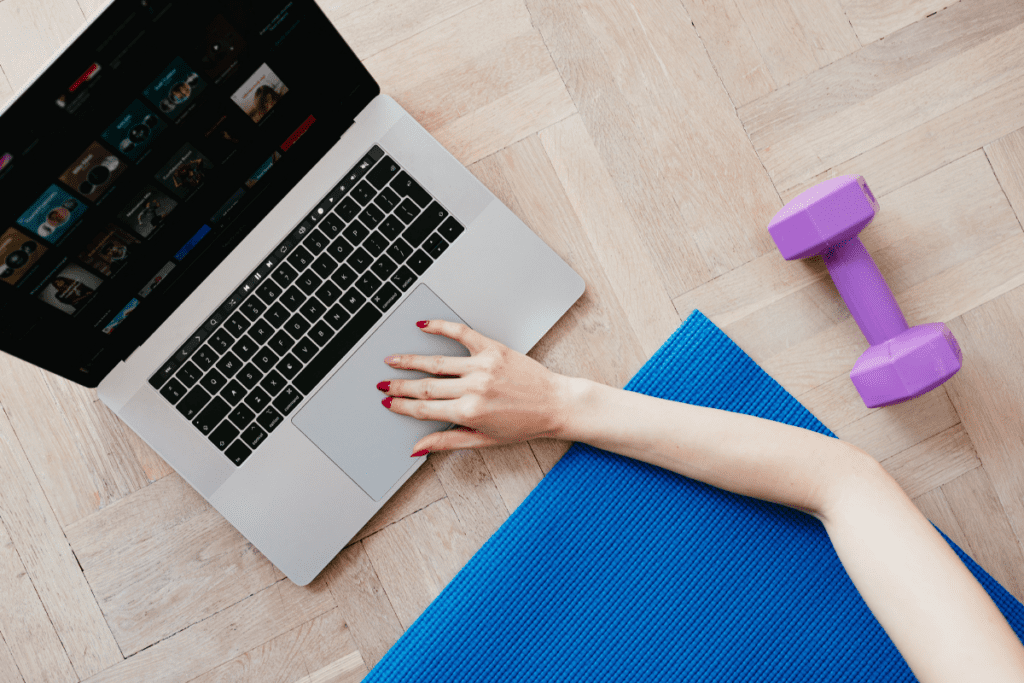 1. "Message in a Bottle (Taylor's Version)" – Taylor Swift
Taylor Swift's Red re-release has been inescapable this past month, and while most of the album makes you want to wrap yourself up in a sweater and gaze out the window at the changing autumn leaves, "Message in a Bottle (Taylor's Version)" is a pop-leaning bop that will have your toes tapping. For your workout, it's an ideal warmup song to start off on an upbeat note.
2. "Higher" (feat. Alex Newell) – VINCINT
When it's time to crank up your energy to the next level during a workout, "Higher" hits the sweet spot. The joyous chorus on top of the driving house beat will get the endorphins flowing during any run or cycling session and lift your heart rate "higher."
3. "U&ME (Baauer Remix)" – alt-J
Alternative meets trap in this epic remix that runs nearly five minutes in length. This version of "U&ME" is a knockout for banging out a few sets of work in the weight room. Squat or bench a heavy weight selection for six to 10 reps following the powerful beat drops with ample time to reset and recover during the verses.
4. "Chain My Heart (FRDY Remix)" (feat. Bebe Rexha) – Topic
The original version of "Chain My Heart" is already workout-worthy, but this FRDY remix kicks up the heat a notch with more pulsating synths and even bigger bass. This one feels right for a heavy climb in the cycling studio or conquering several flights on the Stairmaster.
5. "With Love" – Hilary Duff
Throwback alert! Hilary Duff has recently gone viral on TikTok for her performances of this song circa 2007, but there's a reason beyond her lackluster dance moves that this single has been spreading like wildfire – it's an underrated banger. Whether you're breaking a sweat learning the TikTok dance or going for a jog, you won't regret adding "With Love" to your playlist.
6. "How Will I Know (Clean Bandit Remix)" – Whitney Houston
Another Whitney classic gets a modern DJ overhaul (also see Kygo's take on "Higher Love") and the result is a completely satisfying. The tempo at 120 beats per minute feels good for pulsing in a barre class, or at the very least, the sunny vibes will put a little pep in your step during any walk.
7. "Get Loud" (feat. Redwood) – Tia P.
From the moment "Get Loud" starts, it doesn't let up. Tia P. and Redwood lay down a few ferocious verses that will have you working hard for its entire three-minute runtime, making it a great track to play when you have a set of high repetitions while strength training or you're ready to burn up your shoulders for one last round while boxing.
8. "My Universe (Galantis Remix)" – Coldplay and BTS
Turn on this euphoric Galantis remix, think of something that brightens your universe, and let it fuel you through the last couple of miles of a challenging distance run.
9. "Rise Up" – WALK THE MOON
From the band's new album Heights, "Rise Up" is a standout that will uplift and empower you with every listen. Lyrics like, "And when you taste that earth, face in the dirt, gotta rise up, gotta rise up," will make you want to lift your chest a little higher and fix your posture for the last few reps of your set.
10. "New Blood (Myon Summer of Love Mix)" (feat. Boy Matthews) – Gryffin
I like this track as a workout finisher when it's time to leave everything on the floor. Let the exhilarating beat drops bring out your best final sprints on the treadmill or spin bike!
11. "Call on Me" (feat. Georgia Ku) – Sam Feldt
Bouncy production and a triumphant chorus position this track well for the end of your playlist when you're ready to cool down but keep the endorphins flowing for the rest of your day.
Check out the full playlist at the link below and stay tuned for 11 new tracks next month.