Your Predictions for the Future of Fitness
We always ask our State of Fitness survey respondents to share their predictions for what they think will trend up, trend down, or go viral over the next year (no COVID pun intended). Here are the three big themes we noticed among these predictions for the future of fitness post-pandemic.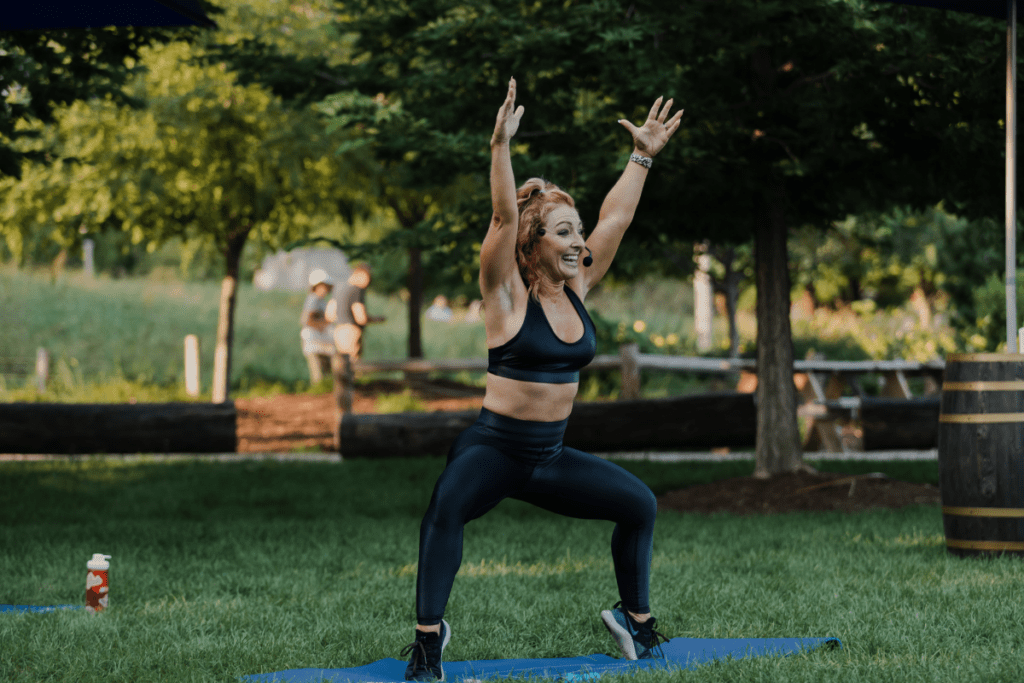 The word of the year is "hybrid"
Many respondents said that the future of fitness is hybrid—a blend of at-home and in-gym workouts. Within that prediction, respondents think big box gyms are going to continue to suffer—unless they drastically change their membership models.
"Hoping full service gyms will begin offering personalized memberships where you can purchase memberships to the area or classes you want rather than the entire gym. If I only want to use free weights then my membership would only allow me access to free weights and consequently my rate would be lower."
"The online component will always be there, but people want access to more and crave group environments, so I think there will be a resurgence of gym and studio attendees."
"Gyms as we know them will go away.  I think boutique fitness studios will stay around longer, but really at this point people know they can work out from home and they like the flexibility and comfort of doing so."
"I think big box gyms are a thing of the past."
"Value! Gyms and studios know we can do it on our own from home so we want an experience when we give them our money."
Our analysis: The people want options to create a customized fitness schedule that works for their individual needs. That might be blending free YouTube workouts with a 10-pack at a studio or alternating running, bodyweight strength, and a weekly personal training session at a big box gym. Gyms and fit pros who can offer the most flexibility in pricing and commitment will win clients.
Your habits have changed—and you're looking for boutique studios to change offerings too
"I don't see apps like ClassPass, studio hop, etc being as successful in the future. I'd rather stick to boutique gyms that I know are cleaning rather than hopping around and trying new studios. I also personally started running again, which makes me less motivated to join additional gyms. I'm still paying for barre code as they have the online option and I'm supporting my local studio."
"My hope is that people will go back to the gyms and studios but that social distancing and disinfecting things will be the norm. I also hope that studios stop charging so much now that people have seen they can get great workouts at home. Many of us (especially after so many people lost jobs because of covid) can't afford $25-35 per class, $80+ training sessions or monthly memberships costing over $100. My prediction though, is that none of this will happen and it will go back to what it was with fitness being something that only people making enough money can afford. Fitness should be for everyone."
"I loved my old routine of attending my 6AM class but can't imagine doing that anymore as I've been sleeping in for the past year+.  I'm hoping as companies become more flexible with work schedules, it'll be okay to attend mid day classes or have more time to work out during the day. The apps are great and I think they'll become even more interactive and social. I'm definitely missing different workout formats like kickboxing and hot yoga so maybe peloton will have more formats or have immersive experiences like room heater 😂 or virtual punching bag to aim and work on form."
"I think there is going to be an increased demand for 20-30 minute classes instead of the traditional 45-60 minutes. People may be more inclined to change their fitness habits to shorter workouts 4-5x a week versus longer workouts 1-2x a week."
"Folks said fitness studios might not come back but having gone back and felt all the good vibes, I disagree!  The energy of being in the crowd, the booming music (which I couldn't do at home or my neighbors would be angry), the accountability from the coaches/instructors, the lack of distractions that home has – all make it so much better than at home work outs!  Especially the space in yoga practices – so much more meditative.  Grateful to come back to the studios!!  I can see some folks staying at home with their Pelotons and Echelons and whatever, but I don't have the space for them and I don't have the discipline!"
Our analysis: Our data already shows that of the 27.2% of people who worked out less during the pandemic, 8.7% said that they just don't do workouts that are as long at home. And as we noted earlier, average fitness spend is down to $51.86 per month–the second-lowest it's been since we started doing this survey. Consumers have gotten used to saving money on fitness, and it's going to be hard to change that behavior by asking them to pay premium per-class prices (even though that's what's required to keep a studio in business, as we talk about here).
At-home fitness equipment is here to stay
"I think at home fitness is here to stay.  Products like Peloton, Mirror, etc are only going to get more popular."
"I think online fitness classes are here to stay and will get more innovative as well as fitness companies trying to make better equipment for at home workouts especially for people with limited space."
"People will continue to buy Pelotons, and those will continue to compete with boutique studios and gyms. And… one day these Pelotons will be the future 'basement treadmills.'"
Our analysis: Investors are spending big with at-home fitness equipment like CLMBR, Tonal, Mirror, and Hydrow, not to mention the development of workout apps with wearables like Apple Watch or recovery tracking with WHOOP. Connected at-home fitness is having a major moment—but only time will tell if these pricey pieces of equipment will end up gathering dust, or if consumers will be willing to spend money and space on them.
And… one prediction we hope *doesn't* come true
"Big box gyms like LA Fitness/Equinox offering big discounts, Boutique gyms like Barry's, Soul Cycle not offering deals, trainers, gyms pushing various 'challenges' to rid of covid weight."
Our analysis: Fuck. That.
(More on how we feel about that here)