2021 State of Fitness Results: What You Said About Returning to the Gym, Spending on Fitness, and Favorite Workouts
Where we last left off nearly a year ago, the world was just about to get access to the first round of authorized vaccines, and there was starting to be a light at the end of the tunnel for the fitness industry. Some gyms had successfully pivoted to virtual streaming and IRL classes with updated safety measures. Hundreds more were struggling to earn money, keep up with constantly changing restrictions, and to stand out among the noise of every other gym, studio, and Internet-famous trainer trying to grab their clientele's attention. In fact, in August, Club Industry shared that 22% of gyms have closed since the start of the pandemic.
As of this writing, over a third of adults 18+ in the United States are fully vaccinated. Gyms and fitness centers are open in New York and Los Angeles, two of the hardest-hit metro areas (albeit with capacity restrictions). In Chicago, we've adapted to working out indoors while masked up, as is currently required.
So, keep this current context in mind as we dive into the results of our 2021 State of Fitness results. Our survey ran over the summer and included over 1,000 participants across the United States. More context: respondents mostly identified as female, living in urban areas, and 66% were under the age of 40. About half of our respondents have at least a Bachelor's degree, and about 76% are currently employed full-time. Earnings-wise, 26% of respondents make between $50-100K annually.
And one final note: we knew that the pandemic would have an earth-quaking impact on the habits we track with the State of Fitness. That's why we surveyed a couple of extra times over the past year and a half. We have three surveys that we'll be referring to, in addition to these current results: March 2020 (which includes data compiled before the pandemic), May 2020 and November 2020. This allows us to track pandemic trends over time as a specific era, as well as compare results to pre-pandemic. You can find the 2019 State of Fitness here, too.
Let's dive in.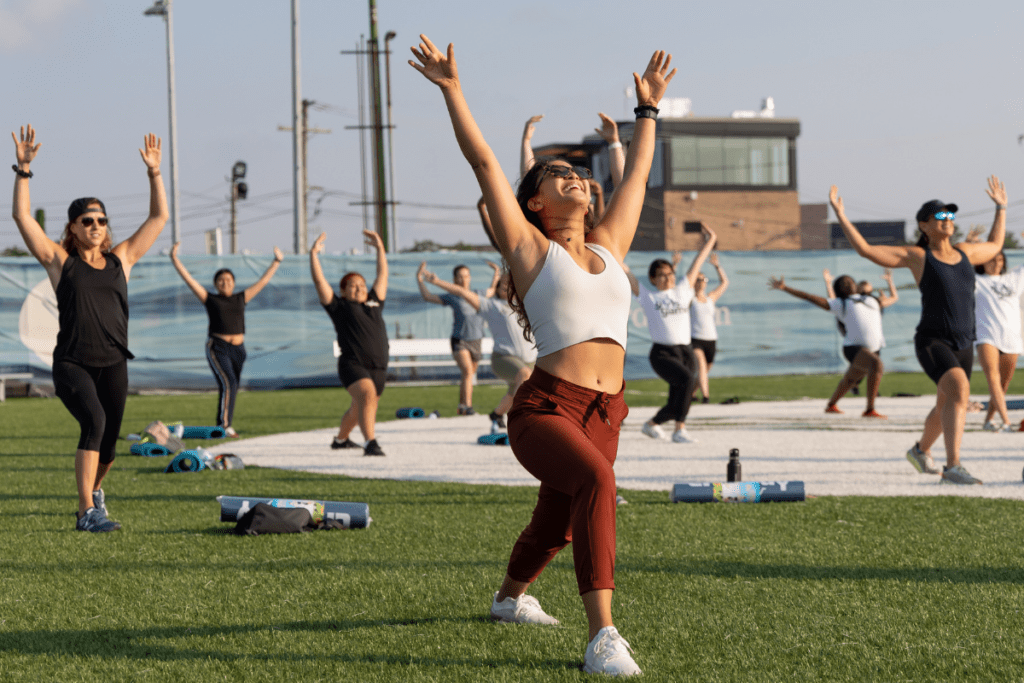 The most popular pandemic workouts: Walking and strength training
Before the pandemic, the most popular workouts among respondents were strength, yoga, HIIT, running, and indoor cycling. However, over the course of the pandemic, walking emerged as the most popular way to exercise by far. And to be honest, it caught us by surprise. In fact, we didn't even include it as a survey option in March 2020, though many respondents wrote it in.
Similarly, we realized pretty quickly that it would be helpful to differentiate between bodyweight and equipment-based strength during the pandemic, since access to equipment wasn't guaranteed for many people. Once we accounted for that, bodyweight strength quickly emerged as the more popular strength option.
However, it seems like people invested most in at-home strength equipment between May and November of 2020. Within those two surveys, equipment-based strength went up from 52.7% to 66.2%. Our numbers back that up too: We asked in both surveys if you'd invested in at home fitness equipment. In May 2020, 45% had; in November, that was up to 65.6%. Keep this in mind as you get into our section on fitness spend later on.
Right now, walking is still the most popular pandemic workout. 70% of respondents are taking hot girl walks on the reg. Bodyweight and equipment-based strength are second and third at 46.2% and 44%, respectively.
Other trends to watch: yoga, running, and HIIT have gotten less popular since March 2020:
Yoga dropped from 58% to 32.6%
Running dropped from 48% to 27.1% (with a spike in popularity last year at 49%)
HIIT dropped from 56% to 23%
We're a little surprised by that, considering they're some of the most accessible workouts to try at home. A few hypotheses:
There's no replacing the Zen of a yoga studio and not everyone is ready to return to that yet. Also, much of what we know about studio yoga in the United States involves heated rooms, packed mat-to-mat. Taking on hot yoga in a mask isn't that breath-to-movement experience we're used to.
The world is finally catching on to the benefits of strength training. It's a workout that can be done without increasing your breath rate dramatically like one would in a HIIT class. So, people might have felt more confident and comfortable doing so in a traditional gym setting.
Injuries from a high-impact exercise like running might be a concern for many people who don't want to risk it.
We've had a freakishly tough 18 months. Walking is a low-impact exercise that many people are using to unwind, socialize, and walk those pandemic pups
An additional reason every kind of exercise is going down: In our survey, people can select as many kinds of exercises as they are currently doing. We think they might simply be doing fewer types of fitness. There are fewer ClassPass members and studio-hoppers; in general, people aren't super comfortable or willing to try new things right now. Instead, they've narrowed in on the things they really love and are comfortable with.
Let's talk more about running
Running has been trending downward since our 2018 survey, when nearly 70% of respondents reported running in their fitness routine. The fact that only 27.1% respondents reported running regularly in our most recent survey is surprising, considering the narrative we've seen about how so many people picked up running over the pandemic.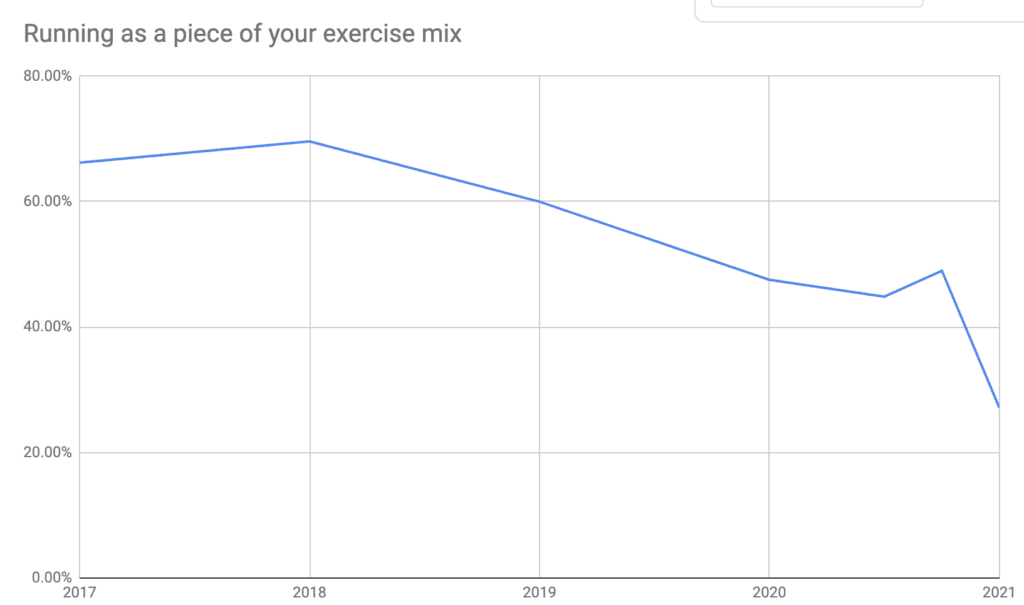 One theory: we may be showing the return to running's slump as other fitness options become more readily available. When we surveyed in November of 2020, 49% of our audience reported running, reflecting that while boutique fitness studios and gyms managed capacity restrictions and mask mandates, uneasy exercisers laced up and ran. As restrictions were lifted, they returned to some familiar habits. Considering that the Neilsen data that's used to show running's uptick was gathered from March to April of 2021, that could be the case. Another theory: our community may be outliers.
Indoor cycling is… cyclical
You might be wondering about indoor cycling, given the rise of Peloton amidst the shutdown of so many in-person studios (like Flywheel, RIP). Pre-pandemic, indoor cycling was popular amongst 41.2% of respondents. It saw a big dip right after the pandemic started (20.2%) and crept back up in the fall of 2020 to 30.7%. Now, it's back in a decline. Only 23% of respondents named indoor cycling as part of their workout routine in our most recent survey.
Our guess? Seasonality. We conducted this most recent survey over the summer months, when outdoor workouts are more popular. Case in point: those participating in outdoor sports have more than doubled in popularity since May 2020 (from 4.7% to 10.4%). If we were to survey again in the fall and winter, indoor cycling would likely be more popular. Dare we call it… a cyclical trend?
Modality-wise, our results show that most people are currently choosing to work out at home, indoors at their own home gym. And 21.4% of you acquired a Peloton Bike or Bike+ during the pandemic to help you get those workouts in. Cody Rigsby, in case you were wondering, has a 100% approval rating.
The most popular *new* workouts tried
Finally, about that new new: 72.9% of respondents tried a new workout format since the start of the pandemic, and 61% discovered a new studio, gym, fitness platform, or fit pro. A little over half of respondents are using digital fitness for their workouts, with apps like Aaptiv, Peloton, and NTC as the most popular, followed by YouTube.
We asked respondents to shout out their favorite new thing they'd tried, and let us tell you—the number of write-in votes the Peloton digital app got was ASTOUNDING. Other honorable mentions: Sydney Cummings, Barry's At Home, Free Mvmt, Bande, Presence Fit, Yoga With Adriene, Obe, and Caroline Girvan.
How much you're spending to work out (hint: not a lot)
We bow down to you, the most thrifty of fitness lovers. In our latest survey, 41.5% of respondents bragged that they're currently doing all of their fitness for free—up slightly from our last two surveys, which were both around 38%. The summer season can also lend itself to free outdoor workouts, park walks, runs, and hikes.
But 25.8% of respondents are still only spending $50 or less per month. FYI, we calculated average monthly fitness spend in fall of 2020 at $61.45 and today, that average is $51.86—just slightly higher than the $45.70 people were spending in May 2020, when most IRL gyms were shut down.
Here's what that looked like over time:
Investment in at-home equipment creeps up over time
How much have you invested in at-home fitness equipment? When we first asked this question in May 2020, 47% had already invested in at-home fitness equipment. Now, the percentage of people who have invested in at-home fitness is up to 64.3%, with 33.5% of respondents spending up to $100 and 22.8% spending $100-200 to sweat on their own carpets. The average amount spent was $554, which makes sense; some people are spending a lot, and some are being way thriftier.
In addition, many people are buying equipment over time. And it seems like Rogue Fitness can finally take a breather. 41.8% of respondents claim they're done buying at-home fitness equipment for now (although 32.3% aren't sure yet…). Of those who still have some shopping to do, they anticipate they'll spend an average of $577. That might just be the "home gym" Pinterest board talking.
How you're returning to IRL workouts (and the memberships that go with them)
41.1% of respondents in our most recent survey have returned to a gym or studio already. That's slightly up from the 38% of respondents who had returned in November 2020. And we're thrilled to report that of those IRL gym-goers, 86.2% reported that the gym and fellow clients were compliant with local mask regulations.
Of our respondents who paid a monthly fee for fitness pre-pandemic, 75.4% cancelled that membership (no shock there). Within the past six months, 35.1% of them have rejoined or reinstated any of the memberships they cancelled. 39.9% of those who have cancelled memberships expect to resume them at some point in the future, while 28.7% don't plan to and 31.4% aren't sure yet.
Here's how that compares to what you thought at the start of the pandemic. In May 2020, 53% of respondents said they would spend on a membership post-COVID, and 66% planned to return to studio classes at least twice a month after restrictions were lifted. Now, 30% of you say you'll *never* go back to a gym, and 21% are completely satisfied with your current fitness routines. You've adapted to a new normal, and you're thriving in it.
However, people do acknowledge that there are some things you just can't get from working out at home. Our respondents said they missed access to certain equipment they didn't have at home (22.5%) and the community of in-person workouts (16.7%).
So, what's next?
This is just the tip of the iceberg. Check back tomorrow to learn what respondents predicted for the future of fitness and later this week to hear from trainers and fitness professionals how the pandemic affected them and their business. We'll also dive into the data about how our audience (you, if you're reading this) compares to the general population in terms of workout habits, fitness spend, and more.
And save the date: On Friday, October 1 at 12pm Central, Jeana Anderson Cohen (CEO and Founder of aSweatLife) and Kristen Geil (Chief Content Officer) will go live to go through the data and discuss what surprised them and what trends they're seeing. They'll also answer your questions about the results in real time.
A special thank you to our in-house statistician Kacie Diamond for wrangling the numbers when Kristen wanted to pull her hair out.