June 20th is the Summer Solstice—Here's What That Means for Your Mental Health
June 20th marks the summer solstice and rings in the official start of the summer season in the Northern Hemisphere. During this time, the sun reaches its highest and northernmost points in the sky for the longest day of sunlight. Many of us cannot wait for the summer kickoff, especially after a year of masks, quarantine and other unexpected changes.

I personally love the cold, dark days of the winter season. (Who doesn't love to get their hygge on?) Give me a rainy day and a good book, and I am one content and happy introvert. However, even I find it hard to argue how good I feel after an afternoon soaking in the summertime sunshine. I find myself being drawn outdoors during the summer season so I can soak in the many benefits of sunlight. (With a thorough layer of SPF of course.)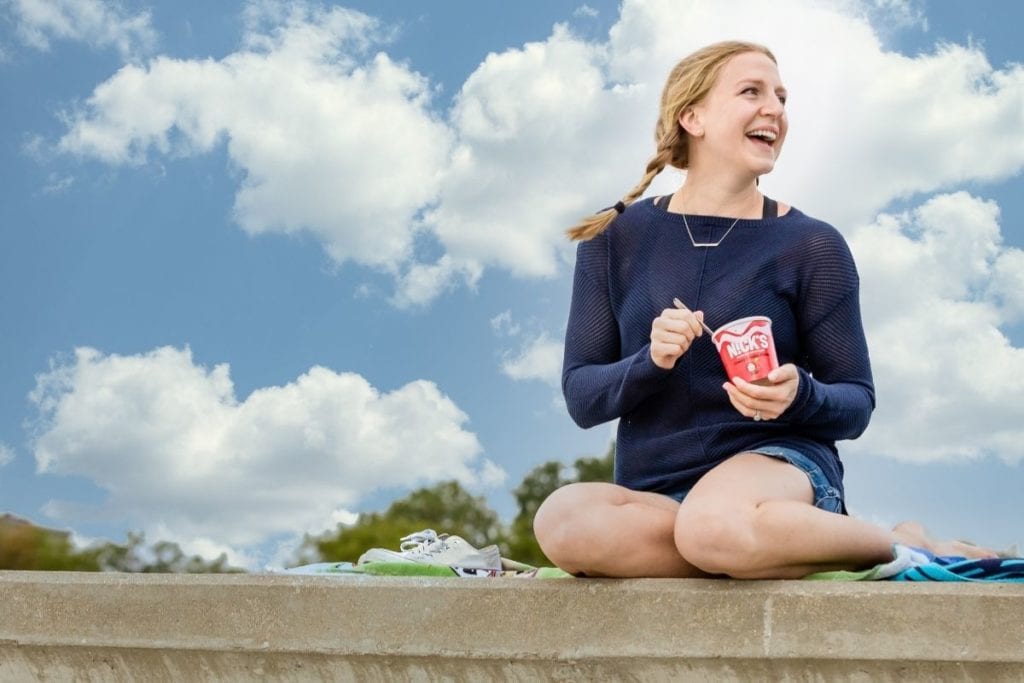 And yes, there's science to back up the mental benefits of sunlight. While you're searching for your picnic blanket, here's a quick look at why sunshine makes you happy.
Benefits of sunlight
Katie Ziskind, licensed marriage and family therapist and the owner of Wisdom Within Counseling, discusses some benefits of sunlight.

"Sunshine can improve your mental health because you absorb vitamin DS through your skin. As you [are] outside soaking up the sun rays, your skin is soaking up vitamin D, which naturally elevates your mood. Simply going outside for a 10 minute walk can be really great for elevating your mood."
Dr. Chris Airey, MD, Medical Director at Optimale and a practicing physician with the NHS, agrees. "Sunlight can trigger the release of serotonin, which promotes mood and feelings of well-being. It also helps you to stay calm and focused." (And couldn't we all use more calm and focus in our lives?)
Airey continues, "Sunlight also promotes higher levels of Vitamin D, which may improve depression symptoms and reduce depression rates."

Ziskind explains that exposure to sunlight can even help us clock some quality zzz's. "Studies have shown that spending time outside every day has also been shown to balance your circadian rhythm and your sleep cycle." If you struggle with sleep and thereby feel super sluggish the next day, soak in some sun benefits and (hopefully) you will sleep more soundly.
How to celebrate the summer solstice
As you soak in the stellar benefits of sunlight, celebrate the summer solstice with some of these activities.
Attend an outdoor workout. During the summer months, many boutique gyms and local yoga studios host outdoor workouts. Check their websites or make a call and see what workouts are available in your community. Some local studios even host specific classes to greet the summer solstice. You can also reference the local park district's website to see if they offer any outdoor classes during summer.
Go strawberry picking. The month of June ushers in strawberry season. June's full moon is even referred to as the strawberry moon, which means it's our moral imperative to head to a local strawberry farm to pick a bushel or two of fresh strawberries. Don't worry, if you overpick you can always use the excess to create a homemade jar of jam or jelly.
Hike. One of the easiest ways to celebrate the summer solstice is to head outside into Mother Nature and enjoy time in the great outdoors. If you have a usual hiking trail or walking path, take some time to truly soak in the sights and enjoy the beauty of the summer season.
Host a backyard BBQ or cookout. Show off your outdoor space by hosting a summer solstice themed backyard BBQ or cookout. Although Midsummer Night's technically doesn't fall until later in the month (June 24th), get creative and channel those whimsical summertime vibes. Or make it a Christmas in July (er, June) theme instead.
Soak in the summer sunrise. Don't miss a moment of the summer solstice. Set your alarm clock and wake up extra early to greet the morning sun. You can even welcome the day, and the start of the summer season, with some sun salutations. How fitting!
The summer solstice brings it with it more sunshine and thereby more opportunities to soak in the benefits of sunlight. This season, slather on the sunscreen and head outdoors to celebrate the summer solstice all while enjoying the benefits of the sun.
Let us know!
Did this post help you get closer to achieving one of your goals?