Why You Should Spend Time in Nature (Even If It's Cold Outside)
The brutally cold winter months are synonymous with curling up on the couch, enjoying hearty comfort foods and totally getting your hygge on. When it's the dead of winter, the last thing you want to think about is venturing outside to brave below freezing temperatures, not to mention the winter winds. (Damn you Chicago for being called the Windy City!) The benefits of spending time in nature just don't feel all that attainable during the dark days of the winter season.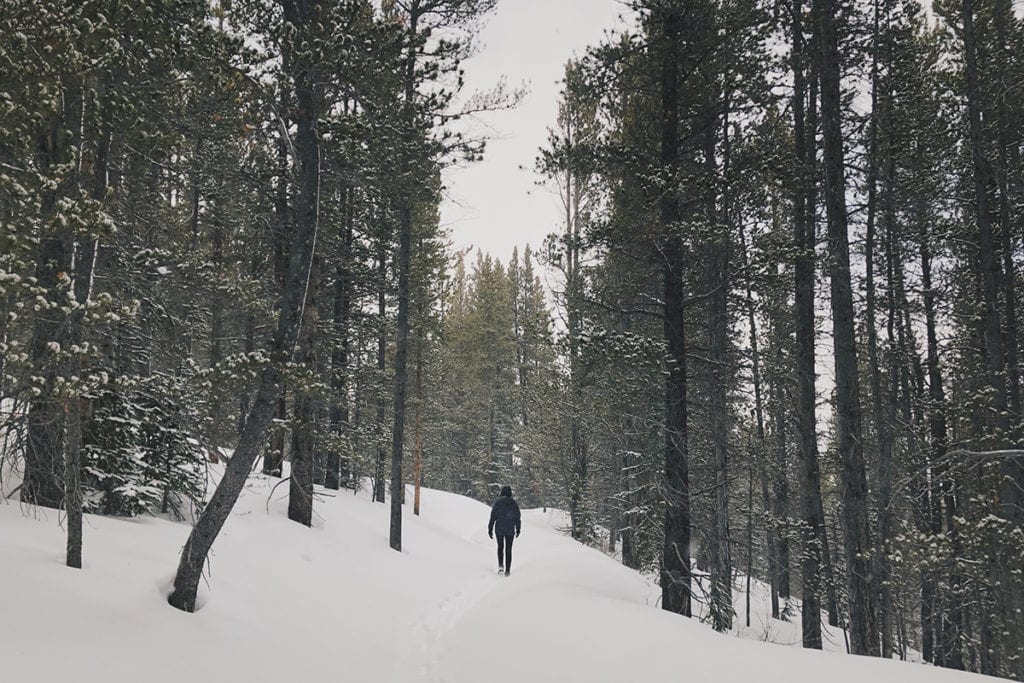 But surprisingly, winter is one of the best times to get outside and soak in that fresh, albeit frigid, air. Here's why.
Fresh air gives you a fresh take
Have you ever been inside working all day and all of a sudden you just hit a wall and need to take a break, like now? When this happens, most times we head outdoors for a walk around the block and a quick change of scenery. It's amazing how spending time outdoors in nature can give you a fresh take on whatever you were working on prior. One study from Stanford University even found walking can improve creativity.
It's good for your health
It may be cold outside, but spending time outdoors no matter what the season, is good for our overall health and well being.
Cindy Olsen, Founder of Cindy By Nature and Certified Kripalu Mindful Outdoor Guide says, "Connecting with nature in the cold weather can has an abundance of benefits for the mind and body. It causes the metabolism to speed up, improves the ability to focus and triggers an immune response."
And for an added bonus, the cold weather might actually be beneficial for your skin (as long as you keep your skin moisturized well).
"Additionally, [the cold] is great for the skin as the cold acts as an astringent, helps sleep, promotes circulation and reduces inflammation and swelling," expands Olsen. "Getting sunshine on our skin year-round is important to give us much needed Vitamin D for healthy bones."
Finally, don't forget that connecting with nature in all weather helps fight off depression, especially if you're prone to Seasonal Affective Disorder (SAD).
Outdoor time gives you time alone
Outdoor activity is the new me time. Even when you are with a bunch of people, time spent outdoors can present mini moments to yourself. Outdoor activities with a group is fun, but there will also be certain moments that are exclusively your own separate from group participation. It could be enjoying a moment of sunshine on your face or listening to the waves crash upon the shore, you can still find peace and quiet with a group.
Nature helps decrease stress levels
Exercising outdoors in the presence of nature, also known as green exercise, can be beneficial for mental health. Living near green space can offer numerous benefits, but even if you live in a city, you can still benefit from time spent outdoors in Mother Nature.
Wondering how you can spend more time outside in nature even when it's cold outside? Consider these options:
Ask a friend. Before planning an outdoor winter adventure, ask a friend to join you because everything is better with friends.
Keep it short. Not all winter adventures have to be day-long excursions. Go ahead and keep it short. Take your afternoon lunch break outside and go for a brisk 15 minute walk or head outside after dinner for an evening stroll around the neighborhood.
Layer accordingly. Layering is the key to staying comfortable, especially during the cold winter months. Do your research and look for fleece, synthetic or wool options, but never cotton as it does not dry quickly.
Try something new. Whether it's cross country skiing, ice skating or snowboarding, channel your childlike wonderment and try a new outdoor winter sport.
Warm up outside. Before you head to the gym for your daily indoor sweat sesh, take a quick warm up jog around the block or better yet, run to the gym!
Bone chilling winds and cold temperatures don't have to keep you inside this winter. Instead, take advantage of the winter season and do something new so you can still reap the benefits of spending time in nature.