8 Tips for Creating an Eco-Friendly Outdoor Space
These days, many of us may be spending more time focusing on Mother Earth. From eco-friendly must-haves to eco-friendly food storage containers, doing our part to keep the planet healthy is important, but living an eco-friendly life can venture well outside the home. Not mention, with social distancing guidelines and different phases of reopening taking place all across the country, many people are looking for creative ways to maximize their outdoor space. Here are eight tips on how you can create an eco-friendly outdoor living space.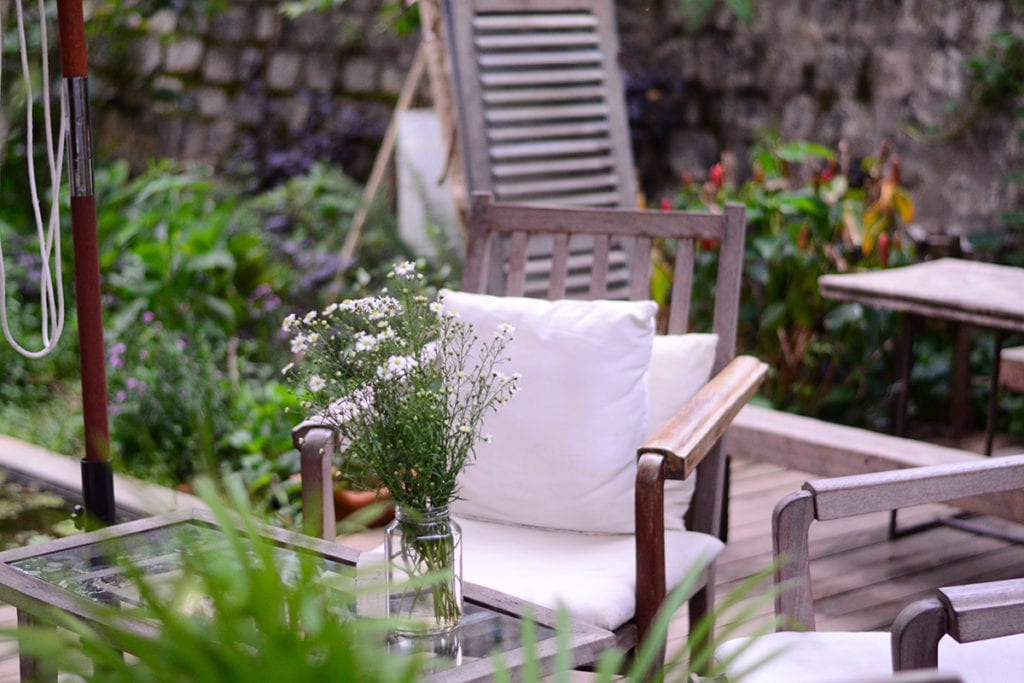 #1 Build with green materials
If you plan on tackling a larger outdoor project like putting in a patio or even building a deck, consider using green materials. Natural brick, stone and permeable pavers work well for walkways and allows rainwater to fall and stay where it was intended.
Colin Haentjens, licensed architect, further explains the benefit of permeable patio options.
"Poured-asphalt or concrete is impermeable, meaning that precipitation that would otherwise soak into the local water table is stolen from its proper location, sent through stormwater drains, and dumped at another location that is now overwhelmed with more water than it should naturally have. By using permeable pavers, which are inherently more interesting and better looking than the poured alternative, you are allowing a large portion of water to remain where it should: where it falls." Who knew!
If you plan on building parts of your eco-friendly outdoor space, consider reclaimed timber or recycled wood. Check with your local lumber yard or call the community hardware store as they may have recommendations if you aren't sure where to look for materials for your home project.
#2 Collect rainwater
A super simple way to create an eco-friendly outdoor living space is by collecting rainwater. Rainwater can be used to water your garden, indoor and outdoor plants, landscape and spots of your lawn (if you have one). Purchase a rainwater collector system online or if you are feeling super motivated, build one yourself.
#3 Compost
When creating an outdoor space, one may not initially think of composting, but composting is an incredibly easy way to add to an eco-friendly outdoor space. A natural method of recycling, composting is a process that breaks down fruit and vegetable scraps and other yard waste to create food for plants. If you don't want to start a small compost pile in your kitchen, simply create a space for one outdoors instead.
#4 Garden and landscape with native plants
When selecting flowers and plants, many people choose florals for their beauty rather than sustainability. Instead of choosing exotic plants, choose local plants for your eco-friendly outdoor space. Native plants are already meant to grow in your current environment and region of the world, they require significantly less water to thrive, and they create an inviting living space for bees, birds and other native wildlife.
#5 Keep outdoor decor natural
Decorate your eco-friendly outdoor space with natural products like natural wreaths made from dried flowers like cedar, lavender and magnolia. DIY your own wind chimes made from recycled materials like glass, metal or wood and add an eco-friendly outdoor rug made from bamboo, coir (coconut husks) or wicker.
#6 Light it up with solar powered lights
Give your eco-friendly outdoor space some lighting with energy efficient solar powered lights. Charge them up during the day using the strong rays of the sunshine and enjoy some soft ambient lighting at night with no additional electrical costs. If you prefer larger outdoor candles, choose environmentally-friendly and sustainable varieties made with beeswax or soy wax.
#7 Shop for eco-friendly outdoor patio furniture
Furnish your eco-friendly outdoor space with brands that are dedicated to green practices. Look for furniture that is built with sustainable material such as reclaimed wood or recycled plastic. Acacia hardwood, eucalyptus hardwood and teak are all environmentally-friendly and low maintenance options for an eco-friendly outdoor patio furniture.
Another sustainable option would be to shop for used outdoor furniture from a local consignment shop or thrift store. These items can easily be refinished with eco-friendly fabrics. In addition, these one-of-a-kind pieces will give your eco-friendly outdoor space a unique flair.
#8 Upkeep
Maintain your eco-friendly outdoor space with eco-friendly cleaning products made from natural ingredients. Get creative and make your own all natural cleaning solutions or find a sustainable brand you can trust. Not only will you be keeping your eco-friendly outdoor space clean, but you won't be introducing any harsh chemicals into the environment. You may even consider sweeping instead of using a hose or power washer to clean your balcony, deck or patio in an effort to conserve water.
Creating an eco-friendly outdoor living space is easy with these eight essential tips. Now go and enjoy that outdoor summer sanctuary!