6 Tips to Creating a Hygge-Friendly Home
I love winter. Okay maybe not the below zero temperatures, the bone chilling winds or the icy sidewalks. (Wait, did I just say I love winter?!) What I mean to say is that I love the coziness that comes along with the winter season. A night in curled up with an oversized mug of hot cocoa, a roaring fire, candles, fuzzy slippers, plush pillows, super soft blankets and twinkle lights. Ahhh…
Whether you're an HSP like me or just enjoy the coziness of the holiday season, hygge (pronounced hoo-gah) is a Danish word that captures the common desire for warmth and intimacy, especially during the colder winter months. Hygge beckons us to create convivial, comfortable and cozy moments that beg us to settle in, slow down and snuggle up long enough to really enjoy the present moment. Here are six tips on how you can get your home hygge for the holidays.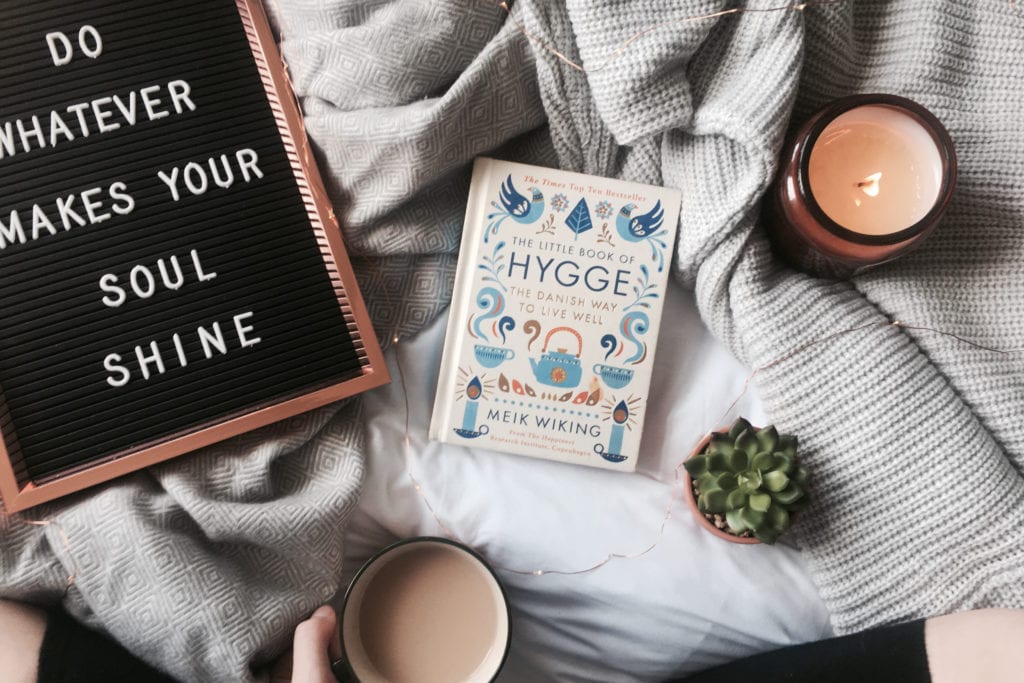 #1 Channel Mother Nature
Although the winter months are all about keeping cozy inside, bring Mother Nature inside. This is especially easy during the holiday season (hello live Christmas trees), but don't forget to borrow other elements from Mother Nature including holly berries, pine bow and pine cones.
#2 Cozy is key
When getting your hygge on, RD Gentzler, Principal Architecture at Framework Architecture, recommends paying attention to certain fabrics like wool, advising "I think the key to make sure that the space provides cozy nooks that feel like a cocoon."
Go ahead and throw on some comfy clothes like athleisure attire, sweatpants and an oversized sweater or your favorite pair of pajamas. Find a pair of fuzzy socks or set out some slippers so your feet are never far away from a warm and welcoming option.
#3 Light it up
When creating a hygge environment, soft lighting is key. Start a roaring fire, light a couple of candles or turn on a few twinkling lights. If you don't have a fireplace, cue up a yule log video on YouTube. S'more anyone?
#4 Make it your own
Creating a hygge-ready home is all about including personal items that resonate with you and really make your environment your own. Whether it's family photos, favorite books or personal treasures that bring you joy, display them on your coffee table, mantel or window sills. Whatever brings a smile to your face is hygge-worthy!

Howeer, don't get *too* carried away, and remember, less is always more. Milana Perepyolkina, international best selling author of Gypsy Energy Secrets, notes, "The fewer possessions you have in your apartment or house the better. Make sure your home has only the most valuable items that you cherish and use often; keep only one or two items on top of the tables, shelves and night stands. Filling your home with the items that you love the most insures that you get that feeling of comfort each time you enter your home."
#5 Pile on the plush
Set out piles of plush pillows and super soft throw blankets. Add a blanket or two over the side of an armchair, lay a plush area rug over the floor or stack some folded blankets on a soft sofa cushions.
Lauren Lochry of Ridge House Design + Hospitality says, "Adorning areas of rest and leisure with additional blankets and pillows is key. The more the better. The softest blankets are typically faux fur, flannel, and microfiber polyester. Researching rugs, such as woven, shag, wool, and sheepskin are all gentle on feet and cushy enough to sit upon."
Julie Landis-Sutila, Design Associate at Whitespace Interiors seconds that and says, "Layering is not only a must with winter clothes during this chilly season, but layering accessories, pillows and throws throughout your home creates warmth. Don't be afraid to add and mix together some pops of seasonal colors either."
#6 Savor the moment
Creating hygge for the holidays isn't all about how things look in your home, it's also about how things feel. Allison Baumbusch, Creative Director at Anne Arundel Community College and owner of New-Fallen Snow Holiday Planning, says, "Spring, summer and fall are go-go-go. Use the winter to recharge with warm drinks, cozy fabrics, twinkly lights, baked goods and good books."
Ready to be hygge for the holidays? Take a moment to really feel the warmth of your favorite mug as you slowly sip your homemade hot chocolate, smell the rich scent or your favorite scented candle and settle into the coziness of your favorite oversized comfy chair.
Happy hygge-ing everyone!
Let us know!
Did this post help you get closer to achieving one of your goals?