What We Learned About Self-Care During the Polar Vortex
Last week's polar vortex consumed much of the Northeast, including Chicago. This week, winter storm Lucian has been hitting California and the Midwest. So we wanted to know, what kinds of self care is everyone indulging in while stuck inside during these storms?
View this post on Instagram
Over in Chicago, Illinois, Katie Calder found herself reflecting in the quietness of the storm. "The polar vortex provided an excellent opportunity for self-reflection. Sometimes self-care isn't so much about bubble baths, fancy smoothie and massages, but about embracing the quiet. I find that in the moments where I find myself truly alone — those without external stimuli or distractions, those are the moments where the real self-care happens. The moments where we get to ask ourselves 'How am I doing? How am I speaking to myself? How can I be a bit more gentle in my own being?' Sometimes storms force us to settle into our softness a bit more. This is the ultimate self-care in my eyes."
View this post on Instagram
Sarah Ordo, located in Detroit, MI, also took a more spiritual approach to self care during the storm. "I like to think of snow storms as little pushes from the Universe to slow down and enjoy the present. Here in Detroit it gets so cold and snowy in the winter. When that happens, I totally take advantage of cozying up at home and staying in. I love lots of warm, fuzzy blankets, making homemade soup, catching up on time with my fiancé Andrew and cuddling our pups… all the warm and cozy vibe things! It's a great gift from Mother Nature to make you slow down and enjoy some time for yourself!"
View this post on Instagram

Also enduring the polar vortex in Michigan is Michelle Guilbault from Grand Rapids. "I always open all the shades to let in light, start the day with a glass of water, I do at least 25 mins of yoga stretches, then meditation, usually via the Headspace app, then more water! After all of that I also have started making sure to text one family member or friend to let them know I'm thinking of them and ask them how they're doing. Doesn't seem like a 'self care' item but I do consider it one because it's important to keep healthy relationships with those you love!"
View this post on Instagram
Kaylen Madison over in Carter Lake, Nebraska found herself a new self care routine she plans to start implementing every morning. "During the storm, I have been making superfood coffees at home so I don't have to leave the house! I'll do organic coffee, unsweetened almond milk, inulin, ashwagandha, brain octane, collagen, Laka shroom drip, and a tiny bit of RAW honey then froth it together with my handheld frother! I actually 100 percent will implement this more now. I've officially given up on Starbucks."
For aSweatLife Director of Community and Content Innovation Maggie Umberger, the storm in Chicago had her embracing her inner child. "I would say that when we were cooped up inside for essentially two days straight, we took it as an opportunity to make the days feel fun and different rather than suffocating and claustrophobia-inducing. My boyfriend built a fort out of our entire living room. Yes, it totally destroyed the place, we used every clean piece of linen we had, and it was a huge mess to clean up, but it brought me back to feeling like a kid on a snow day, getting to do things so far outside the realm of 'normal' because the day just wasn't anything close to it. And even though I don't have time to build forts in my regular life, I do think I should seek more of those simple joys wherever I can because it made our Polar Vortex actually so much fun."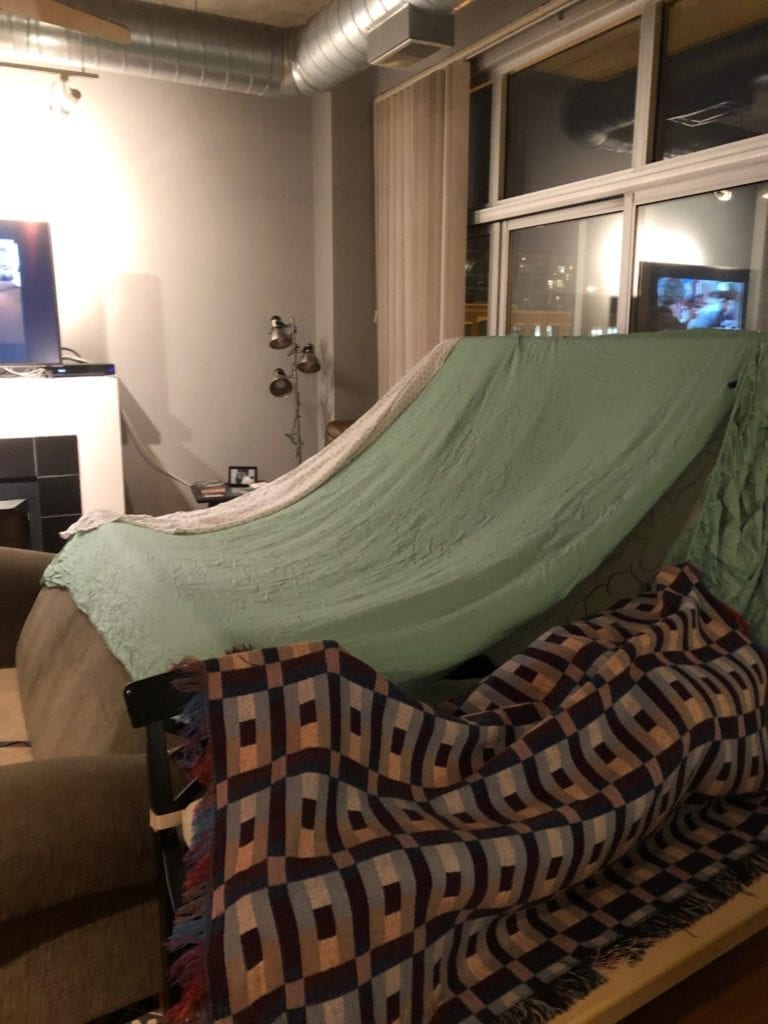 And there you have it, self care during the storm included pillow forts, swearing off Starbucks and lots and lots of self reflection. Not a bad way to spend a snow day (or two, or three ☺).