Gift Guide #4: For the Perfect Night In
This post contains affiliate links. As always, we only recommend products, brands, and experiences we truly love ourselves!
Every year, we have a huge brainstorm around gift guides—from potential themes to gifts we HAVE to include to what our dream giveaways would be. This year, it became clear early on in the ideation process that Team aSweatLife wanted items for the coziest, self-care-iest, most introvert-friendly night in ever. We filled our slots for this gift guide For the Perfect Night In so fast, and from there, we passionately argued for our favorite indoorsy items to make these winter nights somewhat bearable.
The results? All the items you see here in this gift guide for the perfect night in, plus a giveaway for night-in beauty staples from Town & Anchor.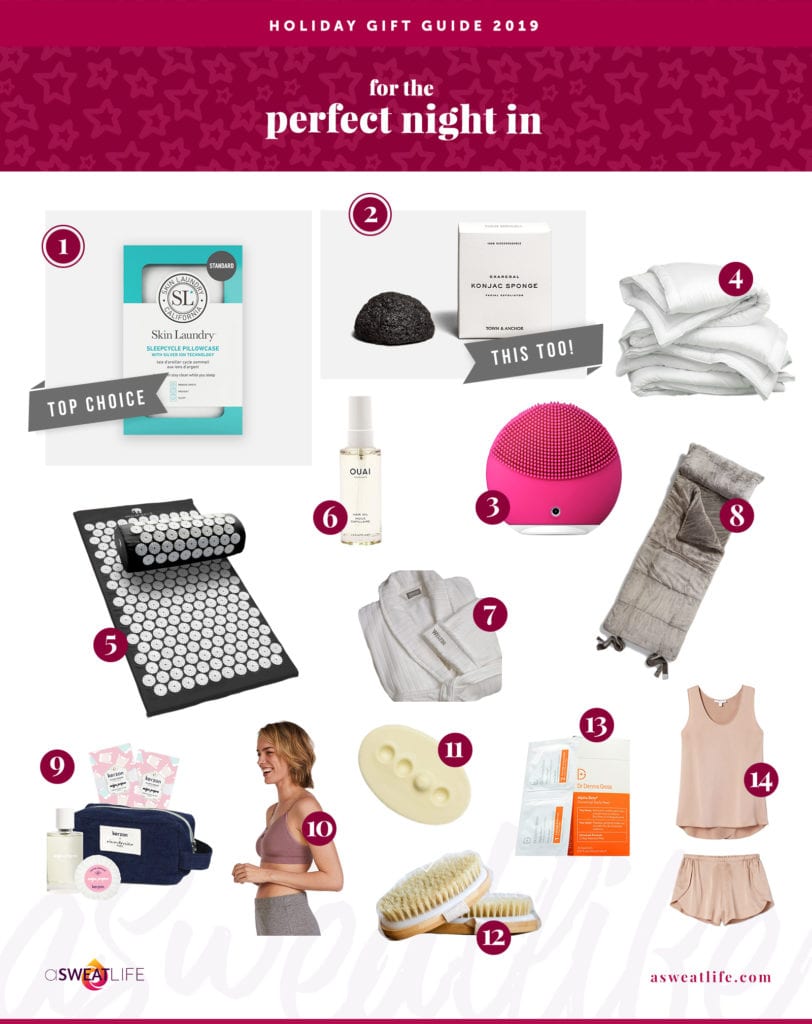 1. SleepCycle Pillowcase, Skin Laundry 2. Konjac Charcoal Face Sponge, Town & Anchor 3. Facial cleansing brush and portable skincare device, FOREO 4. Cloud comforter, Buffy 5. Acupressure mat and pillow, Bed of Nails 6. Hair oil, Ouai 7. Heavenly Bathrobe, Westin Hotels 8. Faux mink sleeping bag, Nordstrom 9. Mega Clean Kit, Kerzon 10. Lounge Bra, Third Love 11. Massage bar, LUSH 12. Dry brush, Scratch Goods 13. Alpha Beta Universal Daily Peel, Dr. Dennis Gross Skincare 14. Washable silk pajama set, Lunya
Our perfect night in definitely requires a 10+ step skincare routine that starts with thorough, gentle cleansing. This charcoal face sponge is cleansing genius; it only has two ingredients (konjac plant root and activated charcoal), and it can be reused for up to eight weeks at a time, requiring only warm water to activate. Plus, it's from a brand we trust (and one you'll meet at our holiday pop-up), Town & Anchor. When Parisa Morris, co-founder of Town & Anchor, came on #WeGotGoals this summer, we instantly fell in love with her commitment to transparency, minimalism, and sustainability in the beauty industry—not something you see a lot of these days. This is the one type of coal we'd be thrilled to see in our stocking.
We've talked about beauty sleep on the site before, and a cozy night in *requires* a luxurious pillow experience. Personally, Kristen refuses to sleep on a bed with less than five pillows at any given time, and if she could, she'd have every pillow encased in this SleepCycle Pillowcase from Skin Laundry. This high-tech, high-comfiness pillowcase is treated with charged silver ion technology for an anti-microbial effect that makes breakouts, oily skin, and other bacteria the stuff of nights past. Give it to a friend who appreciates beauty multitasking.
Speaking of bedding, ours is complete with a cloud-like comforter from Buffy. And for the nights when you kind of want to fall asleep on the couch to the familiar sounds of your favorite movie, a faux mink sleeping bag is the grown-up accessory you never knew you needed—perfect for a friend who loves a good binge-watch session. Or, for the friend who's always complaining about random back or neck pain and is curious about acupressure, Kristen owns this literal "bed of nails" pillow and back rest and has been known to watch reality TV while laying on it for hours (yes, you get used to the prickly feelings!).
Pampering is a key part of any perfect night in. Gift a dry brush to the friend who's always complaining about dry skin, or an at-home facial device from FOREO for the full range of skincare. This LUSH massage bar smells like happiness and includes plenty of skin-softening ingredients. These daily peel pads came *highly* recommended from celebrity esthetician Shani Darden, which is more than enough for us (and anyone who's lucky enough to get them as a gift). We're also obsessed with this hair oil from Ouai—it smells amazing and makes dry, frizzed hair look lush and conditioned (this would also double well as a gift for someone about to go on a fit-cation…).
Nothing says "I'm ready for my big night in" like fancy pajama sets, which are one of those things that we love having but never want to spend our own money own (making it the ideal gift). Kristen has been asking everyone to buy her Lunya (washable!) silk pajamas for at least a year now (and can vouch for the silk eye mask, too). For the mother-in-law who never skimps on hotel quality, a legit bathrobe from the Westin hotel chain is the best way to make every evening a stay-cation. And even if your bra is the first thing to come off when you walk in the door (guilty), this Lounge Bra from Third Love is so seamless, you'll forget that you're wearing it (pro tip: this would be a great gift for new moms, especially).
Every now and then, we get in the MOOD to clean our place from top to bottom—yes, it's rare, but it happens. For the friend who finds cleaning therapeutic and claims to enjoy folding clothes, this Mega Clean kit from French company Kerzon makes your home feel like a Parisian walk-up (even if you're just in Boystown).
Today's giveaway: $75 facial product set from Town & Anchor
Today's giveaway prize includes:
From Town & Anchor: A $75 facial product set filled with conscious, vegan skincare products for the ultimate at-home facial.
This giveaway is now closed. Congrats to Ashley W.!