11/23, Exchange312: The Second Annual aSweatLife Holiday Pop-Up
We had so much fun at our last holiday pop-up that we felt the holiday cheer kicking in even earlier this year. It may not be Halloween yet, but save the date for our Second Annual aSweatLife Holiday Pop-Up, taking place at Exchange312 on Saturday, November 23, from 11am-3pm!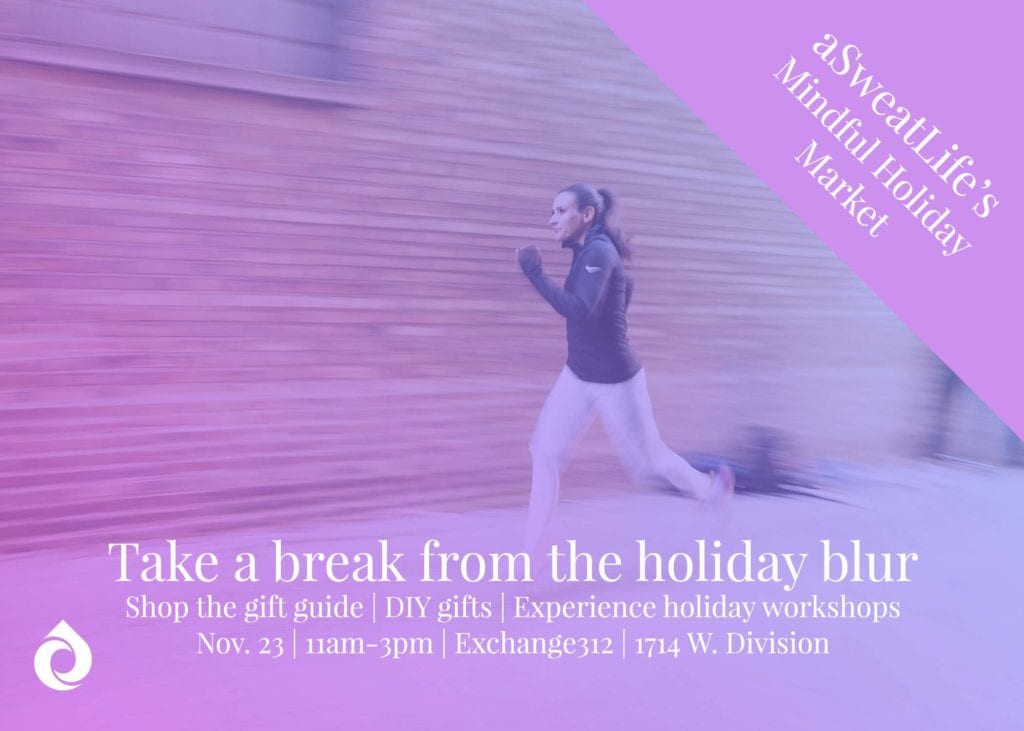 What's the aSweatLife Holiday Pop-Up?
We're blending shopping with community in this one-of-a-kind holiday market by bringing brands from our digital gift guide and the local Chicago scene all together at Exchange312. From exclusive workshops to day-long activities to special pop-up appearances from exciting brands, you'll leave feeling inspired with holiday spirit and having met at least a couple new-to-you brands, products, and friends.
And we're serious about the shopping part, too—because nothing makes us feel more accomplished than sitting down to Thanksgiving dinner, knowing we've already made a dent in our shopping list. By RSVPing to the holiday market on 11/23, you get to opt out of Black Friday and opt into more time with family and friends (which is what the holidays are really all about, when you think about it). We've curated our favorite gifts from near and far so that your shopping experience is fun, rather than a chore, and you're sure to find a few new gifts to fit everyone on your list.
Finally, to make sure this holiday market is more memorable than your standard mall trip or Amazon spree, we're creating experiential programming throughout the day to help you DIY some gifts, learn something new, take time for your own self-care, and make friends in the process. These workshops will fill up fast, so be sure to grab tickets for your preferred activity right away!
Ready for the rundown? Here's everything to know about the Second Annual aSweatLife Holiday Pop-Up at Exchange312.
Reserve your free General Admission ticket to the holiday market here so we know you're coming!
Tell me about the shopping!
We're bringing together our favorite brands from our digital gift guide and the Chicago local business scene for a curated shopping experience that'll make a huge dent in your list. Among others, you'll be able to meet, shop, and snack with:
Tiny Space to Breathe: will lead a sound meditation workshop and will sell mindful gifts like beautiful crystals and candles.
Town & Anchor: will sell gorgeous sustainable,  vegan products for your skin and will lead a custom perfume workshop (you'll leave with a new signature scent or a gift to give).
Gotham Greens: Will be there to fuel you with dips and greens from their local greenhouse and they'll also lead a seedling potting workshop—yes, you can take a plant home afterwards.
Knockout: will sell their modern, on-trend, self-defense rings – a gift you'll want for yourself and a friend. 
superhUe: Will help us chill with CBD infused, good-for-you beverages. And maybe they'll make floats with them, too…
Fronen: This plant-based "ice cream" is so rich, you'll have to be convinced it's made of bananas. 
Luna Bay: Hard kombucha from right here in Chicago, made with real fruits, herbs, yerba mate tea and naturally fermented to 6% ABV – these are the bubbles you'll be bringing to every holiday gathering!
CryoEffect: Buy discounted packages only available at the pop-up for the athlete in your life that needs more recovery. 
Free People Movement: You'll be able to shop our picks from this fashion-forward movement line and get them delivered to you in time for the holidays. 
Paper Source: The gifts your friends want will be curated by our favorite Chicago-based, crafty store. Shop notebooks, planners, accessories and more (and make your own gift tags). 
SUSU Accessories: You'll find these handmade bags that you'll be proud to see your giftee tote to her favorite yoga class.
Yeti: They're bringing coolers, thermoses and mugs you'll be desperate to gift.
Beam: CBD products to make the stressed or the active feel a general sense of "ahhhhhhh." 
Time Slippers: You won't know they're slippers until you put them on. These "shoes" are perfect for the person who likes to kick off their footwear at the office, but still wants to look professional. 
Pistachiio: Upgrade your gift basket with this all-vegan line of pistachio-based products, which are crafted in Chicago with sustainability in mind.
Power Plate: This vibration technology brand is creating more recovery tools at price points you'll want to take home – and you can expect the deepest discount of the season at the holiday market. 
Delos Therapy: Buy discounted packages only available at the pop-up for deep tissue treatments to get you through the winter grumpies. 
Strength Society: This new gym will offer one-on-one packages to help you meet your new goal: to pick up heavy things. 
Is Knit: Tell the recipient of theses hand knit products like headbands, scarves and mittens that they were made with love in Chicago. 
Mind Camera Soul: These Chicago-based photographers will make you comfy enough to take the best family/headshot/dating-profile/Instagram photos of your life. They'll be giving you exclusive deals and shooting photos of you with …
Leaf Jerky: You're going to love this new plant-protein based jerky and may or may not want to share with friends.
Plus, a certain holiday VIP will be arriving for photo ops at 10:30am… (Santa. The holiday VIP is Santa).
Exclusive workshops—limited space!
To really heighten your shopping experience, we're hosting four separate workshops at various times throughout the day to help you do everything from DIY-ing gifts to taking a sound bath.
11:15am: Take a sound bath with Tiny Space to Breathe.
While we love Spotify's holiday playlist as much as anyone, we'll take a quick break from Bing Crosby for a sound bath and meditation from Tiny Space to Breathe. Enjoy this mindful break by focusing solely on you, letting your holiday to-do list and shopping tasks take a backseat to your own mental health.
Reserve your ticket for a sound bath with Tiny Space to Breathe here.
12:15pm: Make your own perfume with Town & Anchor.
As leaders in the conscious beauty space, Town & Anchor knows the importance of thoughtful, small-batch gifts. They'll lead us through a perfume-making workshop, and you'll leave with a uniquely delightful scent that you can give to someone special on your list.
Reserve your ticket for a perfume-making workshop with Town & Anchor here.
2:15pm: Take a seedling potting workshop with Gotham Greens.
Green thumbs are so festive, don't you think? In this workshop, Gotham Greens will help you plant your very own little basil seedling by providing all the equipment you need to help it grow, from pots to soil and everything in between. You'll leave with a newly-potted basil plant baby that will brighten up any space and add a little zing to your next homemade pizza. We wouldn't judge you if you kept this gift for yourself.
Reserve your ticket for a seedling potting workshop with Gotham Greens here.
Plus, a visit from a very special holiday VIP…
Come to the holiday pop-up anytime from 10:30am to 2pm and you just might get a photo op with a special holiday VIP. We'll have Christiana Basso on hand to snap photos of you with Santa (in plenty of time to use the photo for your own holiday cards, we might add). Don't forget to come armed with your very own holiday wish list.
Reserve your free General Admission ticket to the holiday market here so we know you're coming!
Let us know!
Did this post help you get closer to achieving one of your goals?