3 Ways to Turn Your Sleep Routine into a Full-On Beauty Session
Sure, the term "beauty sleep" refers to simply getting enough shuteye to look and feel awake the next day. But now, thanks to a market full of beauty treatments and products, beauty sleep has taken on a whole new meaning. Whether you use a silk pillowcase to prevent wrinkles and make your hair silky smooth or apply a serum to awake to glowy, plump skin, there are a number of ways to maximize your beauty sleep. To get the lowdown, we spoke with dermatologist Dendy Engelman, MD, who explained a few ways to make the most of your Zs.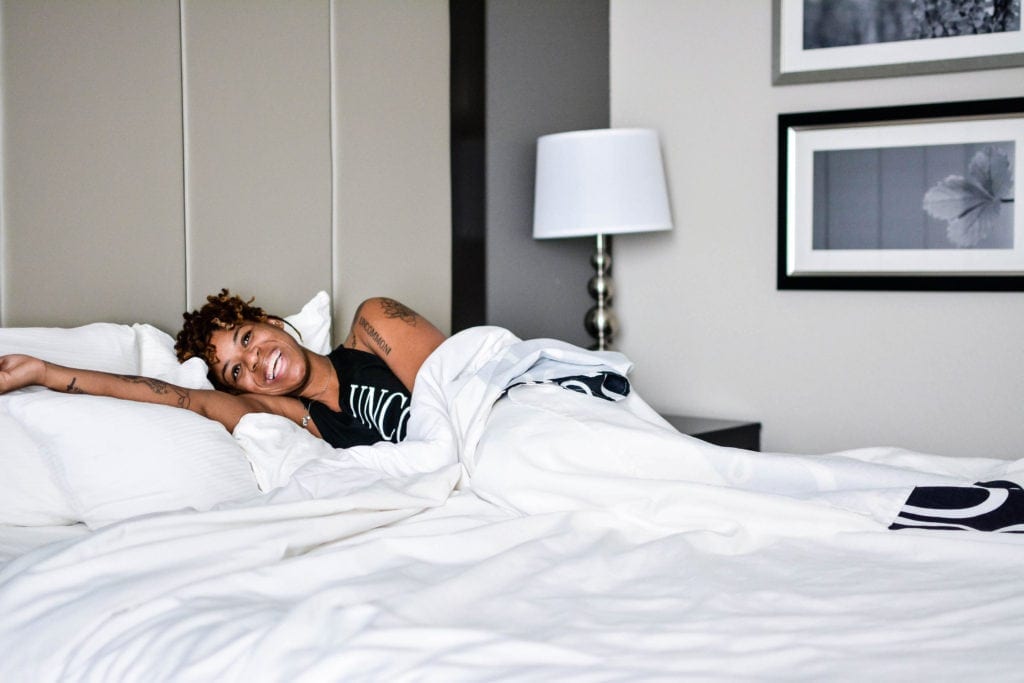 Choose your pillowcase wisely
Even if you feel relaxed during your snooze, the type of fabric you sleep on can still strain the skin and cause wrinkles and indentations. Dr. Engelman recommends sleeping on your back so you don't smush your face into the pillow. You may also want to invest in a silk pillowcase, which is softer and kinder on the skin. Dr. Engelman loves the slip brand silk pillowcases.
If breakouts are a bigger concern for you, make sure you wash your pillowcase often. "Change your pillowcase once a week," says Dr. Engelman, "And I always recommend to wash your sheets the next day if you go to bed with a dirty face." If you're a run-of-the-mill lazy person who wants to bypass washing so often, try an antibacterial pillowcase, like Silvon Home's, which use silver-laced threads to keep bacteria at bay. Dr. Engelman suggests the pillowcases from deja pillowcase, which have multiple layers of sheets, making it feel like you have a brand new pillowcase every night.
Try an overnight mask
Your skin enters peak regeneration mode (think skin metabolism) between 10 pm and 2 am, so using a special mask during this time really maximizes your skincare routine's effectiveness. "You can definitely layer on extra night cream, but an overnight mask is essentially a supercharged night cream that is designed to last longer on your face and [they] are more potent," explains Dr. Engelman.
Laneige's Water Sleeping Mask is a great option for all skin types from oily to dry to sensitive. It locks in moisture that the rest of your body may lose throughout the night and also helps to brighten dull skin all while you sleep. For a drugstore option, try the Olay Regenrist Luminous Overnight Mask. The gel-like mask works to even out your skin tone and keep you feeling moisturized.
Focus on your overall health
Above all, focus on what you eat, how you move your body, and how you take care of your mental health. "Healthy skin is a product of a healthy body," Dr. Engelman says. She suggests focusing on your gut health and steering clear of artificial sugars. Instead of popping processed foods on the regular, focus on getting plenty of essential vitamins and minerals from whole foods. That way, when you hit the sack, your body won't feel inflamed and go into overdrive mode, producing extra oils and therefore oily, acne-prone, or dry skin. And as always, drink lots of water (but you already knew that).
Let us know!
Did this post help you get closer to achieving one of your goals?