How This Chicago Yogi Fuses Music With Movement With Trap Yoga
Picture your typical yoga class. You're in a spacious, well-lit studio. Ambient instrumental music plays softly in the background as you unfurl your mat. When your instructor enters the room, you flow through your asanas without giving a second thought to the soundtrack of your power vinyasa. In fact, if asked later whether there were any standout songs on the playlist, you'd scratch your head and say, "Umm… honestly, I can't remember."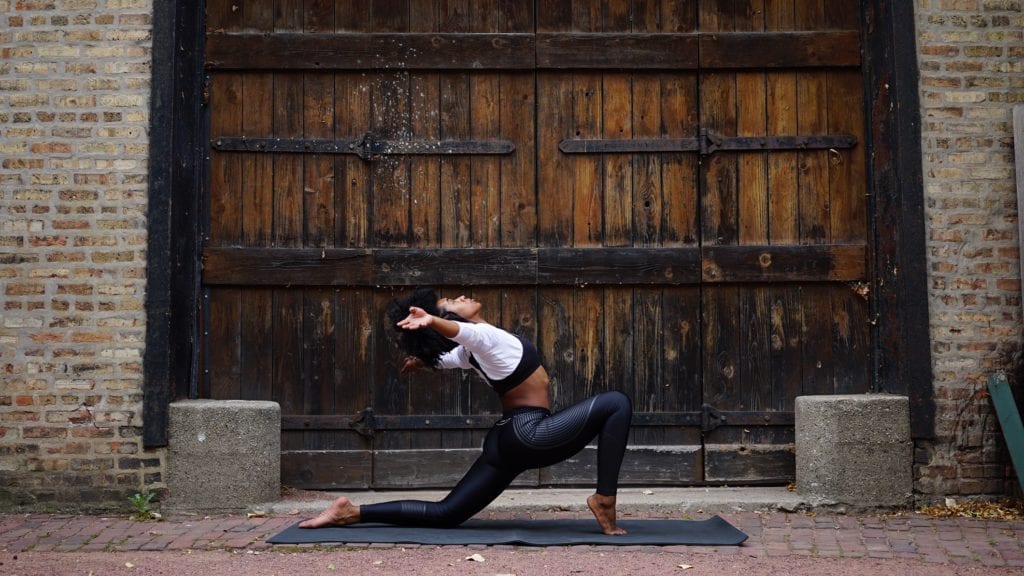 Asia Nichole Jones, the founder/creator of Trap Yoga™, is here to change that. Born from her own experience during yoga teacher training, Jones wants Trap Yoga to be a space for anyone and everyone to connect with their mats.
From a deck in a wildlife preserve to the studios of Chicago
Jones's first experience with yoga came in 2012, when she discovered an old P90X yoga DVD and mentally committed herself to a daily practice. As she became more and more consistent, she found herself naturally curious about what she was doing—the names of the postures in Sanskrit, the benefits they held, and what she was actually doing with her body.
"I wanted to dive into the literature," Jones explains, and so she embarked on her yoga teacher training in 2014 while living in California.
And it was her yoga mentor and the facilitator of her teacher training that actually planted the seeds for Trap Yoga.
"My yoga mentor, Audrey, encouraged us to find our own voice and facilitate a space that was authentic to us and for us," Jones recalls. "She told us we would attract a community like that."
To Jones, an authentic yoga practice meant a place that didn't feel stuffy, that was welcoming to anyone—and that meant the back deck of the cabin she was living in (which was on a wildlife preserve, no less).
She practiced there daily, to her own playlists; little did she know, she was laying the foundation for her unique Trap Yoga practice.
"I wasn't necessarily aware that I was developing trap yoga when I was developing it," Jones muses. But eventually, the lightbulb went off, and Jones realized the potential a practice like Trap Yoga had.
"I was the only person who looked like me and sounded like me"
Remember that imaginary yoga class we went to in the first paragraph? Chances are, if asked to imagine the people on the mats around you, you'd imagine upper-middle-class white women, clad in head-to-toe expensive athleisure. Jones had that experience more times than she can count.
"[In most classes] I was the only person who looked like me and sounded like me," she says. "It was intimidating, and it kept me from going at times."
But, inspired by her teacher training, Jones realized that she wanted to share yoga with people who might not have experienced it otherwise.
"That was my entire intent from the beginning. Yoga is a true gift, and I want everyone to experience that."
Trapping (v.): To hustle or grind, to do the work 
Walk into one of Jones's Trap Yoga classes, and one thing's for sure: you're going to put in some WORK on the mat.
"The name for Trap Yoga is actually a play on Trap Yoga's duality, and how I feel we should celebrate our own duality," Jones explains. "It refers to the music AND doing the work."
In fact, she goes on, "the hood synonym for trap is 'to do the work.'" And that's exactly what you'll get from one of Jones's classes.
"People are surprised that [Trap Yoga] is as challenging as it is!" she exclaims, noting that rap-themed flows are having a moment right now and studios often tease certain playlists to increase class attendance.
"Some people expect it to be an hour where they're kind of hanging out and not diving into the practice," she goes on. "I'm not expecting you to have ever done yoga before, but it is about stepping out of your comfort zone and stretching your mind a bit."
The ethos behind Trap Yoga playlists
With bumpin' beats that may include Drake, Future, or Rihanna in any given class, Jones puts a lot of thought into how she uses musical cues for her classes.
"I cue my music similar to how I cue yogis on the floor—there's a warm-up, a peak posture and song, and a cool down," she explains. A recent class, for example, opened with "Things I Imagined" by Solange. 
While she originally tried to keep her playlist filled with current hits, she now thinks more about how the overall flow of class will go. Once she has a sense of the class, she makes the playlist, whether that means featuring all-female rappers or sticking to old-school hits.
"Every playlist is set to how the flow will go," she says. "I save the most upbeat and empowering song for the middle, for our peak pose. You'll be vibing out, like 'yes, I DID that!'"
How Jones wants you to feel after a Trap Yoga class
In a word: empowered.
"I want them to feel empowered by what they're doing or how they're feeling," Jones explains. "Most of the rap I use in my playlist offers that feeling. It's not super raunchy."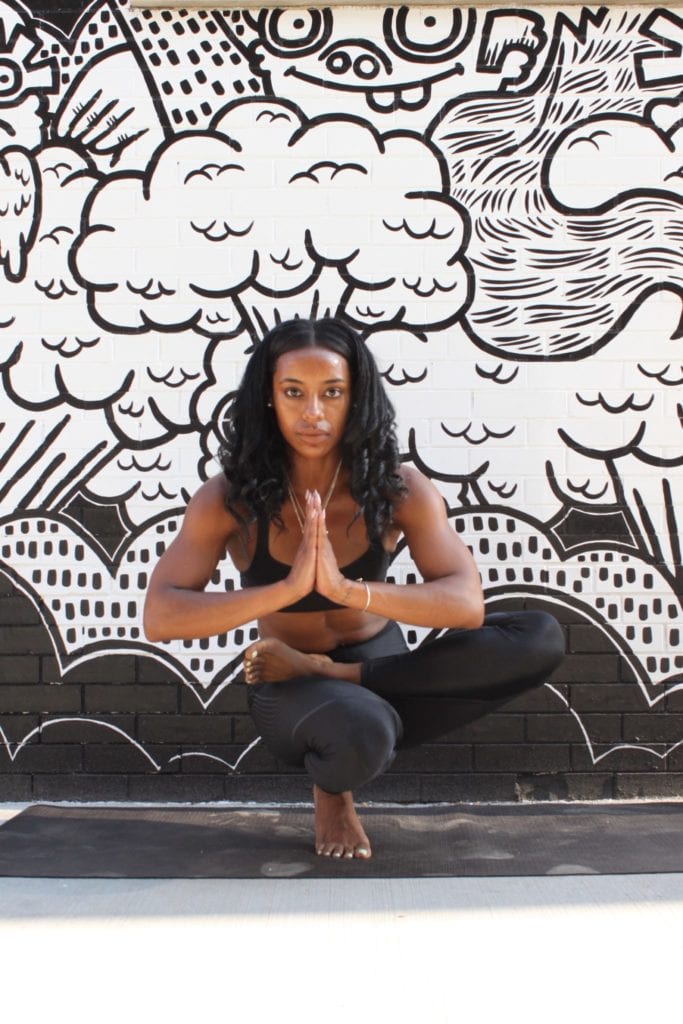 And beyond that, Jones also wants to leave yogis feeling a little more compassionate and a little more connected.
"I want to leave people with some compassion, some empathy, and feeling empowered. And not only having those feelings resonate with self, but also expressing them outwards to everyone they may encounter through their days, their weeks, or the next time I'll see them."
She continues, "the feelings you're feeling, these are things you cultivated in your body and on your mat… you did this work. You didn't just come to class and watch someone do a bunch of poses and mimic them. You did the work, and when you leave here, all of that is there for you whenever you need it."