The Best and Worst Foods to Grab at the Airport
For some, the airport is like a second home. Whether frequent travel comes with your career or you're taking advantage of the holiday season with a few trips, time spent in airports can really add up. And unfortunately, airport food isn't the healthiest.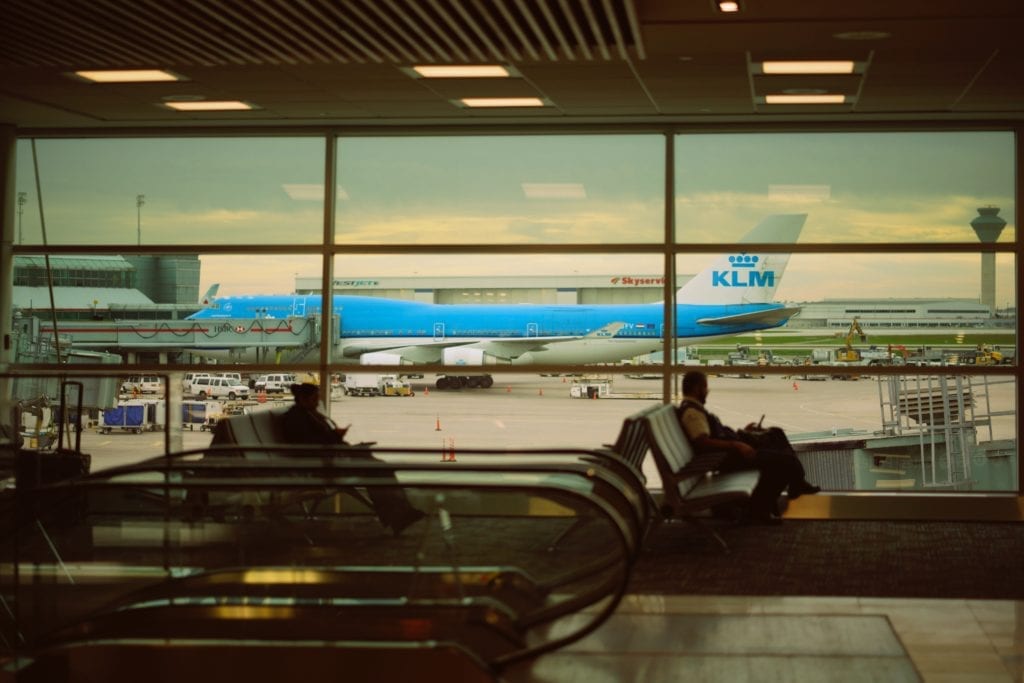 It can be hard to find something nutritious and filling to eat when you're waiting at the gate or spending time in the sky, so you're better off knowing what the best and worst items you can eat are in advance to better prepare yourself. Follow this guide next time you're flying, so you can fuel yourself properly and have a great flight.
Best
Yogurt
You can't go wrong with a simple yogurt that's higher in protein and low in sugar. "Ideally grab a high protein Greek yogurt to help fuel your airport stay. The gut-pleasing probiotics can also help keep tummy troubles at bay while on the road," says cookbook author, registered dietitian, certified athletic trainer Dana Angelo White, MS, RD ATC. You can always add a little fresh fruit or nuts, as well.
Hummus Cups
"Hummus and pretzel cups are a great way to fight a junk food craving at the airport. The combo of crunchy carbs, healthy protein and healthy fats will help stay satisfied while traveling," says White. Plus, they're nicely portioned, so you won't be mindlessly munching, as you would with a huge bag of chips.
Nuts
"Another satisfying snack to munch on while you wait at the gate or fight for an outlet to plug in your phone charger. Leftovers also pack away easily and conveniently in case you get hungry in the air," says White.
Nuts, like almonds, cashews, and pistachios, as well as peanuts, are all high in good fats and protein to keep the munchies at bay mid-flight. Go for unsalted if you can to reduce water retention (the altitude can dehydrate you and lead to swelling), and be careful about portions, as they are calorie-dense. Stick to one or two servings.
Worst
Sandwiches
"Most airport sammies have a thick layer of high calorie, highly processed bread filled with soggy veggies and mayo-drenched fatty meats and cheeses," says White. Not so great. And to make it worse, "many prepackaged grab-n-go items have been sitting on those shelves longer than you would like, this affects the taste (soggy bread, ew!) and could also put you at risk for belly ache in the air," she says.
Chips
Bags of chips are everywhere you turn at the airport but they won't give you any healthy calories—just bad fats and sodium. "As flying can be dehydrating, taking in an extra salty snacks isn't such a great idea," says White. "If you crave something crunchy, opt for flavored rice cakes or nuts," she says. Plus, most chips come in oversized bags, so you don't want to eat the whole bag yourself!
Baked Goods 
"Basketball-sized muffins and frisbee-shaped cookies may be tempting comfort while away from home but all sugary calories can spike glucose and insulin levels, followed by a crash that will leave you feeling sluggish," says White. If your sweet tooth is calling. consider a piece of dark chocolate and fruit or even pack along a PB+J from home, which will be enough to tide you over without affecting your sugar levels.
A Few Airport Hidden Gems
In addition to grab-and-go picks, some airports also offer restaurants that boast healthier options on the main menu for a sit down or easy takeout meal.
At O'Hare in Chicago, you can find three locations of Rick Bayless' Tortas Frontera throughout the airport, in addition to Wolfgang Express and Summer House Santa Monica, all of which have some healthy options. ORD also offers Farmer's Fridge, a vending machine filled daily with made-that-day salads in reusable mason jars —  easy, nutritious, and perfect for travel.
San Francisco International Airport has Napa Farms Market, which has fresh salads and sandwiches, Boston Logan International Airport has Berkshire Farms Market, Los Angeles International Airport offers Real Food Daily, which is great for vegans who want to create protein bowls, and LaGuardia Airport has a massive CIBO Express Gourmet Food Hall, with fresh salads, snacks, hot foods, and more.
And you can't go wrong with Starbucks, says White, which has some nice salads, breakfast wraps, and protein-focused snack boxes. You can surely find a couple of Starbucks locations at every airport.