The Ultimate In-Flight Skin Routine From K-Beauty Expert Alicia Yoon
With summer just around the corner, there's a good chance you have a flight or two on the horizon. Like any seasoned traveler knows, flying isn't just mentally stressful, it's a major stressor for your skin, too.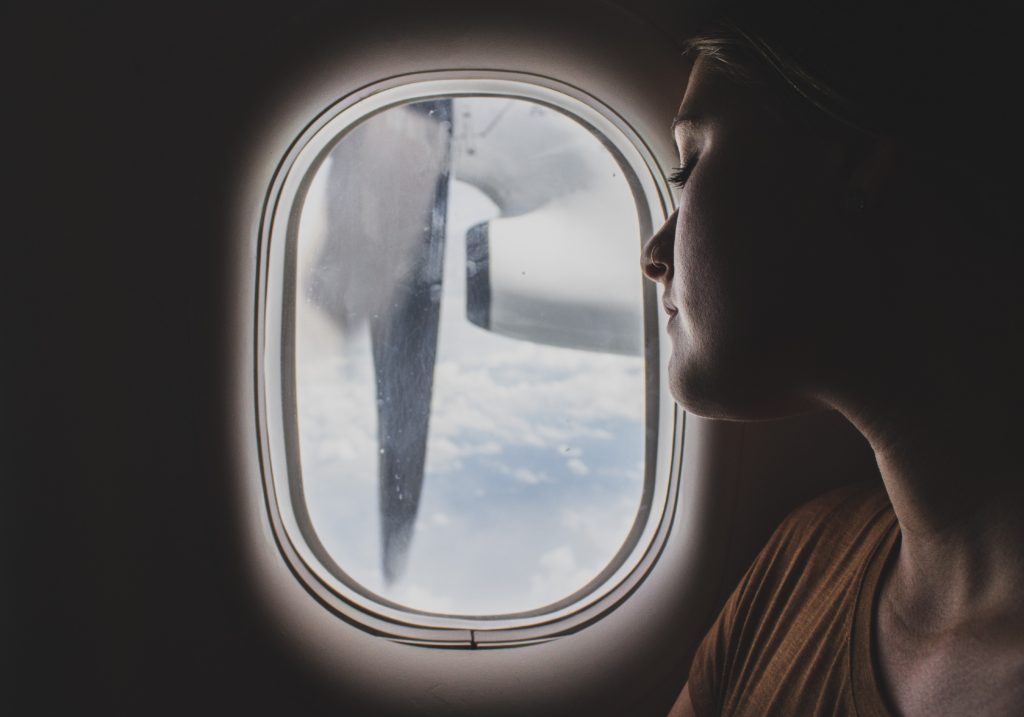 For keeping your skin in-check in-flight, there couldn't be a better expert than Alicia Yoon. She's the founder of Peach & Lily, an e-commerce site that brings the best of K-beauty to the U.S. When she founded the company six years ago, Yoon said she was constantly traveling back and forth from New York to Seoul, and the 14-hour flight was taking its toll.

"Without fail, every time I'd go to Korea my skin would take one to two weeks just to get back to normal," Yoon said.

Since then, Yoon's perfected the in-flight regimen.

Bur first, it's important to know the enemy. Cabin humidity dips to below 20 percent during most flights, less than half the usual air moisture compared to an average day in Chicago. To combat the dryness, your skin goes into overdrive producing oil, resulting in clogged pores and an overall dull look, said Yoon. To get ahead of that cycle, it's important to keep your skin clean and hydrated.

That's an easy enough task at home, but at cruising altitude, crammed between strangers and limited by liquid restrictions, it's a bit trickier. To make it easier, here's a checklist to put in your carry-on bag:

gentle cleansing tissues
hand sanitizer

toner

sheet masks
moisturizer
SPF
Before you get on the flight, Yoon recommends doing your usual skin routine and removing any makeup prior to boarding. This way, you'll have less to deal with in-flight. Be sure not to forget your SPF, Yoon warns. Many times the cabin crew will ask passengers to leave their window open during takeoff, and UV rays can be extra strong at flying elevations.

About halfway through your flight, it's time to get to work. Start by using your hand sanitizer and giving your hands a good cleaning.

Next, take one of your tissues (Yoon recommends Stress Relieving Purefull Cleansing Tissues from ariul) and very gently clean your face. No tugging, pulling or scrubbing because your skin will already be extra sensitive from the cabin air. Besides, you're in no rush!

After your skin is completely clean, tap a toner all over your face. We like May Coop's Raw Sauce both for its TSA friendly size and super-gentle feel. Toner might seem like an easy step to skip, but it's a great way to prep your skin for the intense hydration you're about to give it.

Now that your skin is clean and prepped, it's time for a mask. If you're nervous about putting on a sheet mask in public, Yoon says not to worry — it's more normal than you might think.

"You'd be surprised! People don't really look all that alarmed," she said.

For especially odd-looking masks, Yoon tells us that she gives her seatmates a heads up and  always carries an extra mask to offer.

Because of the dryness, you'll want to favor a hydrating mask. This Dr. Jart+ rubber mask is a good option. Because the mask is made out of gel, there's less dribbling and mess. But be warned: it's bright blue and will earn you a double-take from at least one of your fellow passengers. Peach & Lily also makes their own sheets masks that Yoon played a major part in developing, so you know they're good.

If you're still nervous about doing a mask anywhere but your living room, this Neutrogena Hydro Boost mask is a great starting point. It's super moisturizing, but unlike a sheet mask, it goes on like a thick moisturizer, calling a little less attention to yourself.

After your mask, it's time to moisturize and add your SPF back. A TSA friendly option that Yoon swear by is Peach Slices' citrus-honey aqua glow lotion.

And that's it! Yoon says to remember that your skin will feel extra sensitive even after you land, so if there's a night to be kind to your skin, it's after you land. Similar to your in-flight routine, think gentle, hydrating and sensitive. You'll be glowing all the way through your vacation!