Gift Guide #7: For Fit Dudes + Pre Brands and Bombas Giveaway! [CLOSED]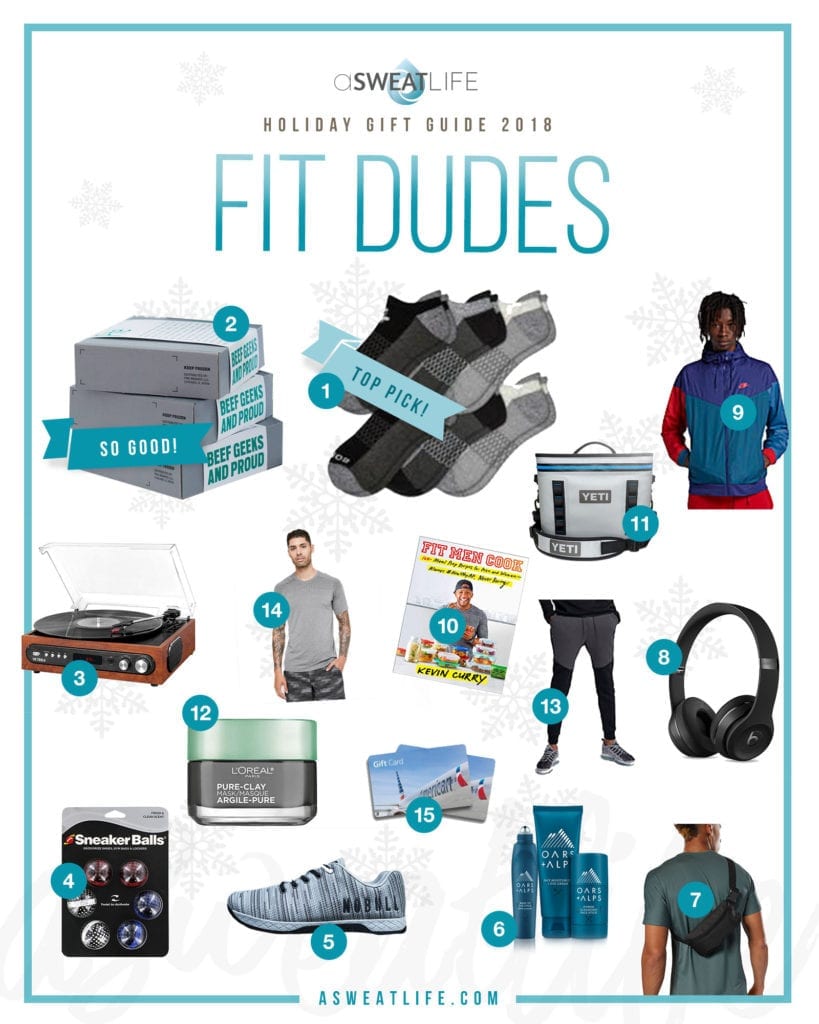 1. Men's Originals Ankle Sock 4-Pack, Bombas, $45.60 2. Grill Master's Box, Pre Brands, $229.99 3. Record Player, Victrola, $59.99 4. Sneaker deodorizers, Amazon, $9.99 5. Trainers, No Bull, $159 6. Face Essentials, Oars and Alp, $61 7. Training Waistbag, Reebok, $13 8. Beats Solo3 On-Ear Headphones, Apple, $299.95 9. Windrunner Jacket, Nike, $100 10. Fit Men Cook, Amazon, $20.99 11. Hopper Flip 18 Cooler, Yeti, $299.99 12. Pure Clay Face Mask, L'Oreal Paris, $8.07 13. Tech Fleece Joggers, Nike, $100 14. Metal Vent Tech Short Sleeve V, lululemon, $68 15. Airline gift cards, varies
Raise your hand if there's a guy in your life that is impossible to shop for. All of us? Okay, good. This guide is for you. Most of these gifts are tailored towards a dude who's at least mildly interested in his fitness, but don't worry, we've got plenty of options for outside the gym, too.
Let's start with one of those, actually — in the kitchen, to be more specific. The Grill Master's Box from Pre Brands is the perfect gift for pretty much any dude, from brother to boyfriend to dad to father-in-law. It's filled with grass-fed, non-GMO, pasture-raised beef (a huge step up from the old meat gift boxes of the past). Whether your dude is already a charcoal connoisseur or you're trying to gently nudge him into cooking more, this gift box will make him salivate and immediately try to fire up the grill, no matter what the temperature is outside. Each box contains four ribeye steaks, four New York strip steaks, and eight 85% lean burger patties, plus instructions and grilling tips for the juiciest meal around. We're hungry now.
Our other favorite gift for guys this year? A six-pack of the comfiest ankle socks around from Bombas. Trust us, your dude doesn't want to buy socks for himself (and maybe you're tired of secretly throwing out the holey pairs). These socks are supportive, anti-blister, and charitable — for each pair purchased, Bombas donates another pair. If you're one of those gift givers who sneakily takes gift shopping as a time to replenish your guy's wardrobe without him suspecting that's what you're doing, these socks are the answer.
Rounding out the footwear section, a new pair of trainers (like these trainers from No Bull) are the perfect motivation to get into the gym with the rest of the post-New Year's crowd. We'd also throw in a pair of these sneaker deodorizers. Cheeky? Maybe. Realistic? Definitely.
For the guy who's still wearing his cotton college t-shirt and basketball shorts to the gym, upgrade his workout wardrobe. Our male Ambassadors unanimously recommended the Metal Vent Tech shirts from lululemon, with its sweat-wicking properties and slim profile. This windbreaker from Nike is for the guy who's not afraid to stand out in a crowd of black and white, and these joggers are perfect for lazy Sundays watching football, but still look good enough to leave the house for a beer at the neighborhood bar.
News flash: guys need a way to carry their stuff, too — and sometimes pockets don't cut it. This Style Foundation Waist Bag from Reebok is roomy enough to hold a phone and a wallet, but light enough to wear on a run. Basically, it's a fanny pack (manny pack?). A new pair of gym headphones is a guaranteed-to-be-appreciated gift; the Beats Solo3 Wireless Headphones are sleek enough for the office and airport, but secure enough for a weight-lifting session.
Outside of the gym, giving a record player opens up the door to new memories of cooking while your favorite tunes play in the background, or curling up in front of a fire, doing a puzzle with holiday music as your soundtrack. This Victrola record player is also Bluetooth-enabled to amp up sound from your favorite music service on your iPhone; plus, we love its retro look. Pair with a cookbook like Fit Men Cook for an instant date-night-in.
Are you a skin-care junkie with every mask under the sun? Give your dude a face mask (like this clay mask from L'Oreal), commit to a #facemaskFriday, and take a selfie for permanent evidence. Or nudge your guy into a skincare routine with this Face Essentials Kit from Oars + Alps; it includes face wash, moisturizing face and eye cream, and a de-puffing Wake Up eye pen that you yourself might want to steal on occasion.
Kristen gifted her boyfriend the Yeti Hopper Cooler last year and recommends it as a great big-ticket gift for your dude, especially if beach, lake, or outdoor concert visits are part of your summer routine.
Our final idea? A trip for two — given via airline gift cards, which are offered by every major airline. Take away the stress of committing to airline tickets for a certain date, time, and location, and give your dude miles — then let the fun of planning a future vacation begin (warm weather, anyone?).
This giveaway is now closed. Congrats to Justine L.!
10 Days of Gifting with aSweatLife 
Working On My Fitness | Beauty | Fit Gear and Tech | Runners and Triathletes | Mental Health | New Moms
Disclaimer: Some of these products links may be affiliate links, meaning we'd earn a small commission if you purchased through our site. It doesn't cost you any extra, and it helps us keep the lights on. Thanks for your support!