Gift Guide #6: For New Moms + lululemon and Simplified Superfoods Giveaway [CLOSED]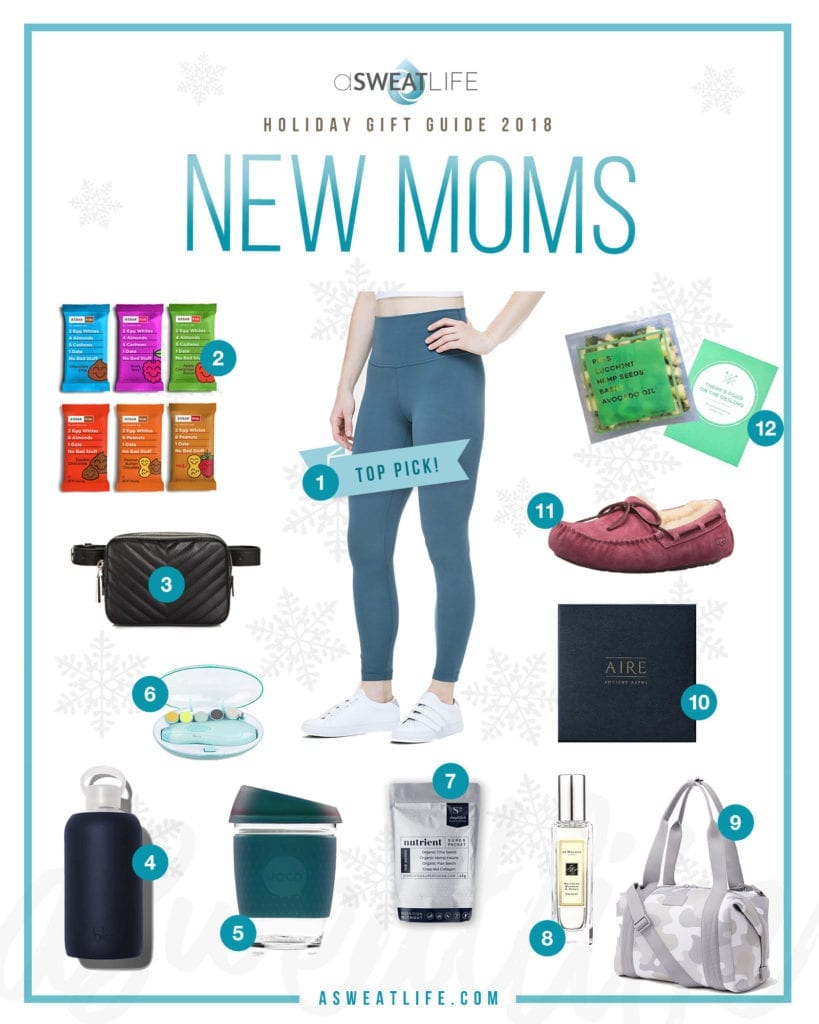 1. Align Pant II, lululemon, $98 2. Kids Variety Pack, RXBAR, $26 3. Hippie Belt Bag, Nasty Gal, $65 4. 1L Glass Water Bottle, bkr, $48 5. Glass Reusable Coffee Cup, JOCO, $27.95 6. Electric Baby Nail Trimmer, Amazon, $16.99 7. 5-Pack Original Mix, Simplified Superfoods, $25 8. Cologne, Jo Malone London, $136 9. The Landon Carryall, Dagne Dover, $155 10. AIRE Gift Card, AIRE Ancient Baths, varies 11. Dakota Slippers, UGG, $99.95 12. 1 Box, Raised Real, $95
No one deserves a thoughtful holiday gift more than the new mom in your life. The gifts is this guide were carefully chosen to make a new mom's life a little easier, a little cozier, and a little more stress-free. We polled our new mom pals and these were the gifts they whole-heartedly recommended for the mamas on your list.
The new mom uniform, as we discovered, consists of basically two things: lululemon Align yoga pants and comfy slippers (like these Dakota Slippers from UGG). In fact, one of our Ambassadors said of the Align pants, "At 5 months pregnant, they are the only leggings I can wear comfortably that support my growing belly. I've had to go up a size and rebuy more, but they are worth every penny. I wear them almost everyday!" And for what it's worth, plenty of our non-pregnant friends rave about these leggings too — so they won't be tossed in a forgotten drawer of maternity clothes post-pregnancy. These leggings are a slam dunk.
Babies come with a lot of required supplies (you think your work-to-gym bag is bad? Try a diaper bag). Give your mom friend the gift of hands-free storage with the Landon Carryall from Dagne Dover; we think the camo pattern is especially on-trend. Or, for a smaller, on-the-go bag, two of our mama writers recommended a chic fanny pack. That's right, embrace the mom fashion with this Hippie Belt Bag from Nasty Gal. She'll be the coolest mom at daycare for sure.
New moms who are breastfeeding will know how important it is to stay hydrated and fueled. A glass reusable water bottle like this one from bkr carries a ton of water and looks way nicer than a free squeeze bottle from the gym. We also love the idea of gifting packs of Simplified Superfoods, small packets of all the superfood nutrients your new mom will want to throw in her morning smoothie (but would have no time to measure out by hand herself).
Coffee is a necessity for all of us, but even more so when you're not getting much sleep. This reusable glass coffee tumbler from JOCO is gorgeous, eco-friendly, and free of BPA and other weird chemicals.
Want to help your mama friend relax a little bit? A fancy perfume from Jo Malone is perfect for that first post-baby date night. Or, if there's an AIRE Ancient Baths in your city, they offer gifting options like a visit to their ancient thermal baths and a massage (you can even send it as a physical gift box for a little something to unwrap).
If your friend was a fitness fanatic pre-baby and is worried about easing back into a workout routine, there's nothing quite like one-on-one attention with an expert. Do some digging around your city to find certified post-natal fitness or yoga instructors and ask if they'll do a one-on-one session with your friend. Your friend will be able to ask questions and learn how to modify movements for their changed body, while enjoying the feeling of getting back to one of their favorite activities.
Or, on the flip side, moms tend to have no idea what to expect when it comes to working out during pregnancy. Expecting and Empowered workout guides are designed to safely and effectively empower women as they journey through pregnancy, labor, delivery and postpartum. The guides include 3 days per week of exercises focusing on flexibility, pelvic floor and strength training; and every workout can be done at home or the gym in 30 – 45 minutes. Gift this to the mom who loves her HIIT classes and doesn't want to be sedentary during her pregnancy.
Finally, a few gifts that will benefit baby, too: a box of Raised Real's baby meals, which are flash-frozen, organic baby meals approved by a nutritionist for developing kiddos. For the slightly older kids, give an RXBAR kids variety pack (plus, let's be honest — the kids bars taste great to adults, too).
And, what might be the most surprising gift recommendation we got from our mama writers: electric baby nail trimmers. Says writer Chanel, "After a scary incident with clippers (never again!) I bought this nail file and it is amazing. No clipping skin, and my daughter actually likes the vibration of it."
This giveaway is closed. Congrats to Mary L.!
10 Days of Gifting with aSweatLife 
Working On My Fitness | Beauty | Fit Gear and Tech | Runners and Triathletes | Mental Health
Disclaimer: Some of these products links may be affiliate links, meaning we'd earn a small commission if you purchased through our site. It doesn't cost you any extra, and it helps us keep the lights on. Thanks for your support!