Gift Guide #3: Fit Gear and Tech + Hyperice Giveaway [CLOSED]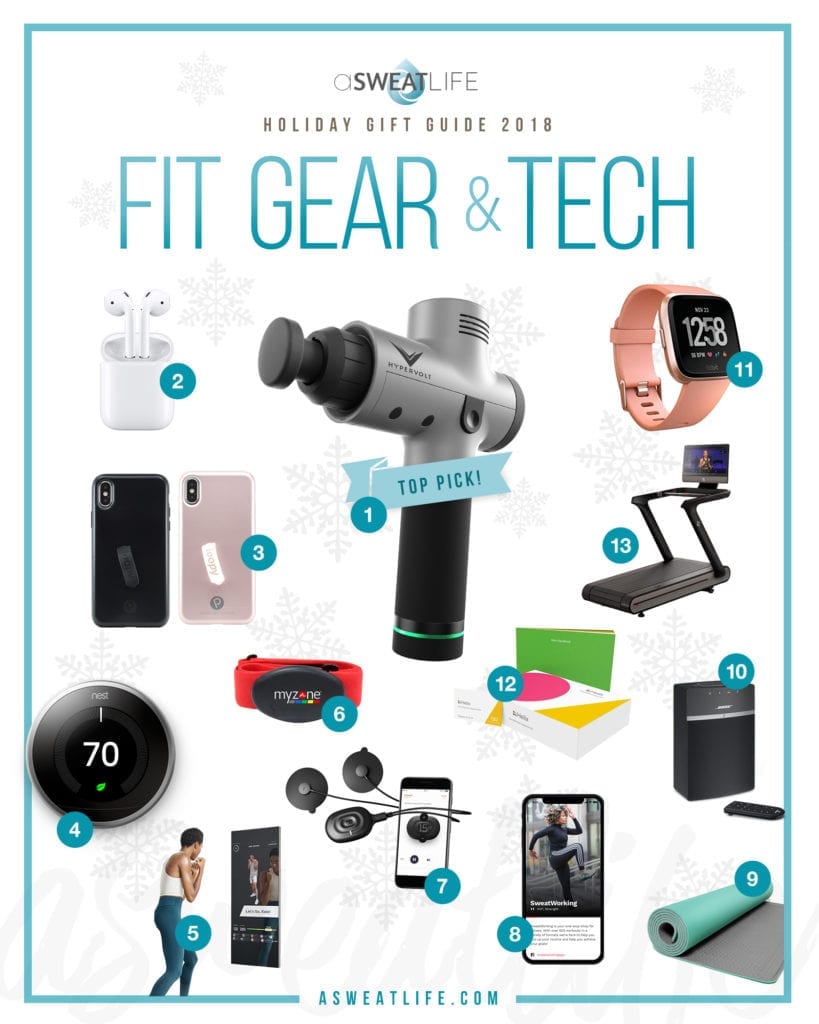 1. Hypervolt, Hyperice, $349 2. AirPods, Apple, $159 3. Loopy Original, Loopy Cases, $39 4. Learning Thermostat, Nest, $249 5. The Mirror, Mirror, $1,495 6. MZ-3 Physical Activity Belt, MYZONE, $149.99 7. 2.0 Uno, Powerdot, $199 8. SweatWorking subscription, SweatWorking App, $14.99/month 9. Self-Rolling Yoga Mat, YoYo Mats, $79.99 10. SoundTouch10 Wireless Speaker, Bose, $199 11. FitBit Versa, FitBit, $199.95 12. DNA Discovery Kit, Helix, $49.99 13. Peloton Tread, Peloton, $3,995
Listen, we are advocates through-and-through for the "you have a body, you have a gym" movement. And we truly believe that all you need is your own bodyweight for a kickass, sweat-blasting workout.
But that said… this is a gift guide. And you can't gift someone their own bodyweight.
Also, there is so much insanely interesting fitness technology and gear out there right now, and some of it has a true WOW factor for gift-giving. Fair warning: the price tag on most of these items are a little higher than in our other gift guides, but we mixed in a few budget-friendly gifts to balance things out. Think of this as the gift guide for someone you really, REALLY love.
Let's hit the biggest-ticket item right off the bat. You know Peloton for their so-good-people-are-obsessed-with-it at-home bike — and now, the Peloton Tread is available for pre-order. The sleek tread includes a 32″ screen that streams your favorite instructors live and on-demand as they teach running, HIIT, and strength classes. The tread is easily adjusted via knobs, instead of your standard push buttons. Basically, this is the perfect gift for a serious fitness fanatic whose high-powered schedule makes getting to an actual gym a chore — now, who's getting this one for our office?
Another buzzy at-home workout gadget that we're intrigued by is Mirror. This is perfect for the friend who loves working out but hates the thought of messy gym equipment lying around the house (you can't see it, but editor Kristen is raising her hand right now). Mirror looks like just that — a mirror — but comes to life to show interactive workout videos, including Pilates, boot camp, barre, and more. It's a jaw-dropper.
But maybe you're balling on a budget — and we get that. The SweatWorking app gives your giftee access to hundreds of workouts on their phones, with or without equipment; this link gives you access to a 30-day free trial, which is twice as long as the usual free trial! And keep your eyes peeled – you can get your hands on some pretty incredible content from some of our favorite gyms and studios in the app. We're also kind of in love with LoopyCases — adorable phone cases with loops on the back so you can easily hold your phone while running (the $39 price tag is budget-friendly, too).
Wearable tech isn't slowing down any time soon. A smart watch (like the Versa from Fitbit) lets you track heart rate, calories burned, steps walked, and more — while also letting you read texts, calendar notifications, and more. Or, for someone who wants the MOST accurate information available, a heart rate strap like the Physical Activity Belt from MYZONE gives them real-time feedback on heart rate, calories burned, and effort.
A workout isn't complete without a little bit of music, in our opinions. For everyday use, we're obsessed with our Apple AirPods and how they automatically charge when placed in their holding case (we're truly living in the future). This is a must have if you use your phone to guide you through workouts at the gym – there is nothing worse than dropping your phone mid-squat and having it dangle from your ears (maybe that's just CEO/founder Jeana's experience).
Or pump up the noise in your home gym with the Bose SoundTouch10 wireless speaker — this speaker is small but mighty and connects to all the major music services. It makes a great gift for the non-fitness person too, especially if they're into hosting parties or just cooking with some good tunes. Director of communities Maggie Umberger uses this speaker every day whenever she's working from home or working out at home. She loves the app functionality to control the volume no matter where you are in the house and operate without disruption from incoming calls or texts.
Don't forget that recovery is one of the most important parts of working out. The true fitness fanatic in your life *needs* the Hypervolt from Hyperice, and we're all so obsessed with it at aSweatLife HQ that we made it the top pick of this gift guide. Imagine a water gun, but one that vibrates and massages your sorest areas after hitting your max squat or running your longest distance ever. Your friend will recover faster, and they'll think of you every time they power the Hypervolt up. On a similar note, the PowerDot Uno uses an app (!!) to target specific muscle stimulation, helping the wearer to feel their best every day. It's futuristic, interactive, and maybe the only recovery routine they'll actually look forward to.
Roll it up, roll it up. This self-rolling yoga mat takes the struggle out of rolling up your yoga mat perfectly so it fits in your carrying case or commuter bag — remember slap bracelets from the 90's? Yeah, it's kind of the same principle here. No more weighting down the corners of your mat with yoga blocks and your water bottle — the mat lies flat on the first try, and a simple flick rolls it up (no straps or case necessary). Snaps to that.
Okay, so these last two items are only tangentially fitness-related, but we think they're cool and this is our gift guide. We're filing the Nest under "something we want, but don't want to buy ourselves" — a.k.a. the perfect tech gift. The Nest will learn your habits so when you wake up for that 5 a.m. workout, your home is cozy enough that you're not tempted to burrow under your covers and skip it. Finally, we just tried out the DNA Discovery Kit from Helix and we're furiously reading our Wellness Basics results. They'll show your recipient how their DNA affects their food habits, their coffee consumption, and even whether they're built for endurance or power. It's a really cool twist on the typical DNA kits that might help your person learn more about how to optimize their lives.
This giveaway is now closed. Congrats to Christina G.!
10 Days of Gifting with aSweatLife 
Working On My Fitness | Beauty
Disclaimer: Some of these products links may be affiliate links, meaning we'd earn a small commission if you purchased through our site. It doesn't cost you any extra, and it helps us keep the lights on. Thanks for your support!