Gift Guide #4: For Runners and Triathletes + Bombas, Kudos, and Erica Sara Necklace Giveaway! [CLOSED]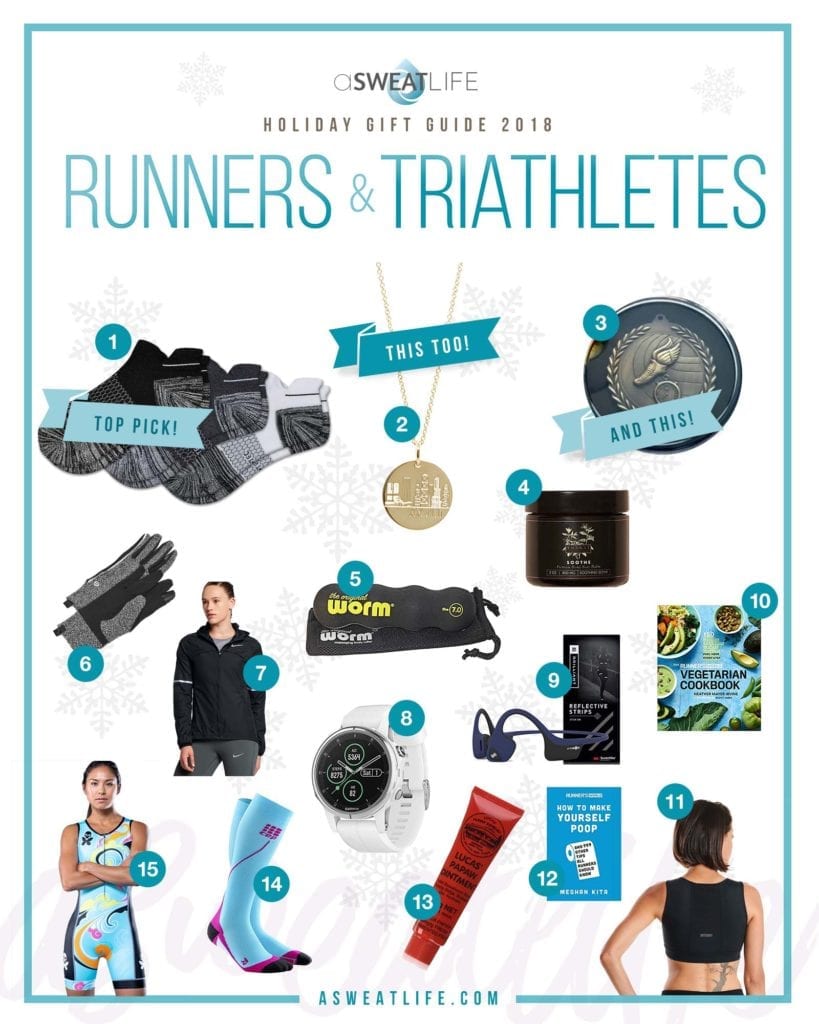 1.Women's Performance Running 3-Pack, Bombas, $48 2.Custom Race/Distance/Elevation Necklaces, Erica Sara, varies 3. Kudos Coaster Plus, Kudos, $20 4. Soothe Body Balm, Shanti Wellness, $70 5. The Original Worm Roller, Amazon, $24 6. CrossChill Run Gloves, lululemon, $36 7. Shield Women's Running Jacket, Nike, $130 8. fēnix® 5S Plus, Garmin, $794.95 9. AfterShokz Trekz Air, AfterShokz, $149.95 10. Runner's World Vegetarian Cookbook, Amazon, $17.70 11. Flyout Bra, Oiselle, $52 12. How to Make Yourself Poop, Amazon, $15.99 13. Papaw Ointment, Lucas, $8.09 14. Compression Socks, CEP, $53 15. Pucciesque Sleeveless Trisuit, Betty Designs, $155
One of the things we love most about running is the fact that it's pretty low-tech; after all, all you technically need are a pair of shoes and some run-of-the-mill workout clothes, and you're out the door. But that's exactly what makes this such a fun gift guide — the runners in your life don't technically NEED that much equipment, so gifting them some fun technology to help them drop that mile pace or gear to stay cozy during winter training will be super appreciated.
This gift guide is for runners, yes, but don't think it's only for serious, constantly marathon-training, out-of-bed-at-five-every-day-to-run runners. It's for the 5K run/walk enthusiast too, or someone who's just starting to pick up the habit and has little to no idea what they're doing. Oh, and we threw in some gifts for triathletes too, because we know those habits tend to intersect.
If you'll allow us to quote Albus Dumbledore for a minute, "One can never have enough socks." Runners, especially — not because socks are especially hard to get ahold of, but for two reasons: first, socks make a HUGE difference in running, even for the casual jogger. Bad socks can lead to blisters, sore feet, and worse. And also, good running socks are kind of an investment, and it's easy for runners to think, "Eh, I can run in these holey socks at least one more time" rather than shell out for a new pair.
Ergo: good running socks are the perfect gift for all the runners in your life, whether they're beginners or more advanced. We're huge fans of Bombas, and the Performance Running 3-pack is the perfect everyday-run sock. Even better? For every pair you purchase, Bombas donates one pair — that dedication to the giving spirit of the holidays is why we made Bombas one of the top picks of today's gift guide.
For the long-distance runner, go for fun compression socks in a bright pattern that'll be easy to spot on race day.
Runners are also constantly looking for more unique ways to display their hard-earned medals (hanging them on the bedroom door knob isn't a good look after six months). Our other favorite pick of this gift guide is Kudos, a Chicago-based company that gives your best runner pal a new way to cheers to a well-run race. Their clever Kudos Coaster Plus lets runners display medals in a clear, water-resistant container, perfect for resting that post-race beer on. Gift it to the runner who has a race every other weekend.
Seasoned outdoor runners will tell you "there's no such thing as bad weather, only bad gear." Help the runner in your life say #noexcuses to daunting weather reports and get out there in the cold this winter — the Nike Shield Running Jacket makes a perfect top layer to fight off wind and rain, and it's light enough to layer under. Warm gloves are a must, too — make sure they're smart-phone friendly – perfect for a mid-run selfie (this pair from lululemon is reflective too, for extra safety).
And speaking of tech-friendly gear, the lady runners in your life NEED this Flyout sports bra from Oiselle — the design may seem simple at first, but the back includes a mesh pocket for a phone. Perfect for runners who hate armbands or anyone venturing into the #sportsbrasquad for their first run.
Our best-kept secret of winter running? This Lucas Papaw ointment; spread a thin layer on cheeks or sensitive skin to protect from windburn and the elements. It's under $10, too! But, if you're getting gear for a runner and you have a little more budget to play with, they'll love you forever if you gift them the Garmin fēnix® 5S Plus. For a mid-range option, wrap up the AfterShokz Trekz Air headphones — they're bone-conducting and oh-so-cool (we talk about them more here, too!).
After the run comes the after-party… the after-run-recovery party, of course. No recovery is complete without a little rolling out, and the Original Worm Roller is small enough to fit in a gym bag or suitcase, or even stash in a desk at work for a little mid-day recovery. Or, give the gift of no more sore muscles with this CBD-infused recovery balm — exactly what your bud will need after a long run.
Bookmark this next link for one of the most thoughtful, personalized gifts we've seen this season: custom race jewelry from Erica Sara. Choose from a variety of famous races, course elevation, course maps, and more to congratulate your favorite runner on their big accomplishments. They also have jewelry commemorating triathlon races (and speaking of triathletes, we're dying over the Pucci-inspired trisuit from Betty Designs — it's just about gorgeous enough to get us thinking about signing up for a spring tri).
Last but not least, a couple of books for the runner who likes to nerd out over a good read. The Runner's World Vegetarian Cookbook was written by friend of the blog Heather Mayer Irvine and has expert-approved recipes to fuel your friend's best run ever. And, we can't resist giggling at the title of How to Make Yourself Poop, another book from Runner's World that includes all the must-know tips for new and veteran runners alike (including, yes, the titular conundrum).
This giveaway is now closed. Congrats to Ellen S.!
10 Days of Gifting with aSweatLife 
Working On My Fitness | Beauty | Fit Gear and Tech
Disclaimer: Some of these products links may be affiliate links, meaning we'd earn a small commission if you purchased through our site. It doesn't cost you any extra, and it helps us keep the lights on. Thanks for your support!