Gift Guide #1: Working On My Fitness + Outdoor Voices, Bombas, and FitBench Flex Giveaway [CLOSED]
When the aSweatLife brain trust met to discuss this year's gift guide, we quickly realized we had a happy problem on our hands: we had way too many favorite brands, lifesaving products, and best-kept-secrets that we wanted to include to limit ourselves to just *one* gift guide. And the more we thought about it, the more we realized that more gift guides just meant more opportunities to share our favorite things — and hopefully help make your holiday gifting season a little more fun.
So this year, we're 10X-ing it. That's entrepreneur-speak for "blowing this shit out of the WATER," and it also literally means we're doing ten times as many gift guides than we did last year. These gift guides will check off everyone on your list, whether they're a new mom, a fit dude, a mental health devotee, or just someone who likes fitness-y stuff (but don't worry, we've got plenty of ideas for the non-fitness enthusiast, too).
And because #EverythingIsBetterWithFriends, we're partnering with our favorite brand friends for a few major things.
While these gift guides are meant to be shop-able inspiration no matter where you are, we're creating a little something special for our HQ town – Chicago. Save the date for Saturday, November 17. Online shopping is fun and all, but sometimes there's nothing like the inspiration that comes from window shopping. That's why we're bringing together all of our favorite brands and many of the products we'll feature in our gift guide for a one-day-only gifting suite at The Robey. RSVP for the event right here so we have enough snacks.
Beyond shopping, we'll also have fun holiday-themed activities, all designed to help you #SleighStress and make the most out of the holiday season. Think infrared body wraps on-site to help you sweat out last night's holiday party; a DIY trail mix bar featuring all your favorite holiday flavors; recovery boots to help your legs feel fresh while walking in a winter wonderland; and more!
And second of all, keep an eye on these posts every day while we publish our gift guides — we're partnering with the brands we're featuring to host daily giveaways so we can gift you guys a little something extra this holiday season. Totally up to you whether you keep your winning prize for yourself or give it to someone else as a present — we won't judge either way.
Now, let's get to the first gift guide — for the general fitness enthusiast who's up in the gym just working on her fitness.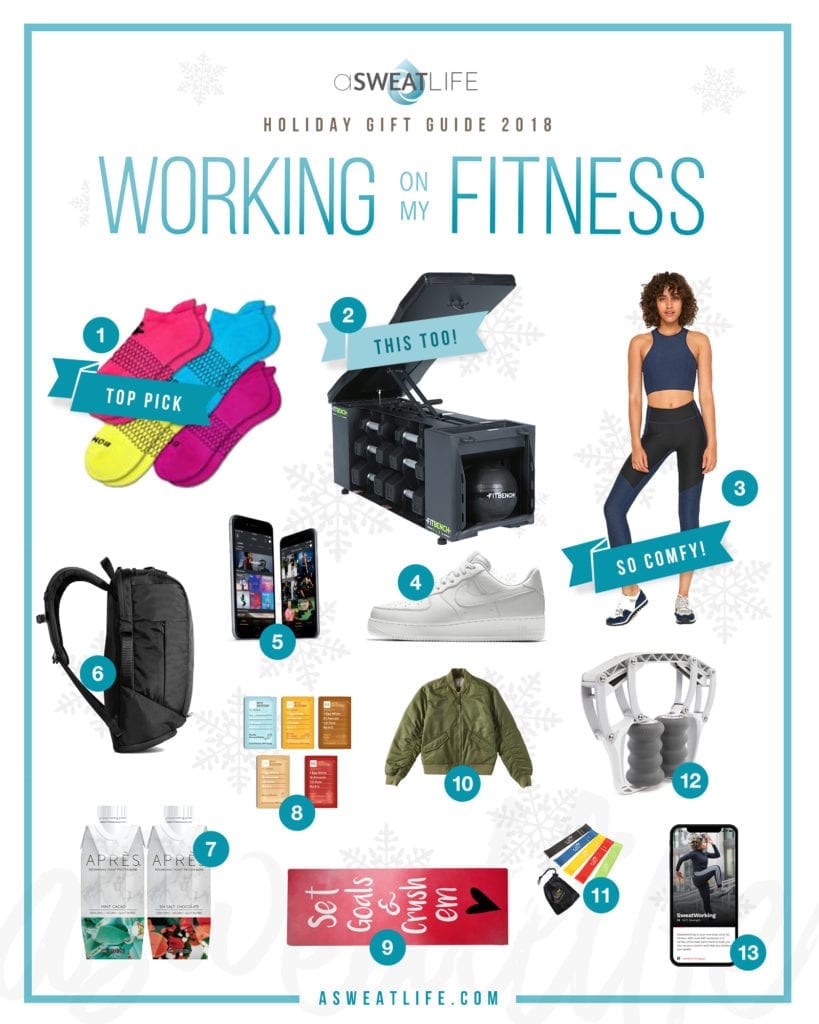 1.Women's Solids Ankle 4-Pack, Bombas, $45.60 2. FitBench Flex, FitBench, $1,595 3. The OV Kit, Outdoor Voices, $95 4. Customized Nike iDs, Nike, varies 5. 1-Year subscription, FitRadio, $60 6. Duffel Pack 2, Aer , $170 7. Chocolate Lovers 24-Pack, Apres, $108 8. Nut butter variety pack, RXBAR, $17 9. Personalized Yoga Mat, Etsy, $84 10. The Bomber Jacket, Everlane, $80 11. Resistance mini-bands, Amazon, $10.95 12. R8, Roll Recovery, $129 13. SweatWorking subscription, SweatWorking App, $14.99/month
The absolute one thing that can make or break a workout (especially if you're a runner) — socks. Too thin and those blisters come right up, too thick and they don't fit in your trainers. For the "juuuuuuust right" athletic socks, turn to Bombas. We love them for a gift because it strikes the perfect blend of "oh, these are actually really cute" and "heck yes, I really needed these and I'll use them all the time." Just like you and your gym BFF, Bombas socks are the perfect pair.
For the 5 am fitnesser, take the guesswork out of matching workout clothes before early-morning sessions by gifting an Outdoor Voices kit. Customized Nikes always have a "wow" factor, too.
No matter what kind of exercise you love or how experienced you are in the workout scene, nothing motivates a workout quite like some good old-fashioned gear. Bomber jackets are all the rage this season, and they're the perfect sporty look to layer on top of workout clothes for a cool studio-to-street look.
We're always on the hunt for the perfect gym-to-work bag, and we think we've found it with the Duffel Pack 2 from Aer. It's perfect for a commuter without a ton of time to stop at home to change after a gym session. This bag works even if you have to bring your laptop to and from the office, AND you need to stash a full change of clothes and shoes, too — all without breaking your back.
For a friend who's just starting their fitness journey, a couple of items will prove their worth time and time again. A yoga mat can be used for — duh — yoga, but it's also great for any at-home workout; plus, personalizing it adds a thoughtful touch. If your friend has all the makings of a devoted yogi, a private session with a popular local yoga teacher could be just the way to help them lay the foundation for their practice and learn the ins and outs of each pose.
Resistance bands are also a great tool for beginners, especially if it's a gift for a frequent traveler — they're light, low-maintenance, and you can get a LOT of sweat mileage out of them.
Or what about the gift of free music? Gift a FitRadio subscription so your pal never gets tired of hearing the same old playlist at their gym or in their earbuds — they have endless playlists that can be customized to certain tastes and genres, and you can even filter songs by BPM for hitting a certain stride or beat on the bike.
Any one of these gifts works well on its own or when paired with a free trial of an app like the SweatWorking app, which gives the user free at-home workouts that can be done with or without equipment.
For someone who's really committed to working out at home but doesn't have a ton of space, how about all the essentials for a compact home gym? The FitBench Flex has everything — and we mean EVERYTHING — you need for a starter home gym. It's a bit of a splurge, but we think it'd be perfect for someone who works from home frequently or a new mom who can't make it to a brick-and-mortar gym.
And don't forget about recovery! The R8 Recovery Roller may look like a Spanish Inquisition-Era torture device, but … actually, it kind of is. But in a good way! It's perfect for those hard-to-roll spots on your legs and reeealllly getting in there. Gifts you can taste are always a good idea too — we love the plant-based protein shakes from Apres, especially the Chocolate Lovers pack, and alllll the nut butters from RXBAR (a perfect stocking stuffer or a cute gift tag, too!).
This giveaway is now closed. Congrats to Beth C. and Colette M.!
10 Days of Gifting with aSweatLife 
Disclaimer: Some of these products links may be affiliate links, meaning we'd earn a small commission if you purchased through our site. It doesn't cost you any extra, and it helps us keep the lights on. Thanks for your support!