Gift Guide #5: For Mental Health + HI-VIBE, Four Sigmatic, and Essential Oils Giveaway! [CLOSED]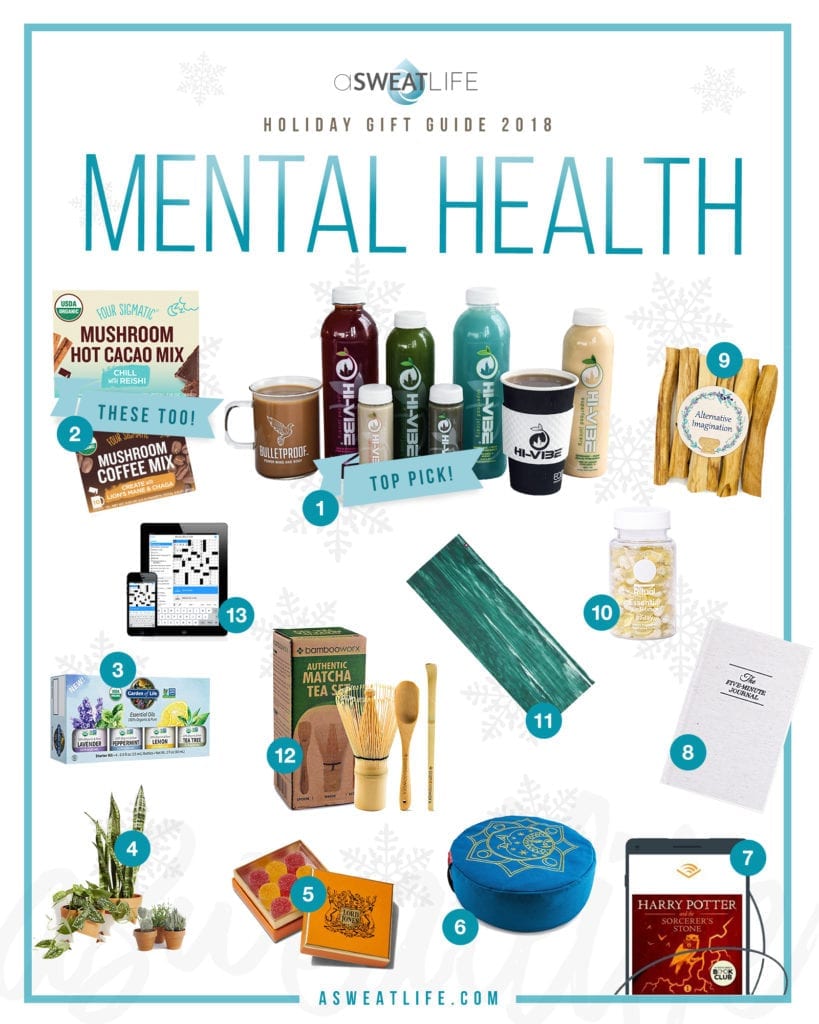 1. 3-Day Cleanse, HI-VIBE, $210 2. Mushroom Hot Cacao with Reishi, Four Sigmatic, $20; Mushroom Coffee with Lion's Mane Chaga, $15 3. Essential Oils Starter Kit, Garden of Life, $34.99 4. 3-Month subscription, Hey Horti, $75 5. CBD Gummies, Lord Jones, $45 6. Meditation Pillow, Amazon, $24.99 7. 3-Month Audible subscription, Amazon, $45 8. The Five Minute Journal, Amazon, $22.95 9. Palo Santo bundle, Amazon, $6.49 10. 1-Month subscription, Ritual Vitamins, $30 11. Travel yoga mat, Manduka, $42 12. Matcha tea set, Amazon, $12.99 13. 1-Year New York Times crossword subscription, $39.95
Mental health is sometimes the first thing to get tabled during the holidays, isn't it? From wrapping up year-end projects at work, to wondering how the heck you RSVP-ed to three separate parties on one night, to frantically running into a drug store after work for a White Elephant gift exchange that you *just* remembered — for many of us, the holidays have become less about slowing down and enjoying time with loved ones, and more about checking boxes off a to-do list.
That's part of the reason we decided to host a holiday pop-up shop this weekend at The Robey. We wanted a reminder that the holidays are meant to be a fun time, filled with people you love, traditions you look forward to, and new experiences that add a little spice to the season. We're calling it #SleighStress because we've been there before, and we wanted to create a one-stop shop to help you make the most out of the holiday season and connect with your friends and favorite brands while doing so. See you there?
It's fitting, then, that today's gift guide is dedicated to mental health. A gift on this list will help the recipient unwind after the holidays (and hey, maybe even let them unwrap it a few days early to get the mental health benefits flowing).
Mental health and physical health are a two-way road; you can't improve one without improving the other, in our opinions. We love the idea of kick-starting both with a 3-Day Cleanse from our pals at HI-VIBE (Chicago only, sorry non-locals!). Gift it to a friend who has an insane holiday schedule and wants to feel their best; it's also the perfect post-holiday reset (especially if you had a wild New Year's Eve, know what we mean?). Director of communities Maggie Umberger will vouch for this particular 3-day cleanse, and will tell you that "by day three, I felt insanely good." Plus, the bulletproof coffee that starts your day each morning on the cleanse is the perfect cold weather pick-me-up.
One of our favorite ideas from this gift guide is a build-your-own meditation corner kit. Wrap up a meditation pillow, essential oils, and a palo santo bundle, and you're giving the gift of in-home Zen — a retreat your friend can go to when a mindful moment is needed. Any of these gifts work well on their own, too!
You know how important a morning routine is — why not give a gift that helps your recipient start each day off on the right foot? Editor-in-Chief Kristen has been using the Five Minute Journal recently and loving how it bookends her day (and yes, it's truly just five minutes). A multivitamin may not *seem* like the sexiest gift in the world, but we're obsessed with Ritual's minimalist packaging and their thoughtful ingredient explanation, and what better way to show you care about a girlfriend's health? We also love gifting this travel yoga mat from Manduka — perfect for someone who's dedicated to a quick AM yoga routine but travels or commutes often.
No morning routine is complete without a hot drink — especially in cold weather. Four Sigmatic has been revolutionizing the hot beverage game with their mushroom-focused drinks. Sounds strange at first, but we promise these drinks don't taste like they belong on top of a pizza; plus, their mushrooms are specially chosen to enhance creativity, brainpower, productivity, and more. We love the Mushroom Coffee with Lion's Mane, as well as the caffeine-free Mushroom Hot Cocoa with Reishi for the afternoon or evening. Know someone who's more of a matcha person? A traditional matcha set is the perfect countertop accessory to add a little ritual to their morning.
We like our mental health to include a little bit of brainpower, too. Kristen has been doing the New York Times daily crossword for years now and has the random trivia to prove it (go ahead, ask her what a five letter word for "where chapeaux go" could be, and prepare to be amazed). A year-long digital crossword subscription is less than $40, and it's the perfect brain game when you're feeling dulled by Candy Crush (Kristen and her family love working on it together, whether that's in-person at their kitchen table in Lexington or over text message). A three-month subscription to Audible is perfect for the person who's constantly saying they need to read more but don't have the time to sit down with a book.
Few things make us feel as proud as seeing that our succulents have survived yet another night. We found Hey Horti, a plant-subscription service that also offers plant bundles for pet owners, urban dwellers, and more (plus, houseplants boost concentration and productivity!). Gift to the friend who's convinced she has a black thumb; all plants come with detailed instructions.
Anxiety always seems to ramp up during the holidays, and if you know a pal who's open to non-traditional solutions, we think this CBD-infused Gummies from Lord Jones look incredibly luxe (and delicious, to boot).
This giveaway is now closed. Congrats to Jessica T. and Melissa H.!
10 Days of Gifting with aSweatLife 
Working On My Fitness | Beauty | Fit Gear and Tech | Runners and Triathletes
Disclaimer: Some of these products links may be affiliate links, meaning we'd earn a small commission if you purchased through our site. It doesn't cost you any extra, and it helps us keep the lights on. Thanks for your support!