Gift Guide #10: Female Founded + Outdoor Voices, Glossier, and RECESS Giveaway! [CLOSED]
Enter today's one-day giveaway – the LAST ONE! – with Outdoor Voices, Glossier, and RECESS at the bottom of this post!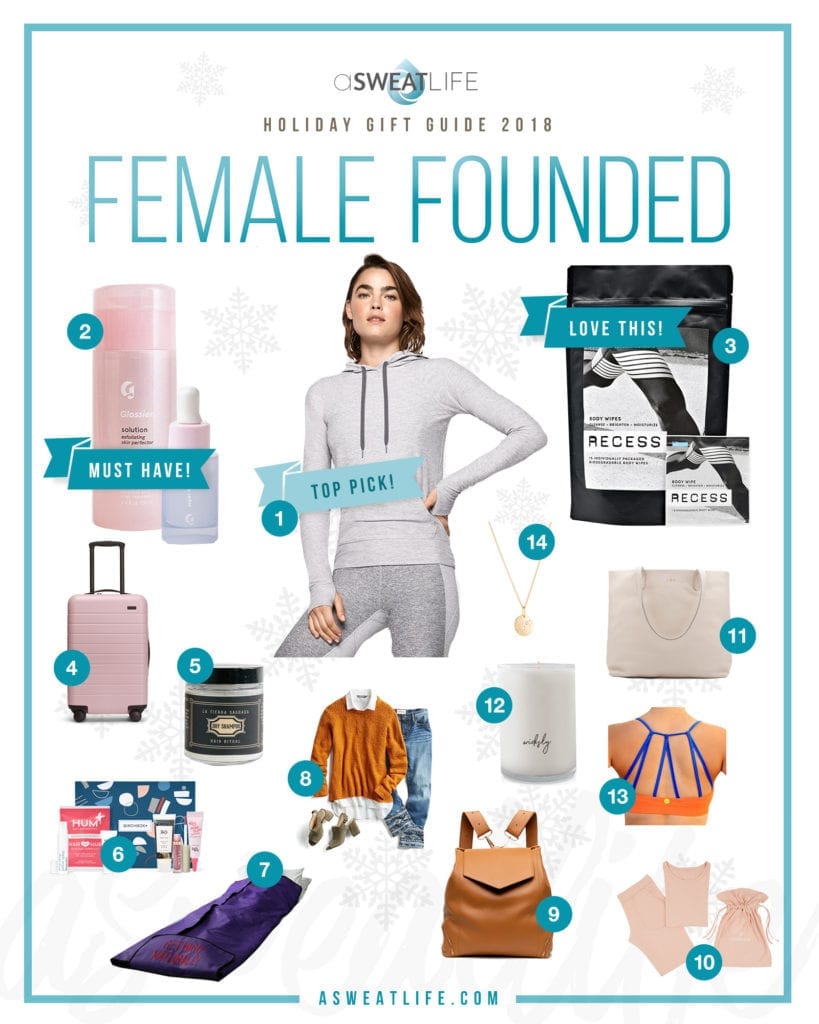 1. Cloud Knit Hoodie, Outdoor Voices, $85 2. Solution, $24 and Super Bounce, $28, Glossier 3. Body Wipes, RECESS, $26 4. The Bigger Carry-On, Away, $245 5. Dry shampoo and application brush, Of a Kind, $42 6. 6-Month subscription, Birchbox, $60 7. Infrared body wrap, HigherDOSE, $499 8. Gift card, Stitch Fix, varies 9. The Professional, Holly and Tanager, $550 10. Organic Cotton Jogger Set, ThirdLove, $118 11. Classic leather tote, Cuyana, $175 12. 3-Month subscription, Wicksly, $45 13. The Triangle, POWWFUL, $36 14. Zodiac necklace, Mejuri, $75
We saved our favorite gift guide for last — the Female Founded gift guide. Female foundership (is that a word? It is now) is incredibly important to us at aSweatLife, because we wouldn't be what we are today without the fearless leadership of our Founder/CEO, Jeana Anderson Cohen. In fact, we're so passionate about elevating females in the workplace that we host monthly Breakfast-and-Learns at evolveHer; an annual Equal Pay Day blowout; and we make it a point to regularly speak on panels and lead presentations on how women can achieve big things at work.
Whether you're thinking about taking the leap and start your own company or you just want to support badass women doing big things, these gifts are all a small way to give back to the women that we admire the heck out of.
Tyler Haney founded Outdoor Voices for women who wanted to get out and "do things" without necessarily breaking the mile record or trying to be at the top of the scoreboard in spin class. This CloudKnit Hoodie is ideal for all occasions, whether you're throwing it on after a sweaty Zumba class or just need an extra layer for walking around and looking at holiday lights with friends (and a Thermos of hot chocolate).
Activewear for real women in real life is also why POWWFUL was founded, and their promise to only use real women (not professional models, and no airbrushing) in their product photos is something that we stand behind as well at aSweatLife. The Triangle Sports Bra is our fave for a high-quality, supportive sports in bright colors and a sexy open-back design.
Glossier was founded by Emily Weiss on the principle that the beauty of the individual should be celebrated; hence, Glossier's Instagram is filled with faces of all colors, shapes, sizes, and skin types. Their Solution cleanser and SuperBounce serum leave your friend's skin glowier and more hydrated than ever; our Ambassadors have even called themselves "addicted" to the Solution. For a gym bag stuffer (like a stocking stuffer, but TBH, we have more gym bags than stockings), throw in these face wipes from RECESS. They're biodegradable, fragrance free, and they include hyaluronic acid for extra hydration.
You might be surprised to know some of your favorite brands were female-founded. For example, we had no idea AWAY was started by female co-founders who wanted statement-making luggage that was still incredibly functional (our choice? Gift The Bigger Carry-On  to your pal who got airline status back in March). Stitch Fix is another example; founder Katrina Lake turned a business school idea into a $3 billion company. Gift Stitch Fix to the friend who hates everything in her closet, but hates shopping more; it's also perfect for someone who LOVES clothes, but their style is so all over the place you never know what they'll like.
If there's one thing this wild year has taught us, it's that a little Friday night relaxation is completely necessary. That one friend who still sleeps in an oversized frat shirt? Let her unwrap this Organic Cotton Jogger Set from ThirdLove for an instant #selfcare upgrade (then invite yourself over for a movie night). And you know what pairs well with fancy pajamas? A fancy candle. A three-month subscription to Wicksly won't break the bank, and these luxury candles are chosen based on season.
Beauty devotees will fawn over a Birchbox subscription (and fun fact, according to their website, Birchbox was founded by "two friends with a love of the internet," which we relate to so hard). For the friend whose dry shampoo is her lifeline, Of a Kind's unique twist on dry shampoo features a pot of powder with an application brush so your friend can apply it where so actually needs it without losing particles to the air. Is that genius, or what?
For the minimalist friend who believes in quality over quantity, a Cuyana leather tote is timeless (get in monogrammed for an extra-special touch). The pal who just got a promotion and is *crushing* it at work (or maybe working to join the ranks of female-founded herself) deserves The Professional bag from Holly & Tanager.
For the friend who's always tagging you in astrology memes on Instagram, a Zodiac necklace from Mejuri in her sign is definitely on trend but with a classic design.
And finally, it's a total splurge but so cool we had to include it (plus, if Lady Gaga says it's good, we'll fall in line, too): an at-home infrared sauna wrap from HigherDOSE. Knowing what we have in store this winter, nothing sounds better than wrapping ourselves up like a burrito and sweating out the toxins — IN OUR OWN BED. Warning: you WILL sweat, but you'll feel like a damn queen while doing so.
This giveaway is now closed. Congrats to Lauren I. and Justine T.!
10 Days of Gifting with aSweatLife 
Working On My Fitness | Beauty | Fit Gear and Tech | Runners and Triathletes | Mental Health | New Moms | Fit Dudes | Gifts Under $50 | Life Outside the Gym
Disclaimer: Some of these products links may be affiliate links, meaning we'd earn a small commission if you purchased through our site. It doesn't cost you any extra, and it helps us keep the lights on. Thanks for your support!