4/10: Luna + aSweatLife Present a Full Day of Empowering Events for Equal Pay Day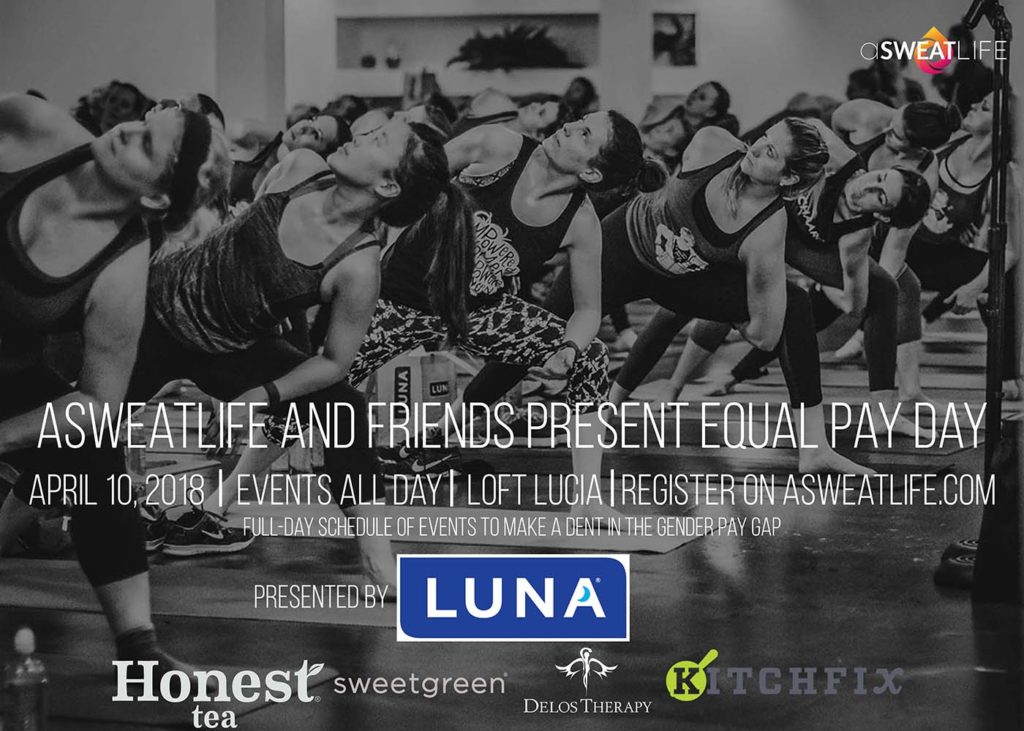 Each year around this time, someone presents women with a startling and depressing fact – it usually goes like this stat from the AAUW: "Did you know that in 2016, women working full time in the United States typically were paid just 80 percent of what men were paid, a gap of 20 percent?"
And let's not forget this from Pew Research: "the hourly earnings of Asian and white women ($18 and $17, respectively) are higher than those of black and Hispanic women ($13 and $12, respectively)."
As we approach Equal Pay Day – April 10 – we want our day of events to make a dent in the problem. We are, after all, constantly using fitness as a catalyst to help you chase your big goals, and what bigger goal could there be than advocating for yourself and others?
To do that, we created a full day with the expertise of AAUW and the partnership of our friends from Luna, Honest Tea, KitchFix, Paper Source, Six Degrees Society, sweetgreen, GlowOut, Notable Nails, PRE, Simple Mills and more.
Where will we be for Equal Pay Day?
We'll be at the gorgeous new venue Loft Lucia at 7 N Carpenter St. This venue is great for all sorts of events – from female empowerment to weddings, whatever. Because we'll be in the space all day, it will be open to you to co-work, with free-flowing Wi-Fi, snacks and drinks to keep you productive all day.
What are we doing for Equal Pay Day?
Here's the day's itinerary. Book as many events within the day as you'd like or just one.
7 am-8:30 am: Meditation + Bullet Journaling. We'll start the day with an energizing meditation by Rogan Motis of Chill and then create bullet journals to set us on the path to achieve all of the big goals we can imagine. We'll pursue this creative project with the help of our friends from Paper Source. The workshop fee includes a new moleskin notebook, supplies to turn plain notebooks into bullet journals, instruction and meditation. Breakfast will be provided by KitchFix.
Get tickets ($20 solo/$15 with friends)
8:30 am-12 pm: Complimentary co-working. Loft Lucia will be open as a part of Equal Pay Day for free co-working.
No need to register, just show up!
12-1 pm: Networking Lunch with Six Degrees Society. We're partnering with our friends from Six Degrees Society for a networking lunch unlike anything we've experienced. You'll be matched ahead of time with three to four people, curated by the experts at Six Degrees Society – you'll become fast friends, maybe even helping each other with your next career move. Lunch will be provided by sweetgreen.
Get tickets ($20 solo/$15 with friends)
1-3 pm: Complimentary co-working. Loft Lucia will be open as a part of Equal Pay Day for free co-working.
No need to register, just show up!
3-5 pm: Complimentary Pay Negotiation Training by AAUW presented by Luna. This portion of the day will be completely complimentary. Grab your colleagues and take this time for your career. You'll walk away from this two-hour workshop with negotiating skills that will help you outside of your salary conversations. This pay negotiation workshop will be facilitated by the AAUW and is presented by Luna.
And to make getting to and from the training more accessible,
Lyft
created a special offer for us. With code
AAUWCHI
get $5 off two rides to or from Loft Lucia on the day of the event from 
1 PM to 6 PM.
5-6 pm: Notable Nails will give complimentary manicures on a first-come, first serve basis.
6pm: Sweat X Sweat – Boxing meets Barre. If you've been asking yourself, "Where's the workout?" – rest assured, there's always a fitness element to help us achieve our big goals. We're creating an IRL mash-up from the SweatWorking App and your next favorite combo class. This workout will bring together the tough boxing workouts that Courtney Belcastro delivers and the tiny, toning movements by Trista Greco that will make you weird-sore the next day – also known as barre. All workout attendees will automatically be granted access to the panel.
Get tickets ($20 solo/$15 with friends)
7:30 pm: Panel Discussion – Blazing a path to the top. To finish the night, we're pinching ourself over the panel of incredible women who will speak about how a path was blazed for them and how they're helping women today. We'll be announcing the panelists on a rolling basis, but here's who we're ready to announce.
Get tickets ($5 for just the panel)