Gift Guide #8: Gifts Under $50 + Paper Source Giveaway! [CLOSED]
Enter today's one-day giveaway with Paper Source at the bottom of this post!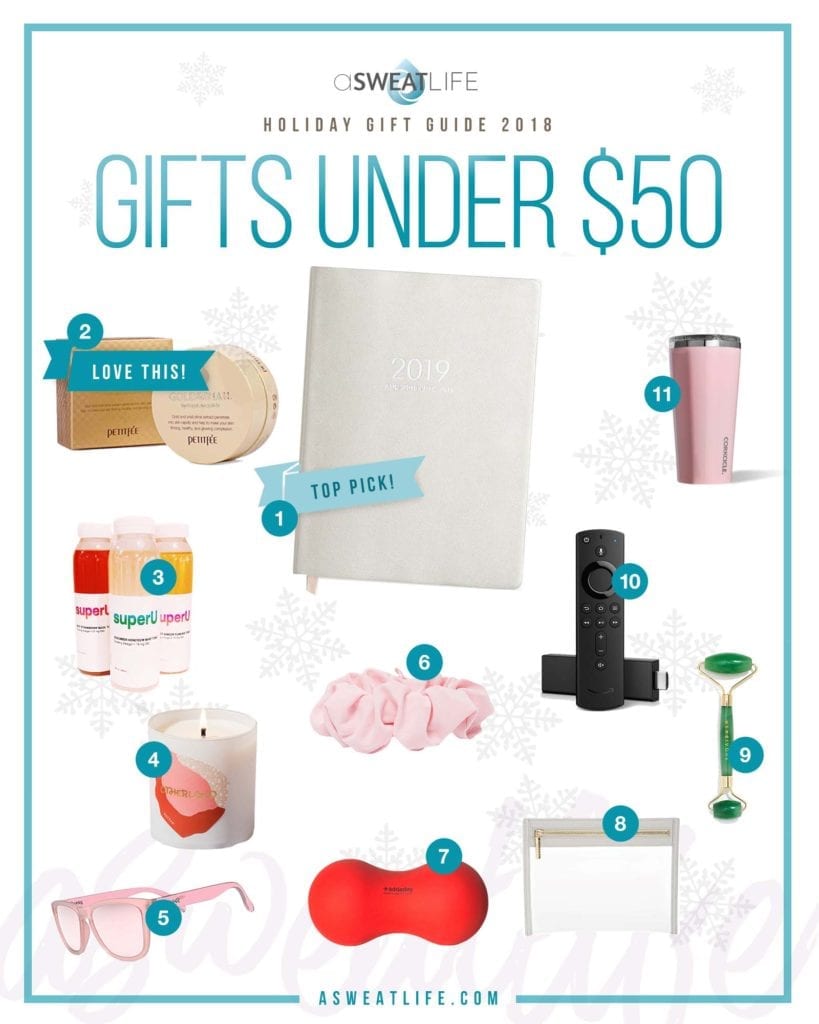 1. Prosecco Large Planner, Paper Source, $29.95 2.Gold and Snail Hydrogel Eye Patches, Amazon, $10.50 3. 3-Bottle sample pack, SuperU, $18. 4. Candle, Otherland, $36 5. OG Sunglasses, goodr, $25 6. Uplifting Scrunchie, lululemon, $8 7. Peanut massager, Addaday, $20.50 8. Small Clarity Clutch, Truffle, $45 9. Jade facial roller, Herbivore, $30 10. Fire TV Stick with Remote, Amazon, $49.99 11. Classic Tumbler, Corkcicle, $29.95
While the annual goop gift guide provides us with endless speculation and commentary (did anyone ACTUALLY buy a portable yurt as a gift last year? Inquiring minds want to know), we're a little more low-key around these parts. Sure, we offered a few high-end options in our Fit Gear & Tech gift guide, but for the most part, team aSweatLife prides ourselves on being pretty scrappy and inventive when it comes to gift shopping on the cheap. This is the Gifts Under $50 guide, our homage to gifts from the heart that don't cause you to break out in a cold sweat when looking at the price tag. After all, our love don't cost a thing.
For the friend who lives and dies by her Google Calendar, a paper planner hits the perfect note between retro and totally functional (especially as we all resolve to spend a little less time with our phones in the new year). We love this one from Paper Source because it's big enough for alllll our important business, with plenty of space to fill in notes. First order of business? Pencil in a friend date for a post-holiday catchup.
For the pal who's got more Frequent Flyer miles than dollars, this small Clarity Clutch by Truffle is the cutest alternative to a ZipLoc bag we've seen in a long time. The friend with the 12-step skincare regime will love this jade roller from clean beauty brand Herbivore (pro tip — tell her to leave it in her freezer for an extra jolt of alertness in the mornings).
We've all got that one friend who's always got at least three different beverages on her desk at any given time. Surprise her with this Classic Tumbler from Corkcicle; whether she's using it for hot or cold beverages, it keeps her drinks at the exact right temperature for as long as it takes to drink them. We also love the all-natural superU tonics (created by none other than Marie Goodman, our Director of Partnerships and can't-live-without-her team member) for someone who's go-go-go and wants to feel like her best self without any weird ingredients or stimulants; a sample pack of three only runs $18, so you could even buy one pack and split it up among a few friends.
For the person who's always texting you before 6 in the morning, these gold and snail hydrogel eye patches from Amazon are an absolute STEAL (and Director of Community Maggie thinks they make you look like a superhero, so that's an added bonus, too).
For your friend who's constantly on her feet, whether it's running after her kids or literally running, the Peanut Massager by Addady is small, but mighty — perfect for keeping in a purse or in an office drawer to massage your feet in between to-dos. The devoted outdoor exerciser (hi, November Project diehards) will love the flashy colors of these OG Sunglasses from Goodr — future's so bright, they've gotta wear shades.
Did you hear that scrunchies are back? Sure, you could dig up and regift your 90's vintage scrunchie, but that's poor form (also, where the heck is that thing?). Instead, give your long-haired lady friend (or dude, no discrimination) this lululemon scrunchie and then have a nice, long talk about how weird it is that the fashion of your childhood is totally back.
To the friend who's always debating whether or not they should cut cable, help make the decision a little easier with the latest Fire TV stick from Amazon.  It links up with Amazon Prime, Netflix, Hulu, and more, so you'll still be able to recap your favorite guilty pleasure shows together.
And when in doubt, we don't know ANYONE who'd turn down a gorgeous, soothing candle. This candle from Otherland has a beautiful design that makes it stand out from every other candle on your mantle. Plus, the glass tumbler is designed to be reused, so it's perfect for repurposing into a catch-all for makeup brushes or other small knick-knacks when the cotton wick burns out. We'll take one of each, please.
This giveaway is now closed. Congrats to Georgia K.!
10 Days of Gifting with aSweatLife 
Working On My Fitness | Beauty | Fit Gear and Tech | Runners and Triathletes | Mental Health | New Moms | Fit Dudes
Disclaimer: Some of these products links may be affiliate links, meaning we'd earn a small commission if you purchased through our site. It doesn't cost you any extra, and it helps us keep the lights on. Thanks for your support!