Gift Guide #9: For Life Outside the Gym + Pre Brands Giveaway [CLOSED]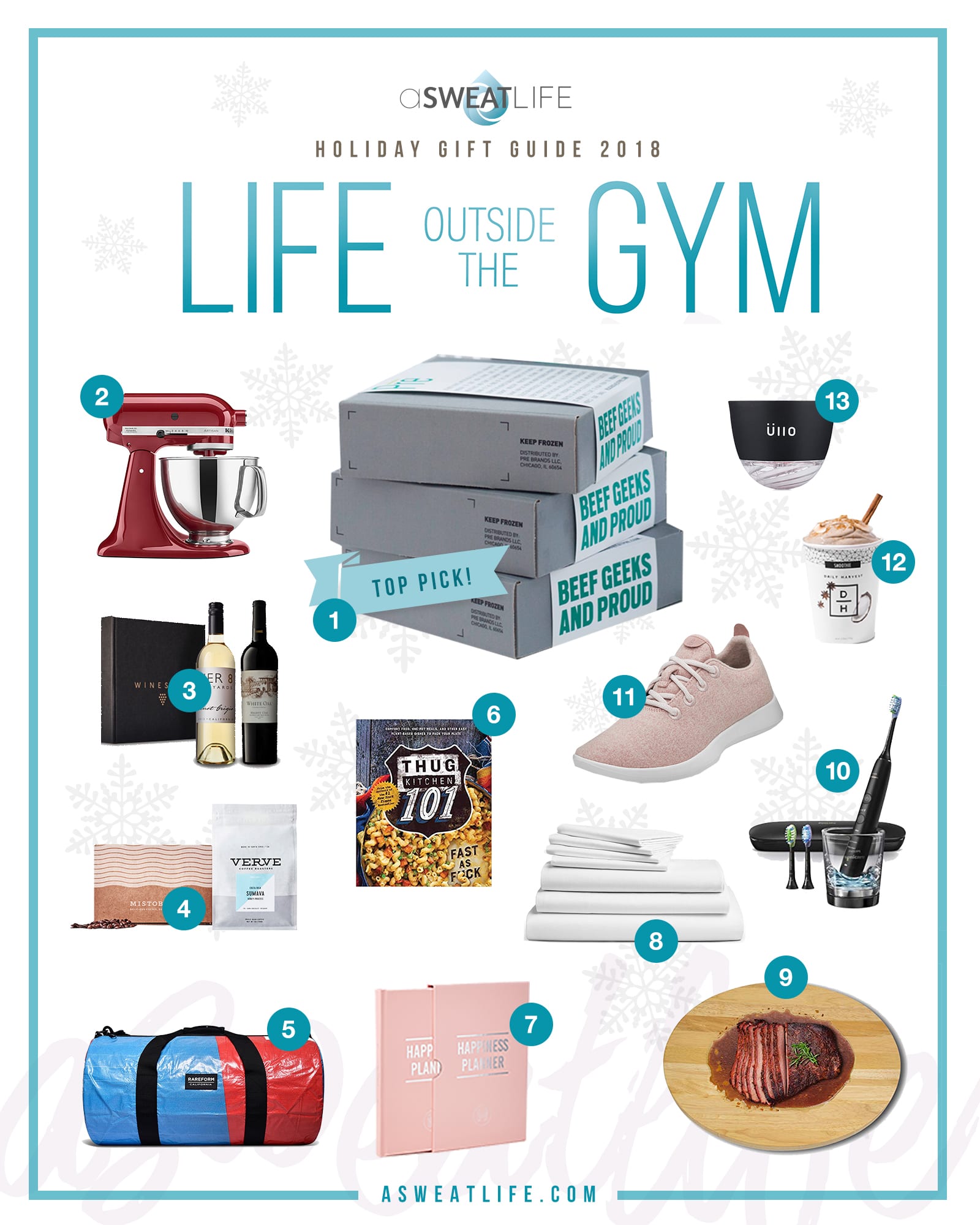 1. Chef's Selection Box, Pre Brands, $231.99 2. Stand Mixer, KitchenAid, $429.99 3. The Festive Duo, Winestyr, $79 4. 3-Month coffee subscription, Mistobox, $60 5. Weekend Duffle, Rareform, $64 6. Thug Kitchen 101: Fast as F***, Amazon, $26.95 7. The 100-Day Planner, The Happiness Planner, $26 8. Luxe Hardcore Sheet Bundle, Brooklinen, $243 for queen-sized 9. Concave cutting board, Amazon, $59.99 10. Sonicare Diamond Clean Electric Toothbrush, Phillips Sonicare, $229.99 11. Wool Runners, Allbirds, $95 12. 9-Cup box, Daily Harvest, $75 13. Wine purifier, Ullo, $79.99
One of our guiding beliefs at aSweatLife is that fitness is the catalyst to living your best life — but at the same time, your best life isn't only lived within the four walls of your gym. This gift guide is chock-full of gift ideas that enhance life outside of the gym; it's also perfect for the people on your list who maybe aren't as obsessed with health and fitness as we are (we're sure they exist).
We've found that absolutely everyone — EVERYONE — on our holiday shopping list has one thing in common: they must eat food to survive on a day-to-day basis (or an hour-to-hour basis, which is roughly how often we snack). High-quality, curated edible gift boxes will never go out of style, and this year, we're gifting the Chef's Selection Box from Pre Brands. It's curated by friend of aSweatLife Chef Sarah Russo, so you KNOW it's good, and she filled it with the most flavorful cuts of ribeye, sirloin, chuck roasts, and more. Plus, Pre's beef is grass-fed without any added hormones or antibiotics. Cooking and prep info is even included so your gift recipient isn't frantically Googling "how to cook ribeye" as the stove heats up.
But, we know not everyone's as beef-loving as Chef Russo. Vegetarians and vegans will get actual LOLs reading Thug Kitchen 101: Fast as F***, a cookbook from Matt Holloway and Michelle Davis, the bloggers behind Thug Kitchen (and one of our OG podcast guests).
Things that go well with food? Drinks. A wine club subscription is one of those little luxuries that we probably wouldn't buy for ourselves, but as a gift? We'll cheers to that. We also love this high-tech wine purifier from Ullo for the oenophile in your life. Or, experiential gifts are always a hit, so sign you and your S.O. up for a date night cooking class at a local spot.
There are a few services and products we rely on time and time again to make our kitchen time a little less hectic and a lot more simple. One of those is Daily Harvest, which has recently expanded from just smoothies to harvest bowls, soups, overnight oats, and more; a 9-cup gift box is the perfect sampler for a friend who's always in a rush. The always popular stand mixer from KitchenAid is an absolute classic (there's a reason it's on nearly every wedding registry ever). And rounding out the kitchen gear is this concave cutting board that looks gorgeous and functions even better; it's a great gift for someone who's a dedicated meal-prepper or loves to host dinner parties.
What about a little something to help your giftee start their day off on the right foot? A coffee subscription box (paired with a cute mug!) adds a little variety to someone's morning without ever leaving their kitchen. And we love starting our day off with a little intention for a happy day — Kristen has used The Happiness Planner herself for months and loves how it helps shift her perspective to start her day with optimism (psst… we talked to the creator of The Happiness Planner, Mo Seetubtim, right here on our podcast!).
For your mom-in-law, a pair of Allbirds Wool Runners are stylish enough to wear out but comfy enough for a full day of walking around. For an outdoorsy dad- or brother-in-law, these Rareform weekender duffle bags are made from recycled vinyl and are super well-made, according to our Ambassadors who are fans of the brand.
You might have groaned in the past when your parents *dared* give you functional gifts as a kid, but let's be real — part of adulting is knowing that while you don't actually want to spend a ton of money on household must-haves and would gladly appreciate a high-end product as a gift. Our top two picks in that realm are a super-fancy high-end electronic toothbrush (think of it as an investment in your loved one's next dental appointment) and luxury sheets, like these from Brooklinen. Glamorous? Not really. Appreciated? Totally, and you'd actually be surprised how much people love them.
This giveaway is now closed. Congrats to Jennifer R.!
10 Days of Gifting with aSweatLife 
Working On My Fitness | Beauty | Fit Gear and Tech | Runners and Triathletes | Mental Health | New Moms | Fit Dudes | Gifts Under $50
Disclaimer: Some of these products links may be affiliate links, meaning we'd earn a small commission if you purchased through our site. It doesn't cost you any extra, and it helps us keep the lights on. Thanks for your support!