GIVEAWAY: Show Us How You're Living ULTRA This Summer
In Chicago, summer disappears in a (albeit really hot) flash, inadvertently instilling in everyone a desire to make the most out of every sun-drenched moment, for fear of wasting a perfect 80-degree day and looking back on it wistfully when the polar freezes strike.
This summer, we're putting a name to that motivational carpe diem: the ULTRA summer.
In dictionary terms, ULTRA is "going beyond what is usual or ordinary; excessive; extreme." Or, as we lovingly say, "the most."
Applied to your precious three months of summer, that means taking advantage of every moment, from summer Fridays to earlier sunrises and later sunsets, and all the spur-of-the-moment picnics, patios, and proseccos that happen in between. It means saying 'yes' to a new adventure and stepping outside of your comfort zone, whether that's tackling an open water swim for the first time or impulsively signing up for an improv class.
Your ULTRA summer might look different from ours (which includes morning draft lattes from La Colombe, settling in with a book on a blanket in the park, and #SweatworkingCrawls with our pals and the Michelob ULTRAs we cheers with afterwards, thanks for asking).
But whatever that ULTRA summer includes for you, we want to see it — and we want to help you live your best ULTRA summer life.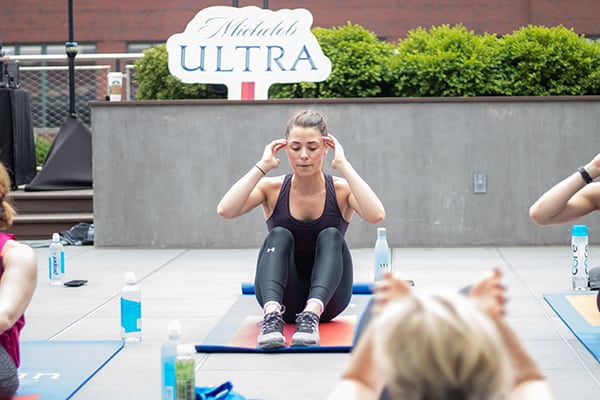 We're partnering with Michelob ULTRA for a giveaway that's sure to inspire you to live your most ULTRA summer. Here are the deets and here are the very official sweepstakes rules brought to you by lawyers.
We're giving away three incredible prizes to three lucky winners!
One lucky grand prize winner will win a brand new dual-sport trek bike with aluminum frame and lightweight, road-bike sized 700c wheels. In regular-person terms, you'll be riding in style.
A second-place winner will receive a FitBit Flex to track all your ULTRA activities.
A third-place winner will receive a 20oz. Contigo Stainless Steel Tumbler, perfect for hot or iced drinks.
How to enter the #ULTRASummer18 Giveaway:
There are two official ways to enter!
Option A: Post a photo on Instagram of you or a friend living ULTRA with the hashtag #ULTRASummer18. One post = one entry. Make sure to tag @aSweatLife and @michelobULTRA so we can cheer you on!
Option B: Fill out the form below showing us how you're living your most ULTRA summer. And Because #everythingisbetterwithfriends, you're also encouraged to nominate a pal who's doing cool things. Bonus? Nominating a friend will earn you an entry as well — so it's a win-win.