Coming Soon: The SweatWorking App – Our Sister Company
(Click here to get early access and enter for a chance to win a $100 Nike gift card*)
At aSweatLife, we're constantly working to evolve the way we create content and connect people through fitness. In that spirit, we've been hard at work developing a fitness application to allow you to connect with your favorite coaches to work out any time anywhere. As the app prepares to launch, we want to involve our aSweatLife readers early. 

The platform was created by the people who brought you aSweatLife and an even broader team – everything is better with friends. It's an app dedicated to connecting you to workouts you trust – all while you support the coaches you already love.
The team has been hard at work creating more than 100 motivating and challenging workouts that you'll have at your fingertips soon.
Here's what you can expect from SweatWorking:
A Coach in Your Pocket.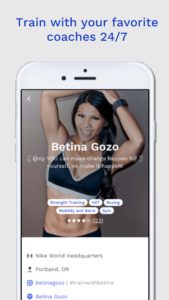 Your favorite coaches bring their unique training styles to life, guiding you through video-, audio- and pdf-based workouts.
You'll be able to work out with your favorite coach, in your favorite format, with your favorite music – on your time. Train with the best fitness coaches from the comfort of your home, at the gym or on-the-go. SweatWorking puts the power into the hands of your coaches to create cutting-edge workouts and fitness programs. More than 100 workouts are waiting for you.
Learn From the Best. Access expert, certified fitness trainers in every format – strength, HIIT, yoga, running, cycling and more.
Support Your Coach. Your coaches are rewarded for every workout you complete and challenge you buy.
A Diverse Fitness Library
.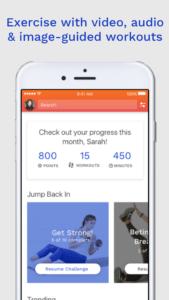 Your coaches are already building the content you love. Find the workout that fits your mood in our deep workout library with unique formats like rowing, boxing, barre, spinning and more. Workouts range from 5 minutes to 60 minutes and are scalable for all levels.
And if you're in the market for a challenge that's built to help you achieve a specific goal, our coaches are working to get you there. The team of coaches created an assortment of challenges to help you get faster, jump higher, do your first handstand or get stronger over 30 days or more.
Team work to make the dream work.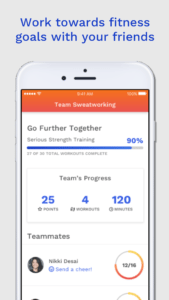 When you take on a workout or a challenge, you'll have your #FitFam with you to keep you motivated. You'll keep each other encouraged and accountable through social features and by forming teams that are taking on the same challenge.
Ready to start your journey with SweatWorking? Download now.