The Road to 26.2: Meeting the Runners
Redemption. Glory. Honoring a loved one's memory. Proving to yourself that yes, you can commit to something for four (or more) grueling months. Also, post-long-run chocolate milk.
These are just a few of the reasons runners lace up their training shoes and head to the Bank of America Chicago Marathon start line in Grant Park on an October morning.
Meet Kim, Violeta and Matt. They've all signed up to run the Chicago Marathon, coming up in just over a month. With varying levels of running experience under their belt and unique reasons for tackling the marathon, each runner has a distinct perspective on what the marathon means to them and why they've given up their summer to train.
Over the next few weeks, we'll follow Kim, Violeta and Matt as they get into the meat of their training, grinding out long runs and working to balance the hours of running with work, family, kids and oh yeah, having some sort of personal life.
As any marathon finisher can tell you, making the decision to start training for a marathon is more terrifying than toeing the starting line on race morning. Asked what compelled him to begin training for his first marathon this past New Year's Day, digital content writer and freelance sports journalist Matt Lindner drily quipped, "Self-loathing, mostly."
A former high school cross country runner, Matt knew that getting back into running was going to be a challenge. So in an effort to kickstart a year of healthy habits and build a training base before October hits, Matt literally hit the ground running on New Year's Day.
"I remember when I started running on New Year's Day, I couldn't run more than a minute straight without being winded. That's why I wanted to start training on New Year's Day; I knew that if I waited five months, I'd be far behind and would probably lose motivation along the way."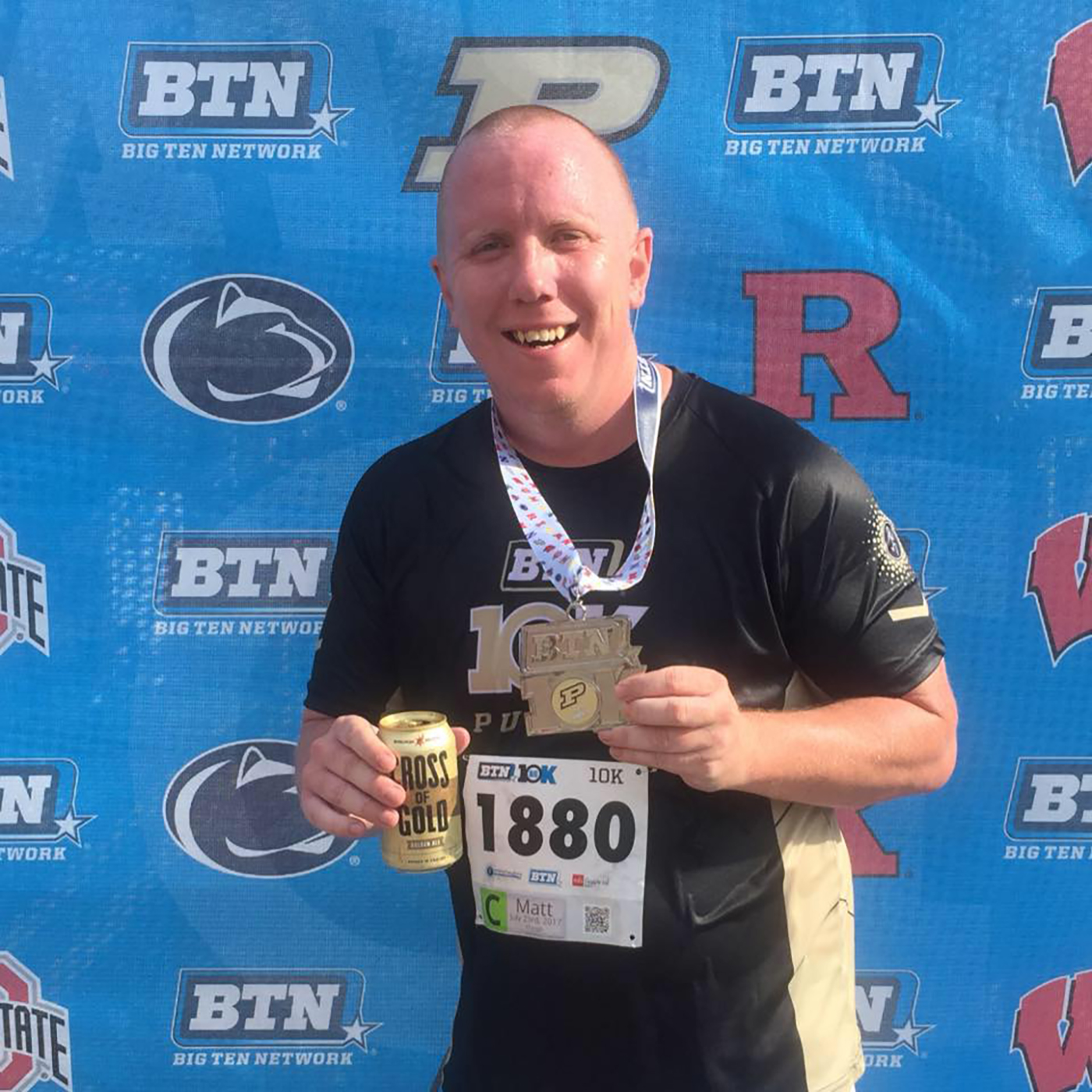 And while the desire to be healthier was the original motivation behind his training, Matt quickly realized he could use the marathon to raise awareness for one of his passions: Open Heart Magic.
"My buddy works for Open Heart Magic and posted from his honeymoon about needing runners from his charity team. I had a couple of beers in me, and I figured why not?
"It's a charity that I believe in. We go around to hospitals across Chicago teaching kids how to perform magic tricks … Knowing that I had these kids to help out, that really helped me to remember that they're suffering through a lot worse than a three mile training run in the bitter cold."
Kim Caplea knows a thing or two about running for a cause: she first began running the Chicago Marathon back in 2012 to support REACT Thyroid Foundation, an organization started by her sister, Michelle. Kim's sister had thyroid cancer, and one of her ideas to raise money for her foundation was to have people run the Chicago Marathon. Inspired by Michelle and the runners she saw completing the race in 2011, Kim resolved to sign up for the 2012 marathon.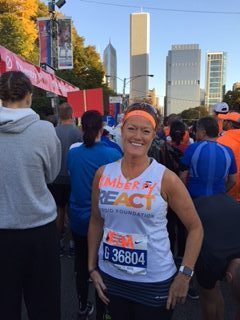 "I went just to support that first year, and I was blown away by how cool the crowd is. I loved running all over the city and chasing the runners. At the end of it, I stood talking to Emily [Hutchins] and my sister, and I decided to run the next year. No one thought I was serious, but I signed up, trained with another foundation runner, and it went well!"
Not only did Kim have the famous Chicago crowd cheering her on, she had a cause close to her heart pushing her further every mile.
"Running for my sister was awesome. And having my sister there at the race when I ran was huge, because I knew I was doing it for her foundation. It was a huge motivator and it felt so good."
And the year after Michelle passed away, Kim tweaked the typical marathon ritual of writing her name on her jersey, choosing instead to honor Michelle by writing her name.
"It was tough," she shares. "It was really emotional running with her name on my jersey."
This year, Kim has been working more CrossFit into her schedule as she balances finding time for runs with shuttling her son to summer travel baseball. But with five marathons under her belt, she knows that she can pull it together and rely on the energy of the crowd to carry her through.
"Every year before I run it, I think 'this will be my last one.' 'But you said last year was your last year!' says my husband!
"On the morning of the race my first year, I was excited and nervous. When that race was done, I was immediately like, 'I'm signing up again.' Every year since then, the morning of the race when I'm coming out of the hotel and walking to the start line, I'm like, 'I am so running this next year!' even before I've run it."
And finally, our last featured runner is also inspired and empowered by her sister. Violeta Ochoa is a native Chicagoan who picked up running around 2005 after a breakthrough realization: running doesn't mean sprinting all-out for your entire run.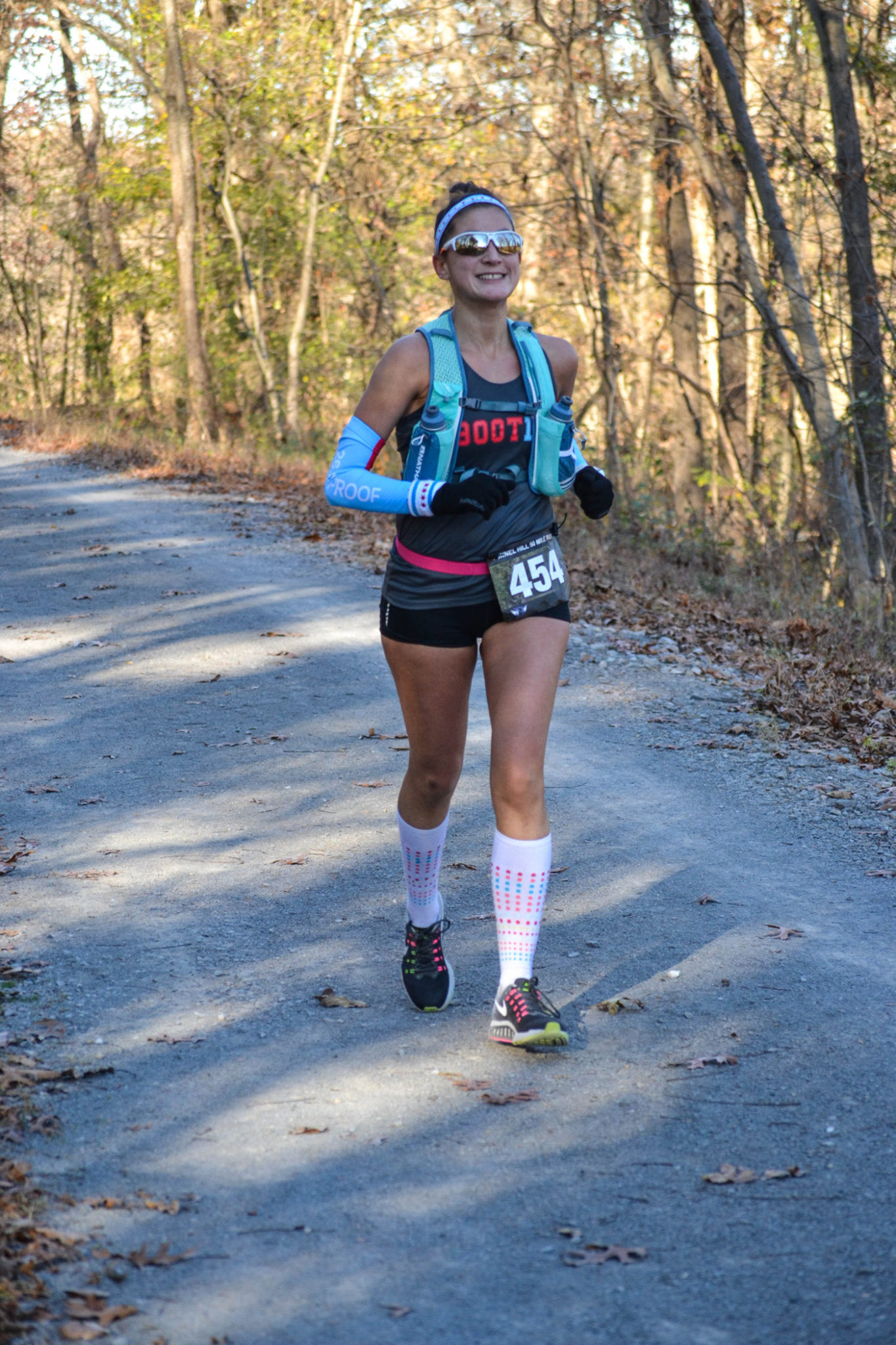 "I was always pretty active and working out but the most I used to do was a half-mile run – and I hated it! I was always trying to go fast, and I felt like I had a hard time breathing when I was running outside. I didn't realize you could slow down and still call yourself a runner."
But there wasn't much slowing down once Violeta got started. She progressed from her first 5K to a half marathon to running her first full marathon in 2006. In 2010, she qualified for Boston and completed the race on a hot, muggy April day, vowing to return and improve her time.
She got her second BQ in September 2013, after running a few 50K races for a mental break from road running and focusing more on strength training. After giving birth to her second child (whose pregnancy was planned around running Boston), Violeta turned to Shred415 and began working to get her fitness back. Unfortunately, after a speedy run with friends, Violeta got out of the shower and suddenly couldn't walk. The culprit? A torn labrum, with surgery on the horizon and a Boston dream deferred.
Now, after recovering from surgery only to face other injuries, Violeta is once again training for Chicago and hoping for a BQ. More importantly, she's hoping to get her running mojo back, and at her side every step of the way is Violeta's older sister, Susana. 
"We've logged so many miles together," says Violeta. "After I started running, we started sharing endless miles. We were texting about training and checking in after morning runs. Before the 606 Trail existed, I used to drive to the lakefront every evening or morning and run with her, then drive home. When I had to do 4 am runs, she would get up and run with me. She didn't have to be up that early, but she sacrificed that to run with me.
"She's my biggest cheerleader. It's awesome, I love it. It's amazing having your sister-slash-BFF-slash-training partner all in one. We support each other and push each other. She's doing Chicago as well. Most races we run together and we'll run the whole race together, trying to stay together until someone falls off or if someone's having a better day.
"It's become a complete passion, a complete part of my life. I can't imagine anything before being a runner."
Stay tuned as we check in with these runners as they hit the peak of their training and prepare for race day on October 8. To donate to Matt Lindner's Open Heart Magic fundraising, click here. To donate to Kim Caplea's REACT fundraising, click here.