#Sweatworking on the Water at Chicago Paddle Company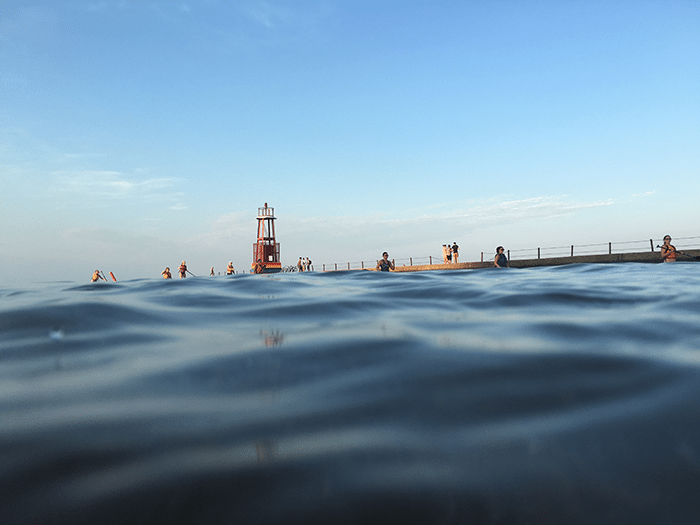 I have a confession. I'm terrified of outdoor #Sweatworking events. Over two and a half years we've hosted events at locations across the city, I've avoided the reason we live in Chicago in the first place: being outdoors in the summer.
"But the weather is so unpredictable – it can change in a blink," I'd reason. I'm working on letting go.
This summer, we decided to embrace the fear and live a little, hosting a few events al fresco. The impetus? A call from one of the owners of Chicago Paddle Company, Amy. When she invited us to take a group out for a workout at Hollywood Beach, I could resist the draw of the open air no more.
Originally, the event was scheduled for July 28, but Amy, who spends her life watching the weather, wind and waves, warned that the wind risk was increasing and our excited paddlers may find themselves surfing rather than paddling. So, we moved the event to its rain date, August 4.
August 4 rolled around and sure enough, Chicago weather was spectacularly perfect for a paddle. Attendees made their way to the beach, excited to get out on the water and sweat on the sand.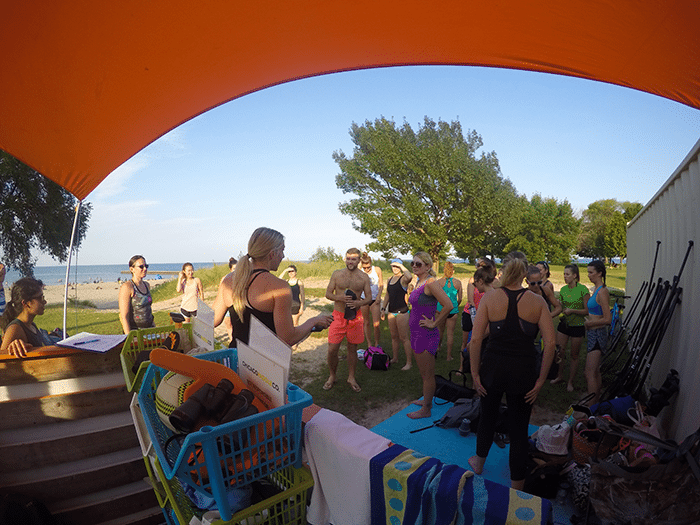 In three groups, we rotated through three workouts, two on the paddle boards and one on the beach. One experienced SUP CoreFit, a class that uses bands to create a strength and balance in a workout on the paddle boards.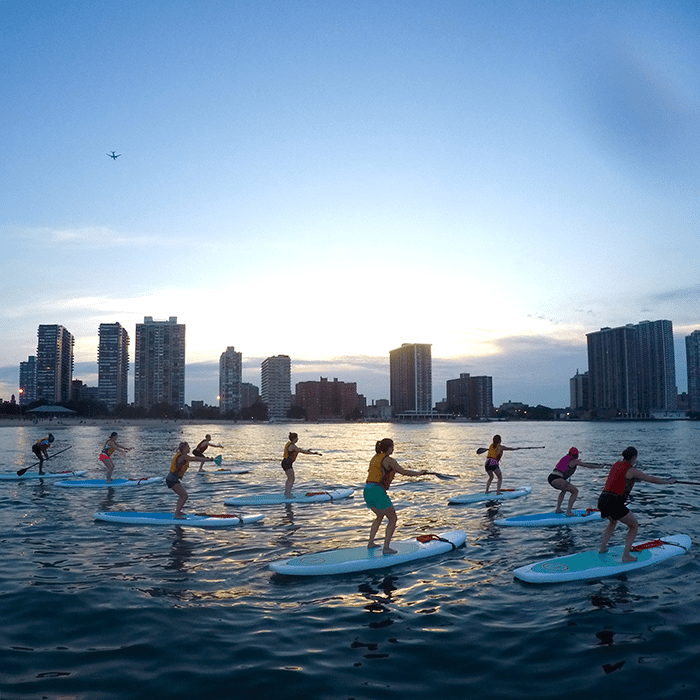 Another group paddled out to a peaceful spot and practiced yoga on the boards. Yoga on paddle boards forces yogis to pay close attention to their bodies and their balance, keeping their wandering minds in check.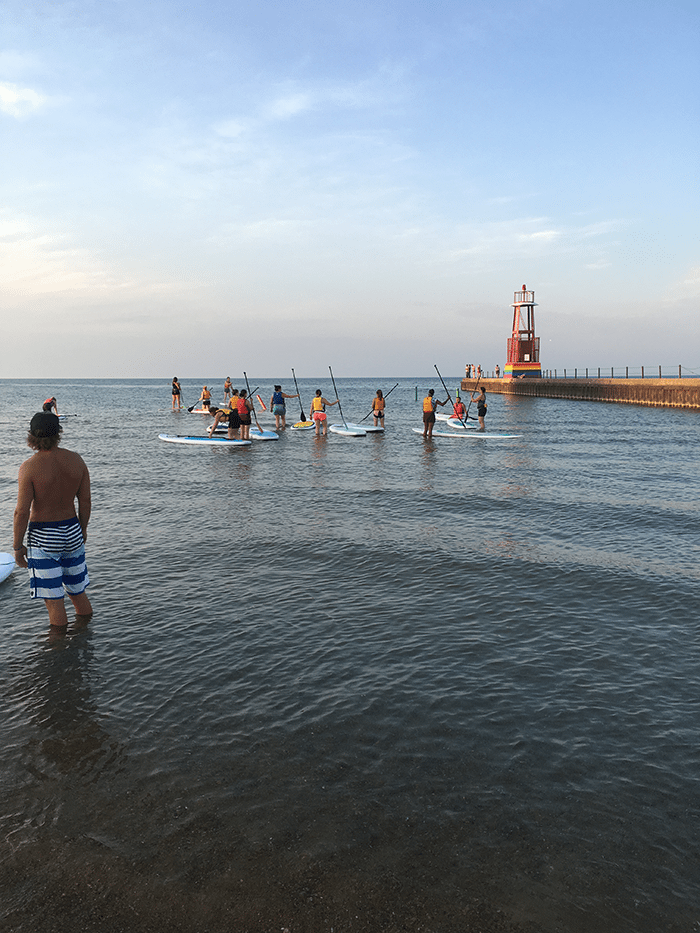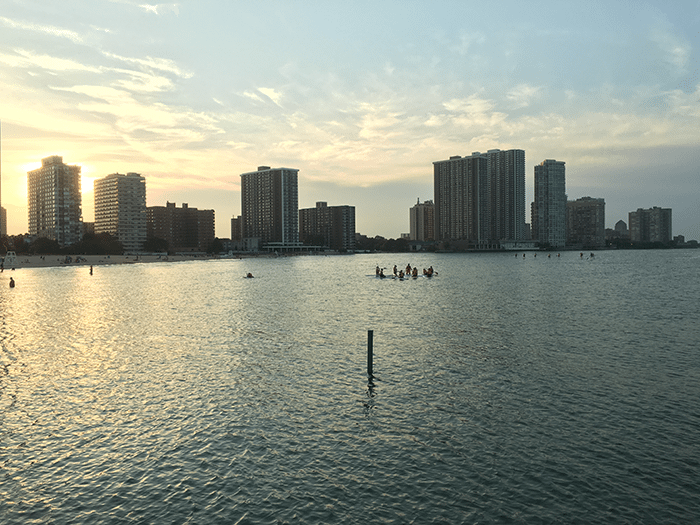 And a third group experienced a beach bootcamp workout with aSweatLife's own Nikki Desai.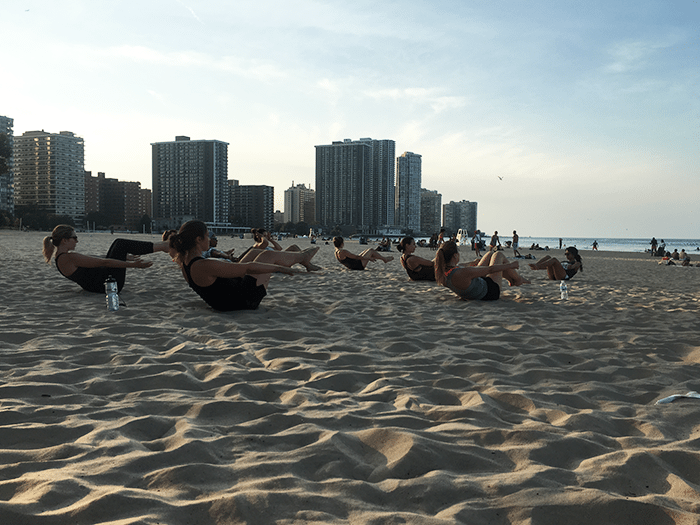 It's not often that we get to make our way to this peaceful beach and believe me as I type this – it's a different world compared to North Avenue Beach.  As the groups rotated between the three workouts and the sun set, it felt like we were in a different city. It's hard to comprehend this kind of oasis within city limits.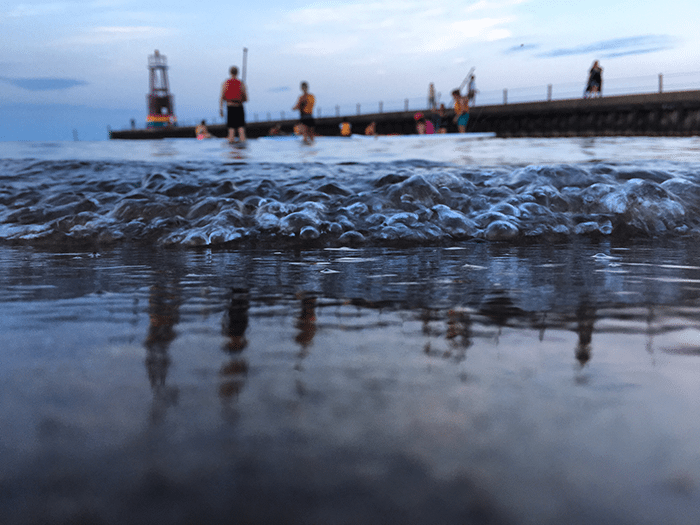 After wrapping up our workout, we had the most summery of treats. Vital Proteins, a collagen-based protein, packed a protein-punch into one of our favorite upstart food enterprises: Yumm Pops. Vital Proteins was the perfect choice to make this ice-cold treat even more beneficial – it can be mixed into hot or cold liquids without changing the flavor. Post-workout treat, win.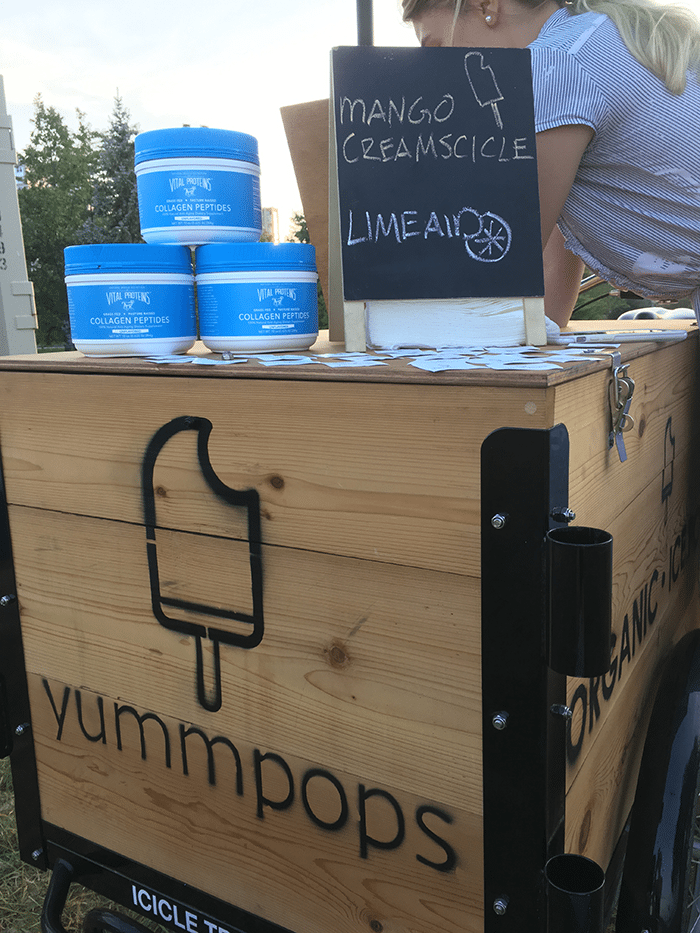 Afterwards, we grabbed snacks and goodies from some friends of aSweatLife, including Essentia Water, Vita Coco, Mamma Chia, Luna Bars, Skinny Pop, Social, Omission Beer, High Brew Coffee, Bai and Lifeway Kefir.
Want to join us for #Sweatworking? Subscribe to our emails to always be in-the-know or check back in on the #Sweatworking page.
It seems we've caught the outdoor workout bug; you can join us for another special #Sweatworking outside on Saturday August 13 at Firehouse Fitness. And our next event will be August 18 at [email protected]!