Apply to Become an aSweatLife Ambassador Now Until Sept. 30
Once a year, we invite readers, subscribers and acquaintances to take our relationship to the next level and apply for the aSweatLife ambassador program. The aSweatLife Ambassador application is only open once per year – and yes we are pulling on your FOMO strings so we are telling you now – apply today!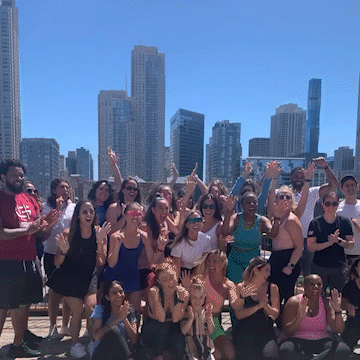 Think of the best club you've ever been a part of, one that's open to anyone with a passion for trying new things and making friends (and comes with a *lot* of fitness and wellness perks, too).
The Ambassadors are totally unique – and that's what makes this fitness community so, so special. They're from different places, they have different career paths, they're different ages, they love who they love, and they choose to move their bodies in all sorts of different ways.
It comes with lots of perks and programming
We created the ambassador program seven years ago and the perks have evolved with the program. Ambassadors enjoy perks that include:
Access to the studio of the month: aSweatLife partners with studios to create ways for you to try new workouts as a perk with your ambassadorship. That studio is a great place to meet up with other ambassadors or just disconnect for an hour of your day. We strive to offer a digital and an IRL option whenever possible.
Custom digital workshops: We create workshops that are meant to help you with goals you've told us you're striving to accomplish and panels that speak to topics you care about.
#GoalForIt programs: We love going after goals together, because #everythingisbetterwithfriends. We create shared goals you can opt into a few times a year – so far, we've learned to swim and have trained for a 5k. We can't wait to share what's next in 2023.
aSweatLife branded swag: Each year, ambassadors are gifted a piece of branded swag.
Freebies, snacks and goodies from our partner brands: We love getting you snacks, swag and gifts from our friends. You get the chance to opt into getting sweet gifts in the mail from our partners.
Connection to a nationwide network of humans who are here to support you: Maybe we're biased, but we think the best part is this: the careers, friendships, workouts, rough days and goals that have been improved by ambassadors chiming in to help each other.
Here's what ambassadors have to say about the friendships
"At my very first ambassador kickoff, I met Kensli while doing the workout. We've worked out together, did a fun photoshoot project, and did many other activities since! I also met some ASL friends through Instagram. Malaiya reached out to me when she me in a post talking about my Thai identity. She's also Thai, but lived in a different state. We met for the first time in person a year later and I felt like we were sisters in a way! I just found out that she's in Chicago for a few months and accidentally found out that she's living in the same building as me! What a great coincident." – Anchisa P.
"Looking back on my time being a part of aSweatLife, I've made so many friends that I can't remember exactly how we even met or became close. I now have traveled with, gone to dinners, and regularly meet up with friends from this group." –Sarah S.
"A few years ago I volunteered at Girls on the Run with some other ambassadors. It was a very cold and rainy day, so when the race ended Mel suggested we go get coffee to warm up. Now Mel is one of my closest friends!" –Megan L.
Here's what ambassadors have to say about the perks and events
"My favorite memories with aSweatLife have been around the virtual #sweatworkingweek. It's what introduced me to aSweatlife and it's what made me want to be part of the ambassador program. I love the crazy, fun swag box that comes to my house and all the exciting classes." –Nicole C.
"Oofos recovery sandals [a freebie aSweatLife ambassadors received] changed my life! I credit them with helping me to effectively reduce foot pain from my plantar fasciitis. I've purchased two other pairs since trying the pair gifted to me from aSweatLife!" –Francesca C.
"I tried the Olive and June nail polish [a freebie that ambassadors received] and attended their nail polish session and it literally blew my mind! Everything that I thought I knew about nail polish was completely changed by their session. Their product is amazing and so well thoughtfully designed. I'm an Olive and June loyalist for sure!!" – Sophia L.K.
Have questions? Email us! [email protected]. Don't miss this year's application! Apply by Sept. 30, 2022 here.