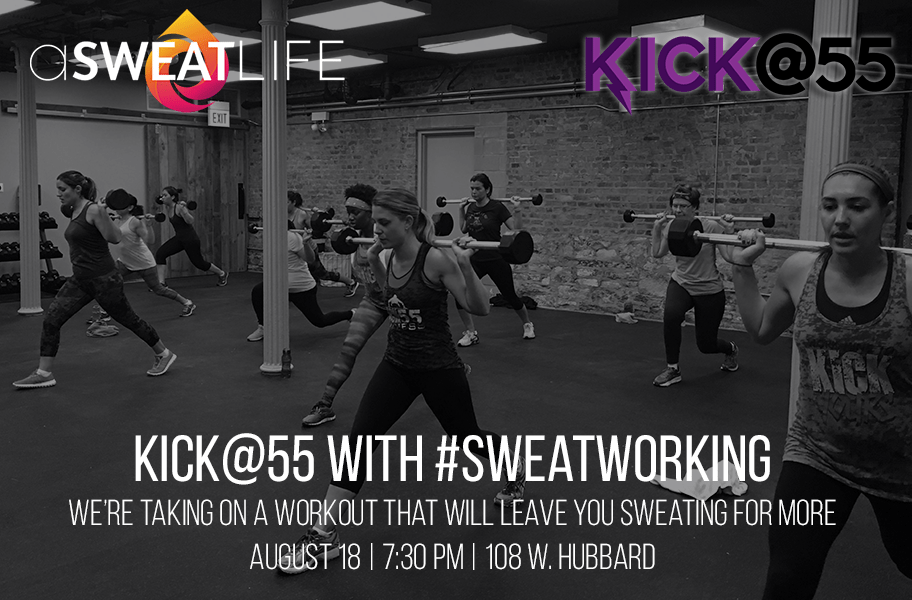 We met [email protected] when its coaches were teaching bootcamps out of a shared location. The creator of [email protected] Rebecca Gahan and I ran into each other weekly as I somehow managed to snag the only primetime time slot that she wasn't using for her popular bootcamp. Week after week, I saw her swoop in, set up and start kicking ass.
Finally, I asked if I could stay and sweat with the crew and Rebecca let out a resounding, "yes!"
It's been love ever since. When [email protected] opened in its own space in River North, we couldn't have been more excited to see what the team was up to (check out our first visit here).
And during #SweatworkingWeek (the week of 22 #Sweatworking events that we hosted from June 6-12), we were able to introduce you to the studio that has grown and flourished in its own space. If you were out and about during that week, you probably heard the buzz about our session at [email protected], the bootcamp that bills itself as the toughest in Chicago. And with kettlebells, dumb bells, pull-up bars, battle ropes and accelerators, they just might be right.
So August 18 at 7:30 pm, we're giving you a chance to find out.
Join us for one of the most challenging 55-minute classes of your life! You can expect a high-intensity circuit training experience with cardio bursts that will constantly shock the body and burn fat while building lean muscle mass. The class will target multiple muscle groups simultaneously to maximize caloric burn.
This class will be scalable to all fitness levels.
After the workout, you can expect snacks and goodies to take you into the weekend. We'll be sure to load you up with goodies from Luna Bar, Skinny Pop, Mamma Chia, Vita Coco, Essentia, Bai, Social Enjoyments, Omission Beer and much much more.
And remember, if you buy tickets in groups of two or more, you'll enjoy a $5 discount per ticket.
When: August 18 at 7:30 pm.
What: #Sweatworking is a low-pressure way to try a new workout and meet new people. We work out, we hang out and we eat great snacks.
Where: 108 W. Hubbard Street. And if you're feeling it, you can make your way to the surrounding bars after.
Why: Because this is the perfect way to jump-start your weekend (your weekend starts on Thursdays, right?)
Let us know!
Did this post help you get closer to achieving one of your goals?