Perks aSweatLife Ambassadors get for their wellbeing
As an aSweatLife Ambassador you'll receive access to products and services we love through giveaways, care packages, and ongoing discounts. We've given out sweets, snacks, nutrition, recovery tools, activewear, equipment and more.
Freebies, yes please!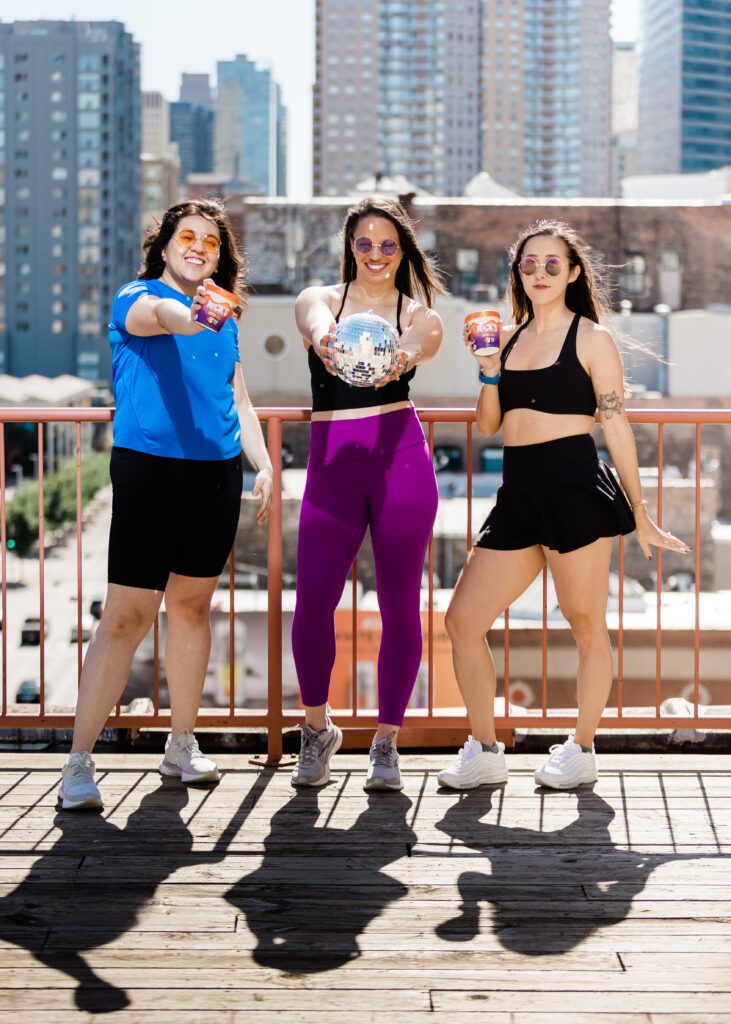 Tell me all about the brand perks!
First come, first served
One of our favorite ways to surprise Ambassadors with free wellness related perks, is through a first come, first served opt-in program. Ambassadors receive an email explaining the product, what they will receive, and if they are interested be one of the first to opt in to receive the product/service. This is a fun opportunity to try something new and to talk about it – if they love it. These opportunities happen a few times a month.
From an Ambassador: "I love trying new products. I had never used Hydrant before you all shared it with us and sent me some. lt has been a staple in our home since! We also continue to buy Bodyarmor Lyte which I would have never tried if I didn't do the program with you." – Jax Turyna Fetters
From an Ambassador: "N!CK'S – I love their ice cream and I'm so glad it's available near me now." – Kim Ross "I have absolutely fallen in love with Nick's ice cream! I feel like I can truly indulge my sweet tooth without necessarily negatively impacting my nutrition." – Nicole Coover
From an Ambassador: "Sunday Scaries CBD have changed the way my husband and I sleep and we're so grateful to have been introduced." – Melissa Klauda
In person events + perks
We love to give out swag at our in-person events and our brand partners love to be there to showcase their newest products. If you attend an aSweatLife event, you know you will be leaving with a bag full of goodies.
From an Ambassador: "The product partnership with Ultima was perfectly timed for me — I first got the product right as I was ramping up running and the summer heat was coming. Now Ultima is one of my favorite workout / health related products. I use a packet after just about every run, and I love how it tastes and how it helps me to hydrate more efficiently. I've tried lots of different hydration powders, and this one is the best tasting (no weird artificial aftertaste)." – Kaitlyn Doyle
From an Ambassador: "I'm obsessed with Honey Mama's as a perfect post-dinner or midday treat." – Britany Kabakov
Virtual events + perks
aSweatLife hosts events in a hybrid model. We have signature in person events we host each year as well as Ambassador meet ups. We also host monthly virtual Ambassador workshops and special virtual events for our full community. To give virtual events and in person feel, we have partnered with brands to mail attendees boxes full of swag.
From an Ambassador: "I tried the Olive and June nail polish and attended their nail polish session and it literally blew my mind! Everything that I thought I knew about nail polish was completely changed by their session. Their product is amazing and so thoughtfully designed. I'm an Olive and June loyalist for sure!!" – Sophia Lin Kanno
From an Ambassador: "I don't know how I lived before asweatlife introduced me to OOFOS! I have bought 3 pairs since I received my free pair and am always recommending these recovery shoes." – Heather Christy
Giveaways
We love hosting big ticket giveaways. At our events, on social media, through Ambassador programming, we have many lucky winners that walk away with huge winnings!
From an Ambassador: "Two words: giveaways WORK! I entered a holiday sweepstakes (y'know, the one where you enter your email, like/follow for additional entries, share links for additional entries) and I WON! Receiving the email that I won a Tonal from aSLs 2020 Holiday Giveaway was a top 25 life moment. I use Tonal 3-4 days a week and have become an evangelist for the equipment, the app, and encourage everyone to enter sweepstakes." – Sarah Pernai
Ready to apply?
The application for the next class of Ambassadors is open now, and you'll have until Friday, September 30 at 11:59 pm to apply.