#Sweatworking takes on an Olympic-Style Workout at Fire House Fitness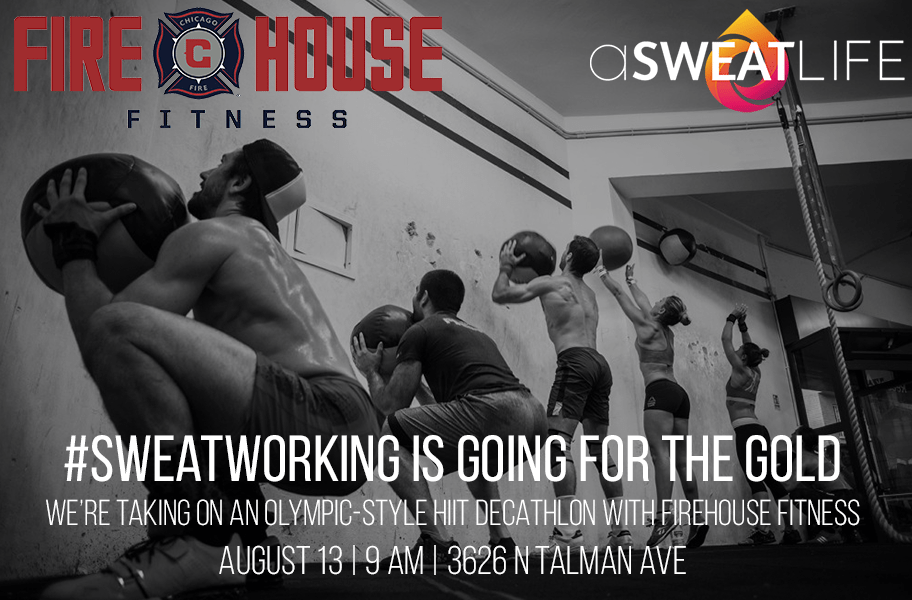 We're constantly looking for new ways to sweat, new workouts to try and new things that can challenge us. We literally can't stop ourselves. We love #Sweatworking so much that when the world heads to Rio for The Games, we're giving you a chance to celebrate with an event that lets you play along.
With its 125,000 square foot facility (no, that's not a typo – it's really, really big), Fire House Fitness will bring you its spin on a 10-discipline event in its HIIT decathlon.
Located next to the Fire Pitch, every athlete will enter all events and will be guaranteed to push to new heights. Ranging from runs, to the "shot put," to agility drills, FHF staff will bring you a fun and energizing workout organized to make you feel like an Olympian!
This ten-event workout will be both indoors and outdoors, using all of the Fire Pitch and the indoor portion of the fitness facility. You'll see elements of track, field, speed, agility and strength, and you'll finish with one big workout at the end.
Don't want to compete? Just come for a good workout and don't worry about the competition! We're here to push you to try new things and if a new workout is enough for you that day, we're ecstatic about your presence.
When? August 13 at 9 am
What? We're taking over Fire House Fitness and the Fire Pitch for an event that will allow you to dig deep, call upon your inner athlete and go for the gold!
Why? We host #Sweatworking month after month because we want to introduce you to new workouts and new people in a low-pressure way. Our goal is that you walk away from each event having shaken hands with a stranger, feeling stronger and sweatier.
Will there be snacks? Duh.
Where? Fire House Fitness is at 3626 N. Talman Avenue  – right around where Addison and Talman meet.