How to Stand Up Paddleboard: Five Tips for SUP First-Timers
I finally had the chance to try stand up paddleboarding (or SUP, as it's often called), and now I'm hooked. The concept is simple and the name is self-explanatory – you just stand on what seems to be a modified surfboard and use paddles to propel yourself across a body of water. Easy enough, right? Well, the execution of this task can be a bit tricky, especially if it's your first time. Luckily, we've got you covered with the following five tips.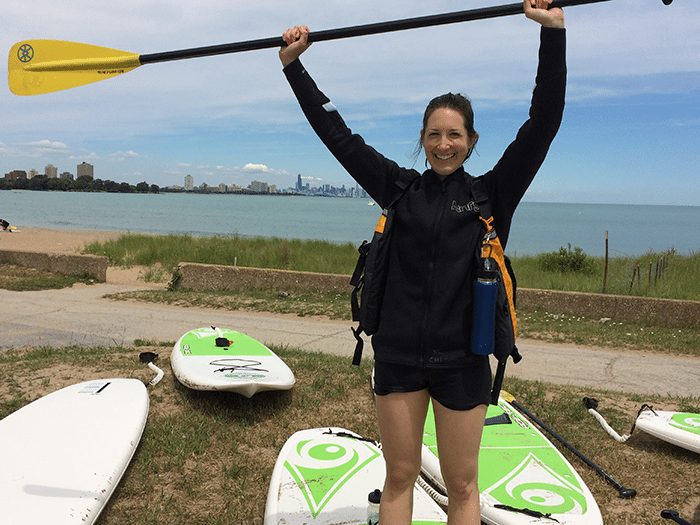 Getting on the Board
So you've paddled out into the deeper section of Lake Michigan or wherever. Now how do you actually get on the board? During the class I took, people really struggled with this aspect. The key is to face the long side of the board, wrap your arms around the far side and then thrust your legs into the air – like you're doing a mermaid kick, according to our instructor. That momentum should get at least your top half onto the board, and then you can use your arms to pull up the rest of your body.
Standing Up
You've made it onto your board, which means you're ready for the next big step. Literally. To stand up without falling, think of the "evolution of mankind sequence" through the lens of yoga. You are slowly going to move from a prone position to standing. Start laying down on the board, then move into low cobra (forearms flat and chest raised), then shift your hips back as you move into the cat/cow starting position (on all fours with back flat), then slowly bring one leg forward and then next leg forward into forward fold position, and then gently unroll your spine to standing. You're up!
Staying Loose
Stand in a wide leg stance in the center of the board. The board's handle should be between your feet. Bend your knees slightly. As the board rises and falls with the movement of the water, you want to roll with it. Being loose and relaxed in your legs will help you ride the waves instead of fighting them. At the same time, stand up paddleboarding is all about core strength, so tighten those abs! It will improve your balance and provide stability as you reach forward to paddle.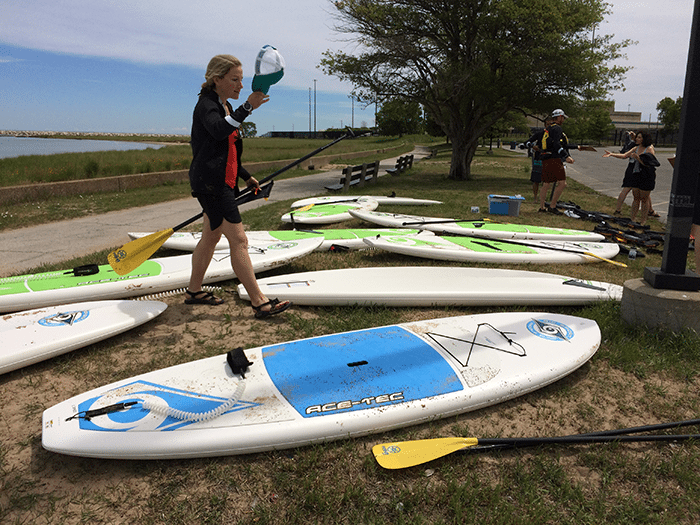 Falling In
Maybe you're one of those people blessed with good balance. I am not. And in the SUP class I took, all seven participants – and both instructors – bit it at least once (though I think the instructors did it on purpose to make the rest of us feel better). Accept that you're probably going to fall in. I went over three times during 90 minutes on the water. Each time was a bit shocking, but once I got over my initial embarrassment, I just pulled myself back up, went through the yoga sequence and got myself back to standing.
Paddling
Before you head onto the water, make sure your paddles are the right size. Put your arm straight up in the air. The top of the paddle should reach your wrist. As for the actual strokes … well, I'm no expert in paddling (yet!) and don't trust myself to explain the technique to you in a way that's accurate or makes sense. However, the fine folks at REI, who led the introduction to stand up paddleboarding class I took last month, break it down for you here.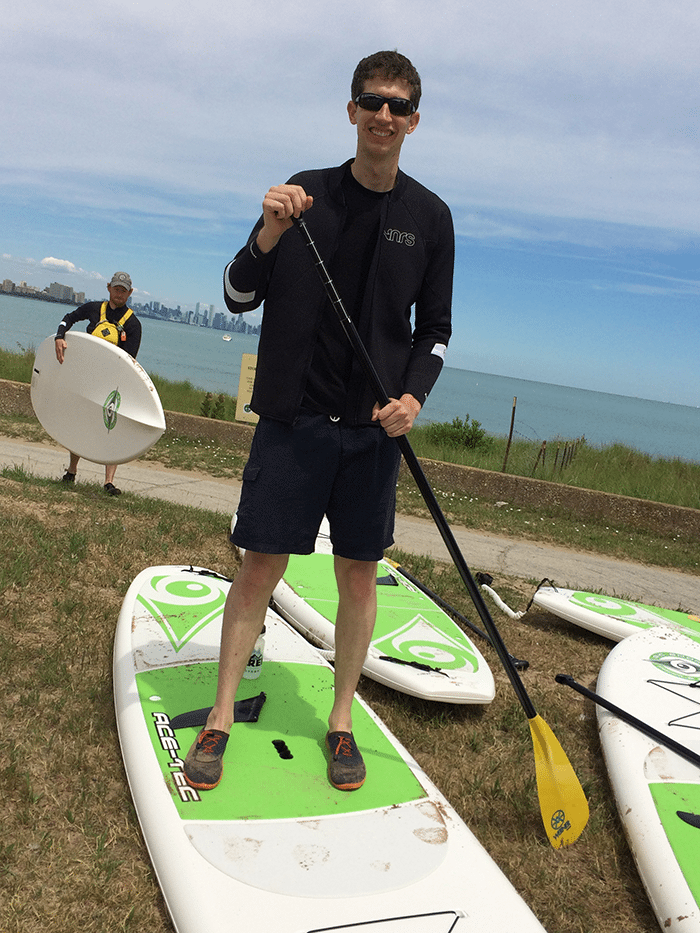 What are your tips for first-time stand up paddleboarders? Let us know in the comments section below!