10 Things I Learned from Nike's Decathlon
Quick history lesson: the decathlon evolved from the pentathlon event at the ancient Greek games, and it entered the modern Olympics in 1912 at Stockholm. The winner of the decathlon gets the glorious title of "The World's Best All-Around Athlete," and it's what made Caitlyn Jenner a famous athlete on Wheaties boxes everywhere back in the 1970s.
To give Chicagoans a little taste of the Olympics and prove once again that "if you have a body, you're an athlete," Nike replicated the decathlon for 350 eager participants last Thursday night at Soldier Field (or as I called it throughout the night, Adult Field Day). Not so coincidentally, the event took place as Ashton Eaton, one of Nike's own athletes and decathlon world-record holder, competed on Day 2 of the men's decathlon, winning gold just as we wrapped up our own events and sent the winners to the medal stands. Here's what I learned during Nike's quest to make me a decathlete.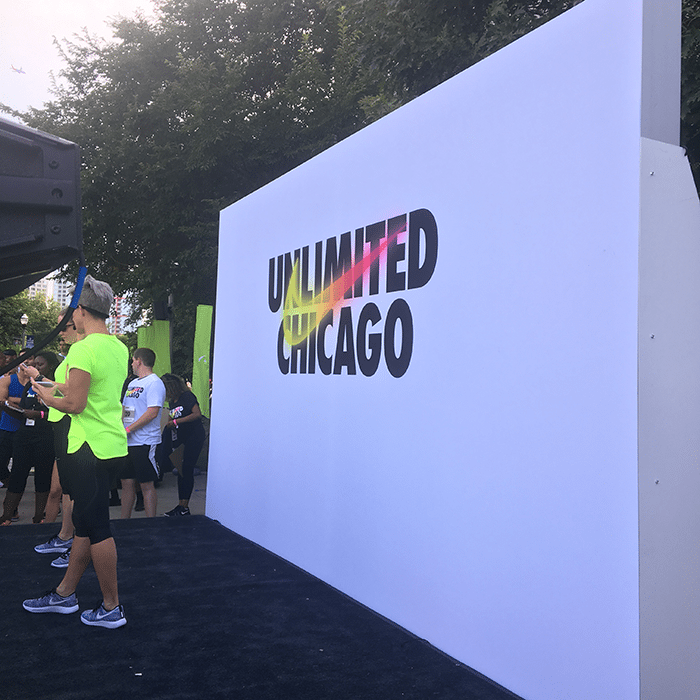 1. I can now name all ten events of the decathlon.
Here's a fun quiz: how many events of the decathlon can you name without Googling? I'll pause.
.
.
.
.
.
Ready? Give yourself a point for each one you successfully named:
100m run
Long jump
Shot put
High jump
400m run
110m hurdles
Discus throw
Pole vault
Javelin throw
1500m run
Instead of discus throw and pole vault, Nike kindly let us do a timed sled pull and a medicine ball throw. Because no one wanted to see someone get impaled on a lovely summer night.
2. You can't win a decathlon by dominating just one event. You can't be in great all-around shape if you only do one type of exercise.
The decathlon includes ten separate events and they all matter. You can't work on just one of them.
-Dan O'Brien, 1996 Olympic gold medalist in the decathlon
Most kids these days are herded towards specializing in one sport by the time they're in high school (usually the sport that they're best at), and we tend to adopt that same mentality as adults finding our fitness grooves. If you really enjoy and are good at a specific type of exercise class (say, indoor cycling classes or yoga), it's super easy to only sign up for those sessions and stay in your comfort zone. However, in order to be your healthiest self, you have to switch up your workout routine and confuse your body. (Luckily, between ClassPass and our #Sweatworking events, you've got everything you need to find a new workout to try)
3. The decathlon is super frustrating
The thing I like about decathlon is also the thing I dislike: It's the maximum challenge, but also the maximum frustration.
-Ashton Eaton, two-time Olympic gold medalist in the decathlon
He's right. With your training spread among ten different events, all of which require your technique to be on point, you can easily get down on yourself if one event doesn't go the way you wanted it to. Decathletes have to have just as much patience as athletic ability, and the zen mindset to move on from an event that didn't go so well.
4. I may have a body and therefore be an athlete, but I am not athletic
Just ask the people who watched me somehow throw a javelin into my own neck. Who knew that was possible?
5. Ten events in one three-hour span is intense
Our group had to go from the 400m dash to the 100m dash, with less than ten minutes of recovery time in between. Ashton Eaton and crew had two full days to conquer these ten events. So what I'm saying is everyone at the Nike event is tougher than Ashton Eaton, basically.
6. Shotput is less about your arms and more about your core and legs
When throwing the shotput, correct form dictates that you squat down – way down – facing away from the field and taking a couple of skip-steps before turning and effortlessly heaving the weighted ball several meters. The majority of your force comes from your legs (like how anytime you lift a heavy object, someone yells at you to lift with your legs) and the rotation you get from twisting your core.
7. You can't survive the decathlon with just Hardpressed muscles
Don't get me wrong, they sure do help, but in order to be truly good at these events, you had to know the proper technique and form; otherwise, you were wasting your energy. This same notion can be carried through to your other group fitness classes as well (especially form-heavy exercises like barre and yoga). Have an instructor give your form a check-up every now and then to make sure you're doing all the moves properly; you may be surprised to discover a whole new set of muscles that you've never used before.
8. Finishing the 1500m run on Soldier Field was pretty sweet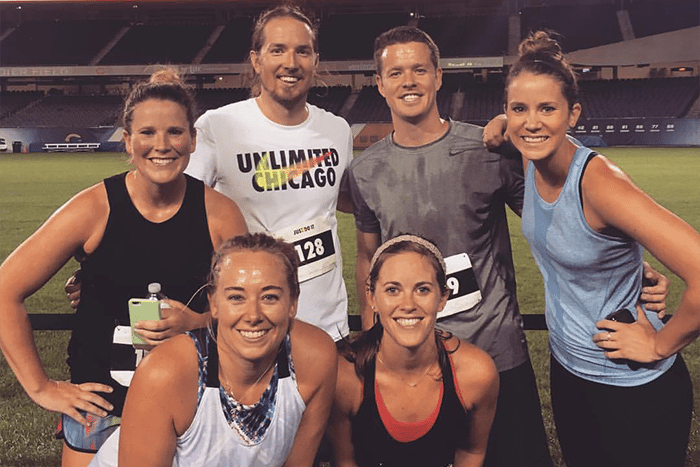 Soldier Field is an iconic part of Chicago, but unless you're a Bears player (or running the Soldier Field 10 Miler), you don't often get the chance to run onto the field at a full sprint. Nike gave us that opportunity on Thursday night, and we took full advantage of the photo op.
9. Unfortunately, no one will pay attention to the medal ceremony when there's free pizza and beer being handed out.
That's just a fact.
10. We may not have won the games, but we did have the best team name.
That's also just a fact.