Fit City Guide: Seattle, Washington
About six months ago, my best friend and roommate Chelsea abandoned me for Seattle. Something about a long-term, long-distance boyfriend and wanting to live in the same time zone. I think a puppy was promised as well (low blow, Alex. Low blow).
Anyway, once I got over my temper tantrum, I realized that I'd never been to Seattle, and having a best friend move there was a pretty great reason to visit. This past week, my wildest dreams came true, and we had a roommate reunion with our third roommate, out in the Pacific Northwest. Chelsea promised us a week of playing outside, lots of walking and (most importantly) snacks – and she delivered. Here's what we did on our active Seattle vacation.
Hiking
For those of you who read last week's Fit City Guide to Denver, you know that I've been craving the outdoors lately. Luckily, within 90 minutes of Seattle, you have dozens of hikes for all levels and lengths – each with jaw-dropping, quintessential PNW views.
Chelsea took us on her two favorite hikes, which I would highly recommend to anyone looking for easy-to-moderate hikes. The first, Wallace Falls, was about 5.5 miles roundtrip and took us a little over two hours, with plenty of rest-and-enjoy-the-view stops. Chelsea described it as "the most PNW hike ever," and she was right. We marched uphill past lakes, streams and waterfalls, through moss-covered trees and high-reaching evergreens. Our glutes were screaming by the final ascent, but we were rewarded with views like this: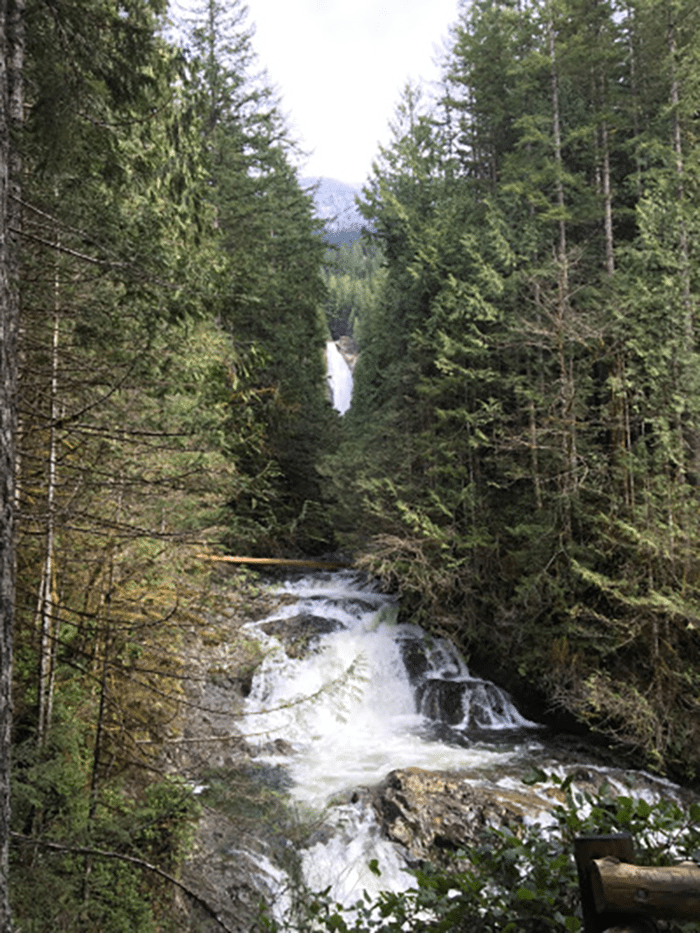 A few days later, we took on Heather Lake, a slightly shorter hike with a gentler uphill. The twist here was that recent snow melting made our trail a light stream the entire way, meaning great boots were essential. The hike was temperate until the last 20 minute or so, when we turned a corner and found ourselves in a snow-covered Narnia. Chelsea's dog, Nova, rejoiced: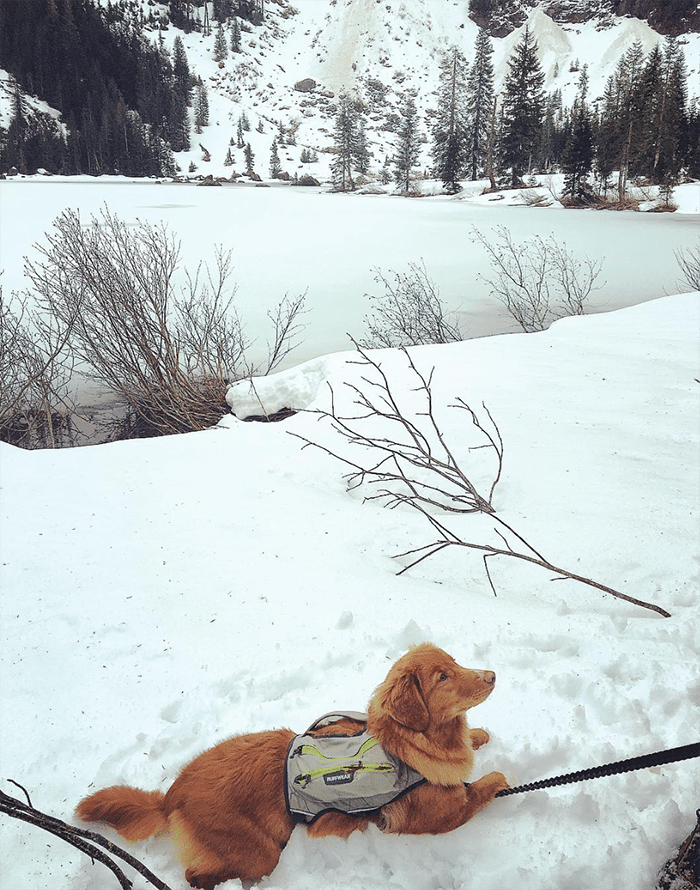 Heather Lake is nestled among imposing mountains strewn with snow-covered evergreens – the most amazing payoff to an hour of hiking.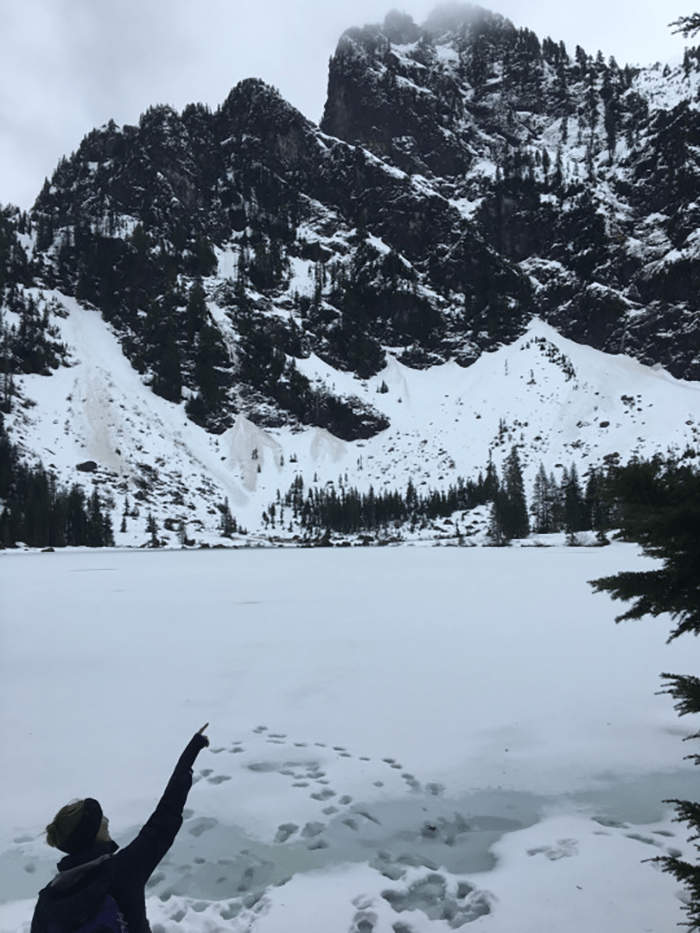 One thing Chelsea made sure to do before each hike was check the trail report on Washington Trails Association – kind of like a running diary for the different trails in the state. You can filter your search by several different criteria, and check the latest trail report for the most recent updates on conditions to make sure it's safe for hiking (that's how we were warned to wear waterproof boots at Heather Lake).
Also, I highly recommend bringing a dog with you. Especially one like Nova who wears her own Camelbak.
Green Lake
In Chicago, runners and bikers flock to the Lakefront Trail, especially when living near the Lincoln Park area. The Seattle equivalent? Green Lake, a sweet residential neighborhood adjacent to a zoo that made me feel like I was in my Chicago neighborhood – just with less brownstones and more hills.
Chelsea lives less than a mile from the lake, which is three miles around – so I figured it would be a perfect 5 mile route for the morning. However, there was one thing my little legs weren't used to: hills. The mile to Green Lake was straight uphill. I made it through the first block optimistically, then about halfway through the middle, never-ending stretch, I called it and decided to power-hike up the rest of the hill. My heart rate was up and running before I knew it.
Once at Green Lake, however, the running becomes much more Midwesterner-friendly. The flat, wide path was populated with runners and bikers, many with dogs accompanying them. This loop would be ideal for anyone distance training for a flat race in Seattle. There are bathrooms and water fountains, and you could easily stash an extra water bottle on the route. Also, a three mile chunk is very mentally friendly to a distance runner. Just be careful on the downhills in the neighborhoods – I took them nice and easy on my way back, for fear of too much impact on my shins and knees.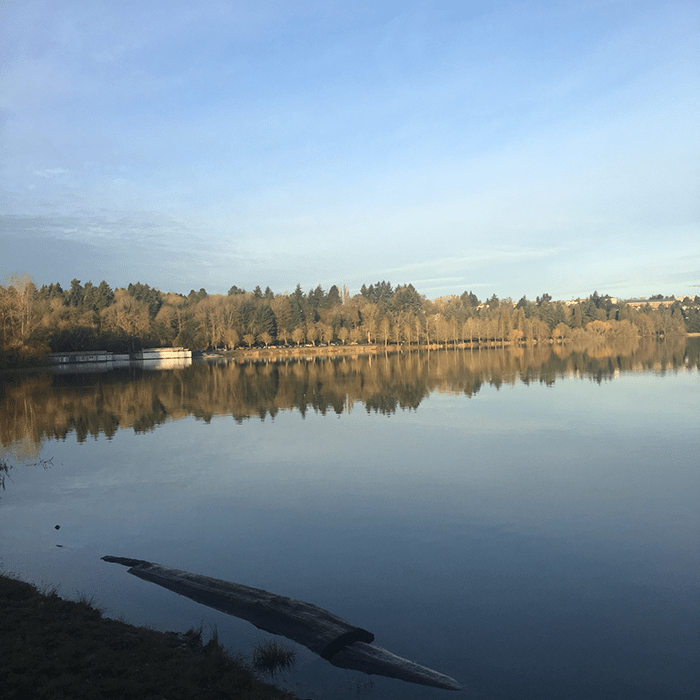 Haute Yoga
When the weather is gray and drizzly for at least a couple of hours every day, the only thing that makes sense is to escape with some hot yoga. Chelsea led us to Haute Yoga in the Queen Anne neighborhood, where we purchased a $25 two-week package for new clients and proceeded to warm up and unwind in gentle Vinyasa classes. The intimate, narrow studio reminded me of Barefoot Power Yoga in the West Loop, with lighthearted instructors and a welcoming class vibe. Chelsea is also a big fan of the Seattle Yoga Lounge, which we didn't get a chance to check out.
Olympic Athletic Club
On our way to a delicious Italian dinner one night, we passed by the Olympic Athletic Club, and our jaws dropped as we peered inside the windows. The facility is incredibly similar to the Chicago Athletic Association – handsome and well-maintained, with a sense of history and grandeur. A quick glance at the website shows pools, group fitness classes, childcare and premium facilities for spin, yoga or individual workouts. If I were heading back to Seattle for an extended stay, I would take advantage of their generous guest pass options; they also offer discounts for out-of-town guests of current members.
Starbucks Reserve Roastery and Tasting Room
By this time, you've worked out enough that you need some caffeination, and in Seattle, the must-see, must-taste coffee experience lies in the Starbucks Reserve Roastery and Tasting Room. The Roastery is like your go-to coffee museum, with plenty of hands-on learning (and tasting) opportunities.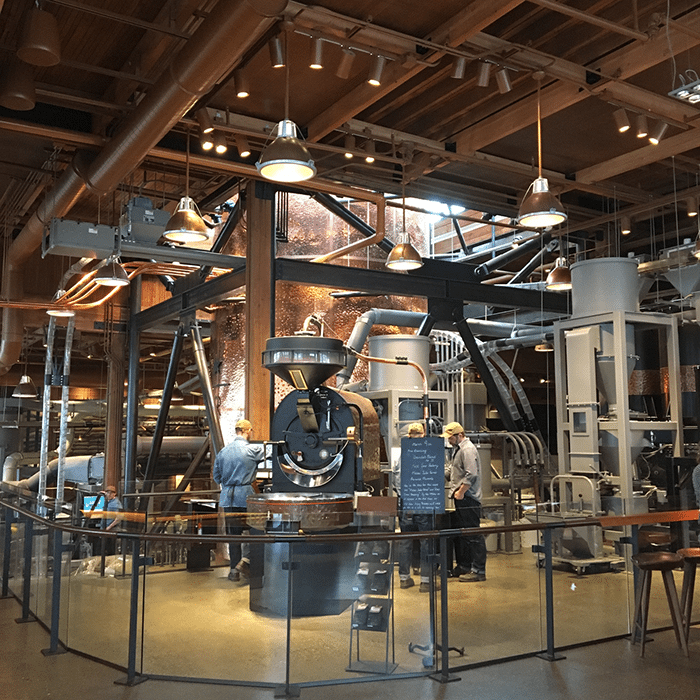 Starbucks describes it as a "coffee shrine," and they're not exaggerating. Here, you can learn how coffee is made and taste rare, exotic blends that change regularly. They also offer a special menu of beverages that you can't get at your corner Starbucks – all in a cozy yet cavernous, copper-toned space, filled with armchairs and fireplaces.
Pike's Place
From the Roastery, you're in a perfect position to meander to Pike's Place – nine blocks away, to be exact. Wander the stalls to sample local produce and freshly-made pasta, while watching the infamous fish throwers manhandle the catch of the day. Stop and smell the (fragrant, beautiful, cheap) flowers and grab a fresh seafood lunch at any of the half a dozen restaurants with a view of the water. Leave with a bag of local ingredients to cook dinner that night for a true taste of Seattle.
Special note for Cass: there was a tiny donut stall, but I didn't get any. I'm sorry. I failed you.
All in all, Seattle is now one of my favorite cities and I can't wait to return. I feel obligated to report that we didn't experience nearly as much rain as I expected – it rained for a couple of hours every day, but we had plenty of sunshine and mid-50s weather to satisfy me. I'm half-convinced that Seattle residents over-exaggerate the rain to keep their city from being overrun by new residents. Well played, Seattle. Well played.
Anyone else been to Seattle? What must-do fitness activities did we miss? Can I come back and live with you?