Fit City: Denver, Colorado
By the time the calendar hits February in Chicago, nearly all of the city's inhabitants are dying to get the f out of Dodge. We've already endured around four months of cold, wind, snow and that fun little thing called "lake effect." At some point, it becomes rude to your neighbors to scream "I CAN'T TAKE THIS ANYMORE" every morning when you wake up and check the weather on your phone.
Anticipating a forthcoming mental breakdown and with some free time, my boyfriend and I booked a long weekend in Denver, Colorado. While a warmer climate was tempting, we wanted to avoid spring breakers – and Denver's predicted mid-60s temps and clear skies were enough for us sun-deprived hobbits. Plus, after a winter with many workouts relegated to indoors, we wanted to be able to stretch our legs with some hiking (neither of us are skiers, by the way, so we chose Denver knowing that we'd stay on our own two feet the whole time). Finally, we were sold on Denver after reading up on a few of their farm-to-table restaurants with mouth-watering menus.
Planning a similar get-me-the-f-out-of-here vacation? Here are a few tips to stay active and balance out all the food you'll enjoy in the Mile High City.
Hiking
You can find dozens of hiking trails within 30 minutes of Denver, ranging from easy to more difficult treks spanning several hours. At the recommendation of a friend, we chose two hikes to tackle: St. Mary's Glacier and Garden of the Gods.
St. Mary's Glacier is in Idaho Springs, CO – about an hour drive west from Denver. After driving a winding uphill road for several miles, you hit a parking lot – pay $5 and you'll be on your merry way. At such a height, we experienced altitude snow and got the unique experience of hiking in the snow, despite it being fairly warm (well, I was warm – Kevin felt otherwise. It was in the low 40s). After about .75 miles mostly uphill, you reach the glacier.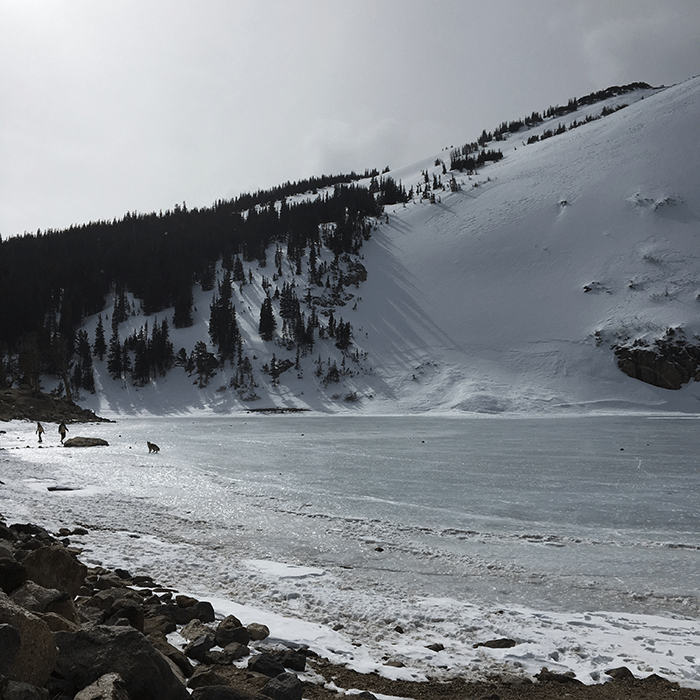 Careful – footing can be pretty slippery, and there's a good chance snow will be on the ground until about June, so dress appropriately. That said, we saw several families doing the hike, and plenty of hiking puppers. This quick, just difficult enough hike has a great payoff.
Garden of the Gods is in Colorado Springs, an hour and fifteen minutes south of Denver and in the Pikes Peak region. A free park with 15 miles of trails, Garden of the Gods offers stunning views and plenty of opportunities for activities besides hiking – we saw people horseback riding, mountain biking, and rock climbing, and I would have loved to return with my Nike Kigers to get some trail running in. Wide, beaten-down paths make the hiking pretty easy, and you have several options to find a hike that's best suited to you.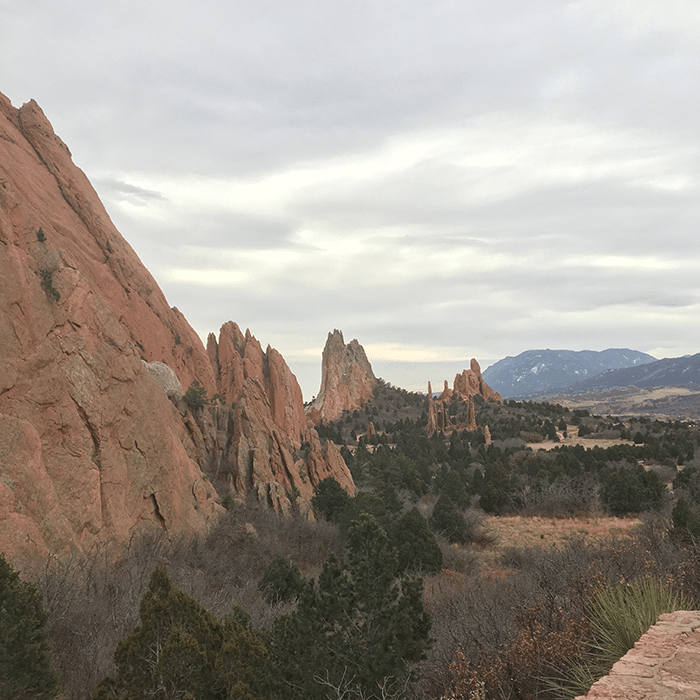 Looking for more hiking options? This website has helpful information and ways to filter down the hikes based on what you're looking for – travel time from Denver, difficulty, mileage and more.
Red Rocks
While you may know this as a music venue, it turns out that Red Rocks is wonderful for so much more than shows. We drove 15 minutes to see the space, which is free and open to the public, and were met with dozens of people working out on the 70 rows of benches, basking in the sun, or training dogs (one dude had no less than six dogs with him and would tell one to stay at the bottom of the steps, then hike to the top with the other pups and tell the dog at the bottom to come. It was amazing and I don't think a human child could have been that well trained).
I asked Jeana for a workout to do at Red Rocks, and she suggested box jump burpees up the stairs – for time. When I saw this, I laughed aloud and said "NOPE."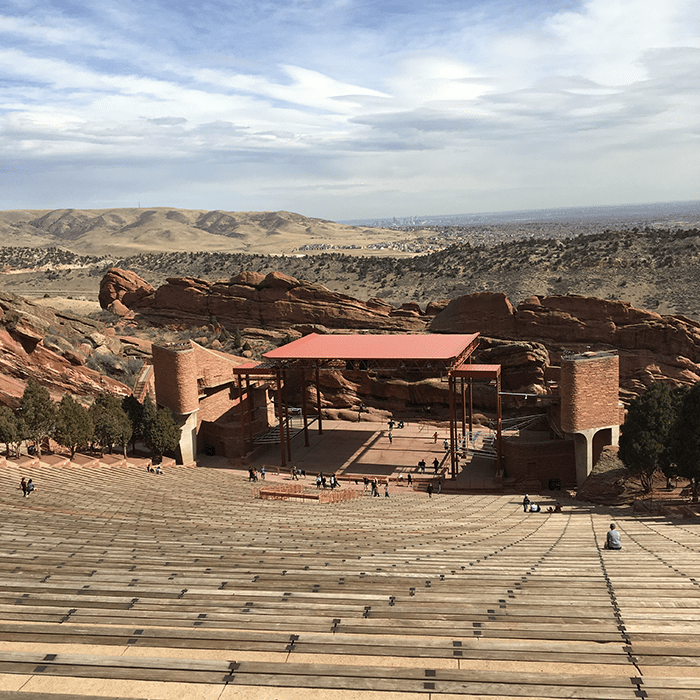 Jeana, you're great and I'm sorry – maybe next time.
However, I did make up my own hodge podge workout, which you are welcome to borrow, including:
Running up the stairs
Lunges across one row
Box jumps up the stairs, stopping every ten rows for 10 pushups and 10 tricep dips
Running a snake pattern through every row (warning- this takes way longer than you'd expect. Get your headphones ready)
If you don't want to workout on your own, Red Rocks allows groups of up to 10-20 to work out on the stairs. They also have Yoga on the Rocks during the summer, as well as an eight week Red Rocks Fitness Challenge. Bring your own water – the water fountains weren't turned on while we were there, but the Visitors Center had water and restrooms.
Ace Eat Serve
Take a well-deserved break from your activities and visit Ace Eat Serve, an Asian fusion restaurant and bar with two things near and dear to my heart – juice and Ping Pong. Ace squeezes freshly made juices while you get your competitive juices flowing in the Ping Pong room. Your first 30 minutes are free if you order food or drink; otherwise, it's $10 an hour.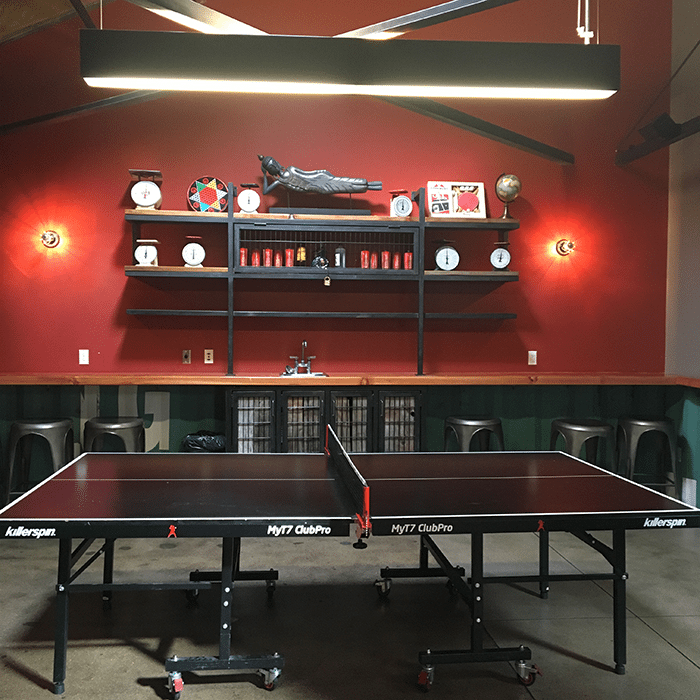 Cherry Creek Trail
One thing I would have liked to do if we'd had more time is check out the Cherry Creek trail, a 25-mile running and biking path that goes southeast from downtown Denver. The images of the long, winding, often waterside path remind me of the lakefront here in Chicago, and it looks like a beautiful place for a long run.
Farm-to-Table Restaurants
Denver is quickly becoming a foodie town, with tons of tasty options at every street corner. Even better? Most restaurants are farm-to-table, meaning the dishes are made with the freshest possible ingredients and the least impact on the environment. While a long weekend wasn't nearly enough time to try them all, a couple that stood out were Fruition (a small, intimate, fine-dining restaurant with a cauliflower bisque that was out of this world created by a James Beard award semi-finalist) and Linger (a global restaurant with plenty of offerings for gluten-free and vegetarian diners – we heard rumors of an amazing rooftop bar, but it wasn't open when we were there). We also heard great things about Root Down, but didn't get a chance to go.
Altitude
A blog post about Denver wouldn't be complete without mentioning altitude. It's not called the Mile High City for nothing (in fact, you can head to the steps of the Capitol to get the exact marker for the mile altitude). Luckily, Jeana covered the science for me in a past blog post here. TL,DR: Give your body time to adapt. Drink lots of water. Expect headaches. Listen to your body and take it slow if needed.
Have you ever been to Denver? What activities would you recommend on a fit vacation there? Let us know in the comments!