A Kick Ass Time – #Sweatworking at POW
Each month, #Sweatworking gives us a chance to push beyond our limits and try something that is outside of our comfort zone. #Sweatworking at POW! this month, allowed up to kick off our shoes and get into a workout that brought out the tough guy in everyone.
Katalin, owner and bad-ass (there truly is no other way to describe her) behind the gym, introduced us to kickboxing that was both intentional and meant to teach us to protect ourselves. This pushed us to get in our sweat with an intention.
As a special treat, this #Sweatworking included a group celebrating a birthday, which is probably the best way to spend a birthday.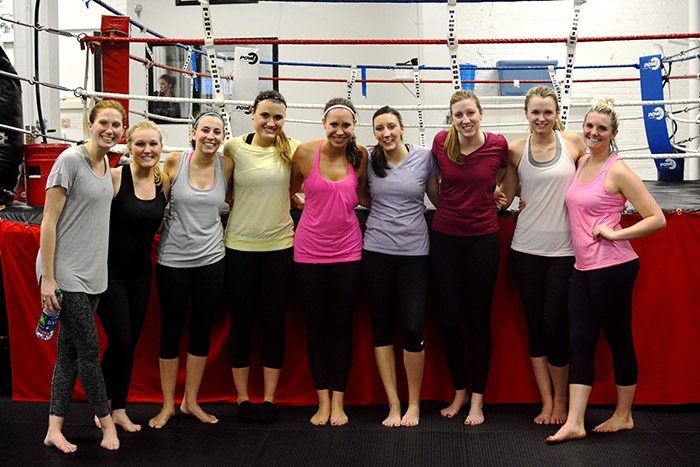 (All photos in this post are by Cass Gunderson)
In celebration, we did burpees to the tune of "Happy Birthday." It just felt right.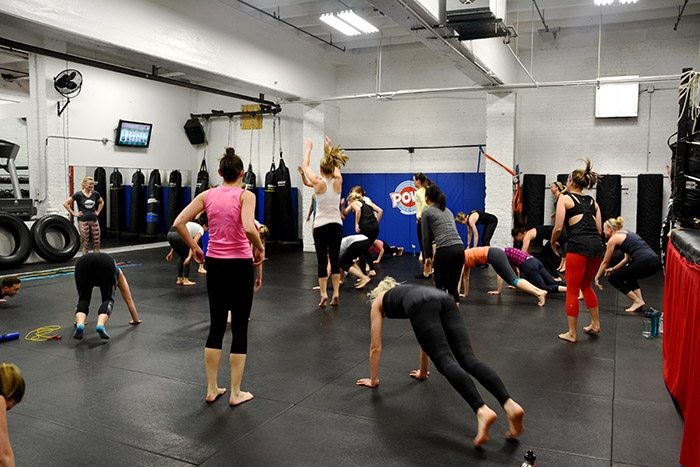 Kat brought the group back from the chaos excitement of birthday burpees to talk about the purpose and form for the movements we were doing.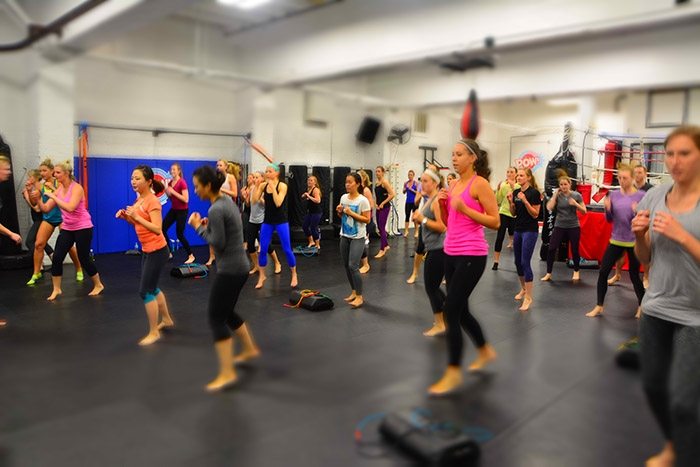 We learned to kick, putting a little whip into the foot as we struck with our shin rather than the toes.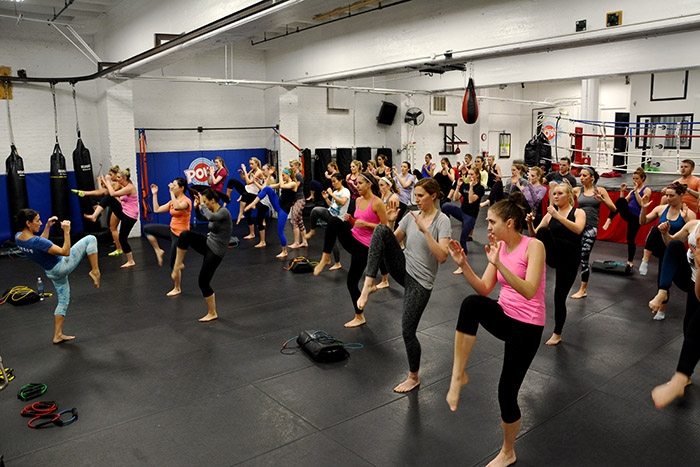 After warming up, we broke into groups of three for the entire workout. For our first circuit, one person jumped rope, one person front kicked and one person held the pad that was being kicked. Holding that pad was not a rest, to do it correctly, one had to be in a super active stance and hit back as the kick struck to avoid getting hit by the pad.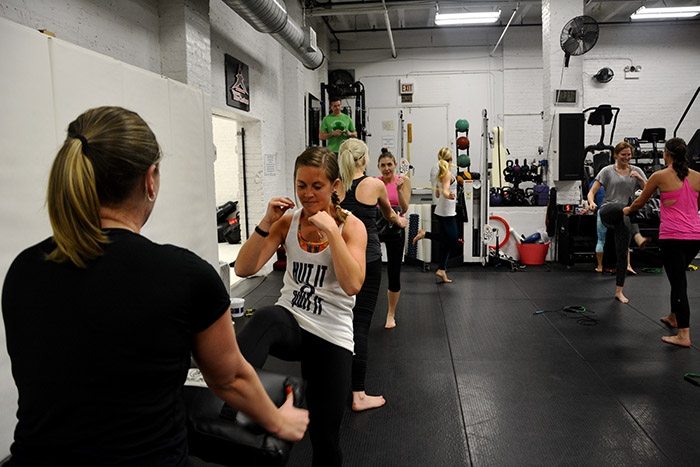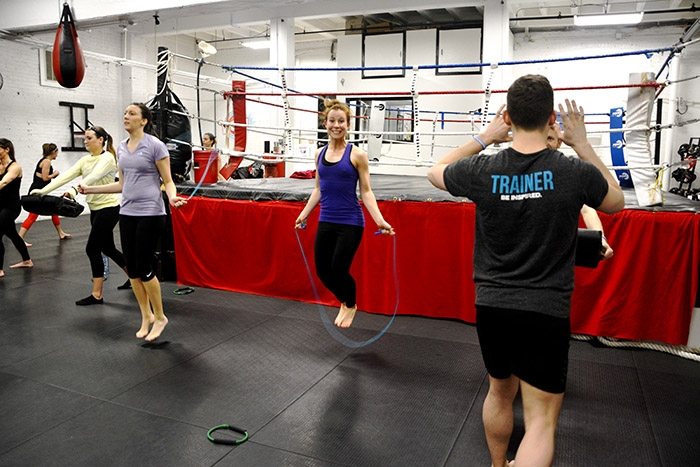 After going through that circuit twice to ensure that both legs got a chance to kick, we worked on pop-up kicks. The intention of these pop-up kicks was to train everyone to get back up as quickly as possible if they're ever knocked down. Sort of like a burpee with a purpose. One person jumped up and kicked, one person held the pad and the third person had a band around their ankles and worked on lateral leg lifts.
For our final set, we worked on kicking up, which is important for self defense if one is ever in a position on the ground that they can't quickly get up from. For the most power in this position, we simultaneously raised our hips while kicked up and out with a flat foot.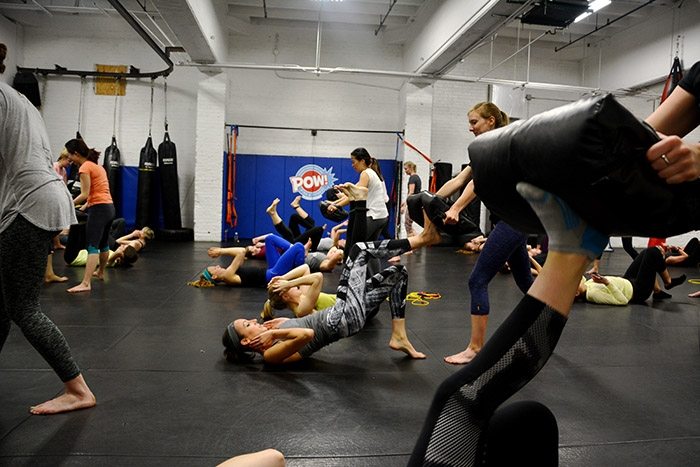 While one partner kicked, one held the pad and the third parter in the group did sit-ups with the band around around the ankles.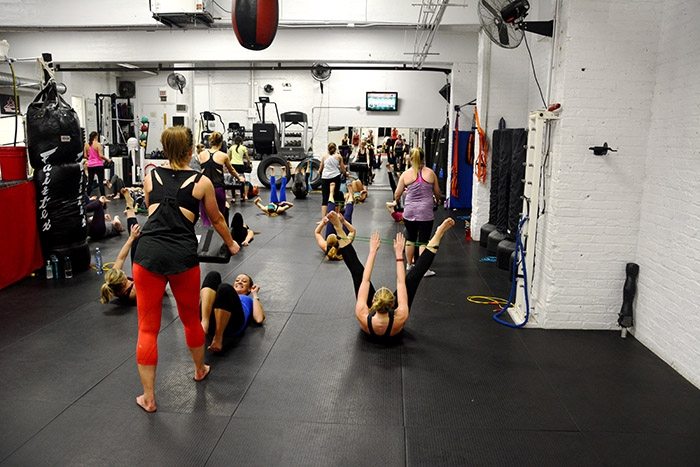 After getting the temperature in the room way up, we cooled down with a yoga flow.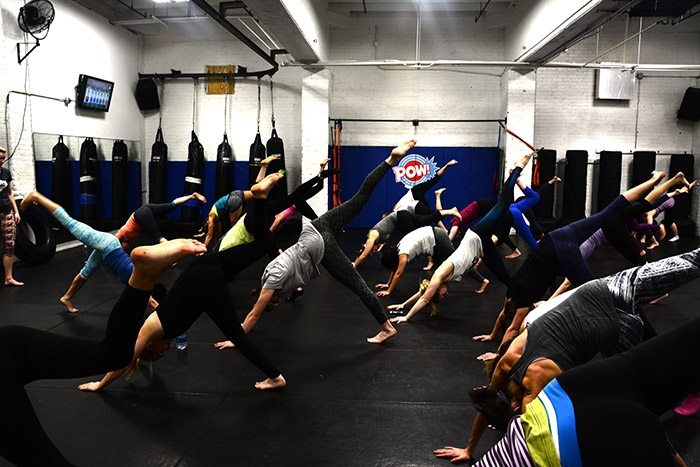 The group stayed tough through the group photo. Probably because they kept their game-faces on after learning that they had three free passes to POW! in their goody bags. Or we told them to pose like this. Whatever.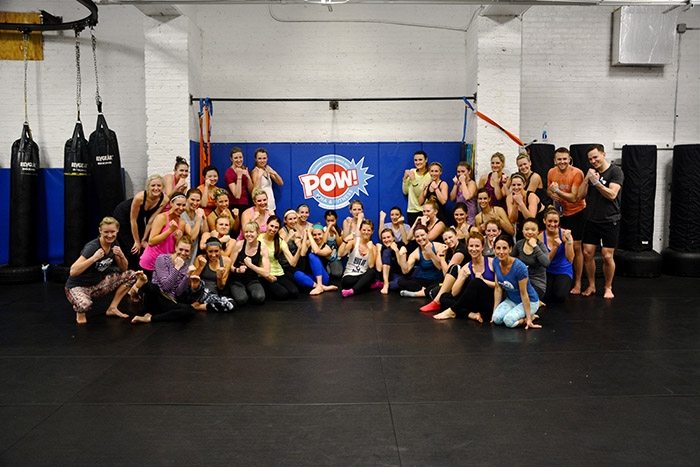 While we mingled, we grabbed goodies and snacks from Vitacoco, KIND and MyFitFoods. Pre Beef, premium grass-fed beef, was in the house with sliders for the omnivores and MyFitFoods brought almond butter and apples for the vegetarians.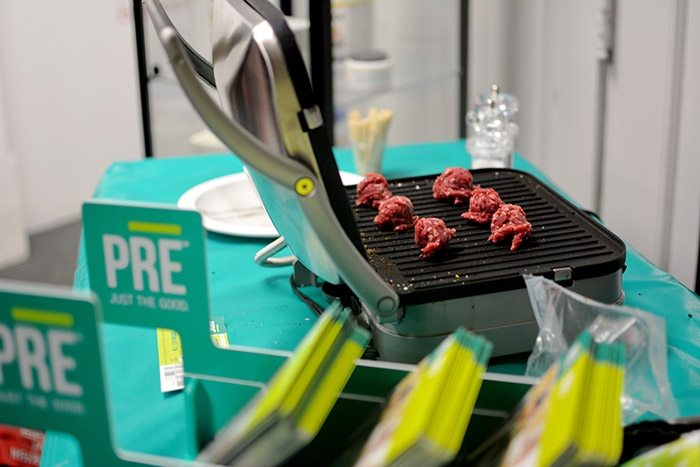 Also bringing the snacks was SuperSeedz, a company that creates gourmetflavored pumpkin seeds. My favorite? Chocolate, but all of the flavors were superb.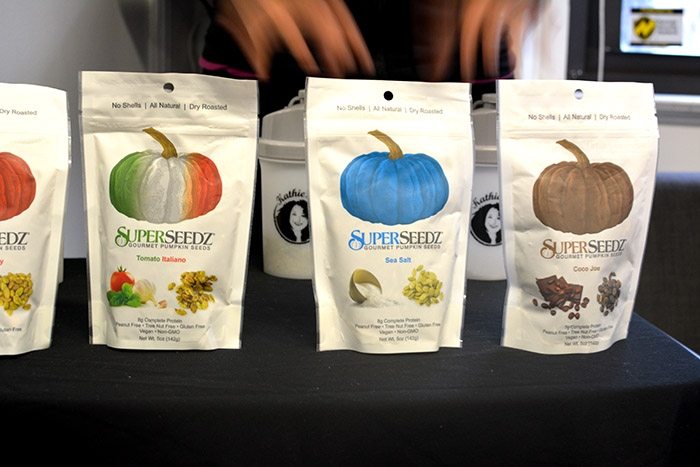 Pre workout, we got to take down some snacks to fuel our workout from Daily Serving. A dose of fruits and nuts kept us going.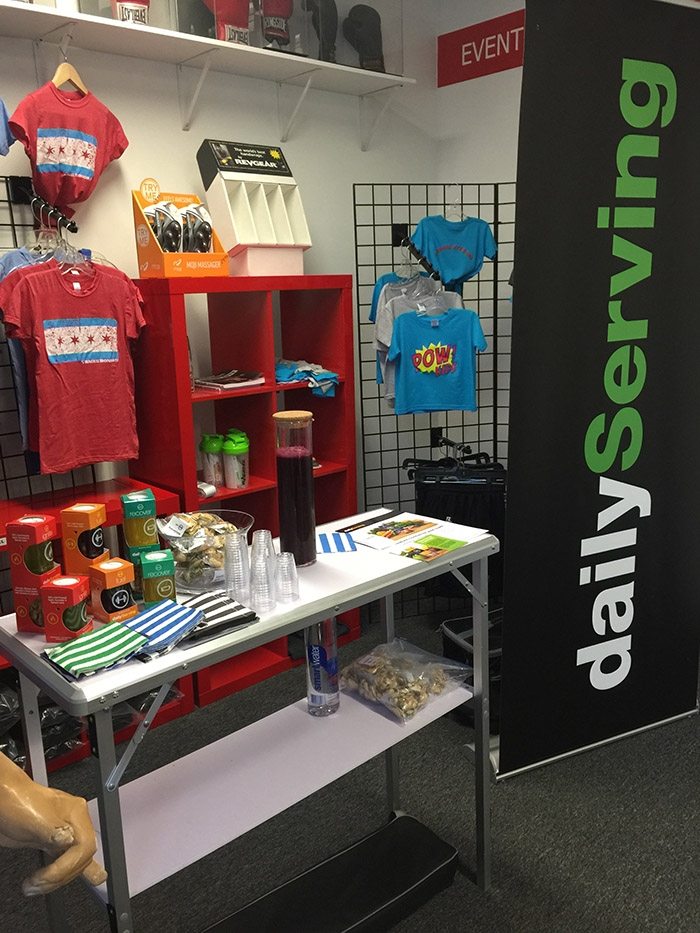 Want to join us at the next #Sweatworking? Sign up for the event at The Barre Code May 28 here.